When dining with the British royal family, there are certain rules that must be observed – especially when Queen Elizabeth is hosting. Even Prince Charles, Prince William and Kate Middleton have to follow protocol. However according to the British tabloids, it seems that Prince Harry and Meghan Markle were true to form when it came to shunning the royal rule book in this area.



Even before the Duke and Duchess of Sussex quit their senior royal jobs, they began to find themselves uninvited from dinner functions because of their disregard for protocol, according to royal insider Stefanie Jones.
The couple apparently ignored traditional seating plans in order to sit next to each other, breaking the long-standing high society rule of mixing couples around the table. Meghan was said to have dismissed the etiquette as "exclusive" and "traditional".
According to Grant Harrold, an expert on royal etiquette and former butler to Prince Charles talking to Insider, "normal dining rules state that couples are split up when they enter the dining room. The idea is to mix couples up to help with conversation."
The other faux pas committed by the couple? PDA. Already known for showing affection together in public, insiders dishing the dirt to the British tabloids claimed Meghan was openly affectionate with Harry at the dinner table, causing Harry's friends to "roll their eyes".

For everyone else, however, if you are dining with Queen Elizabeth at one of her many palaces or estates, you can be sure the seating has been planned to a tee. The queen plans her conversations to a tee, too. According to an expert from Debrett's – the British etiquette and coaching company that dates back to 1769 – she chats with the guest on her right during the first course, and then to the guest on her left during the second course. Guests must only begin eating once the queen picks up her knife and fork, but must also finish eating when she finishes.
According to the BBC, Queen Elizabeth has been "known to reserve a little morsel on her plate to push around in order to let others finish their meals".
And what of the chatter that takes place at a royal dinner party? The conversation should play it safe, so one should avoid talking about sex, money, heavy politics, religion or medical issues, according to manners expert William Hansen talking to Business Insider. Open questions are good when they offer more interesting answers rather than a mere yes and no, he adds.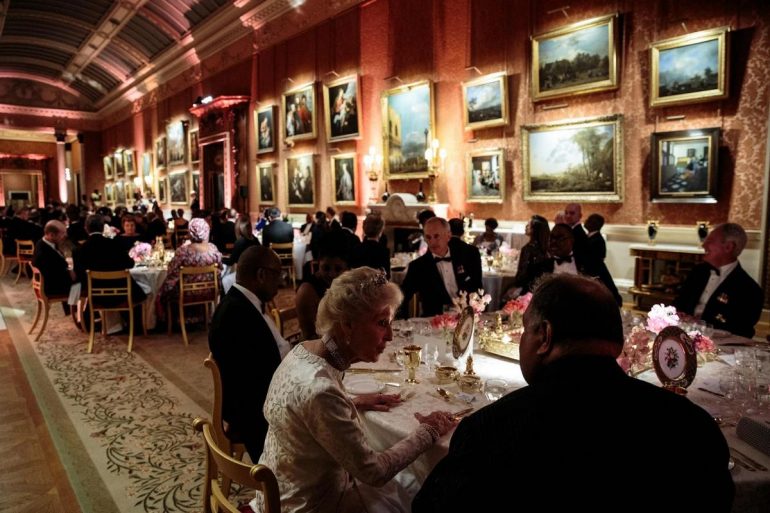 When the queen organises a dinner party, she has a rule about the number of guests allowed to attend – either more or less than 13, but never 13! The queen is not superstitious, according to royal insider Paul Dampier, but she is aware of the connotations of the number to others.
Another rule at a royal dinner party? There should be no bathroom breaks, since it's not considered proper to leave a dining table at which royals are seated. You'd better go before you sit down. Etiquette experts say this protocol can be broken if the guest is pregnant, but when they leave the table, they must cross their utensils on their plate so that staff know not remove their dish.
When one is finished, knives and forks are placed next to each other with handles facing the bottom right of the plate to indicate that the plate can be taken.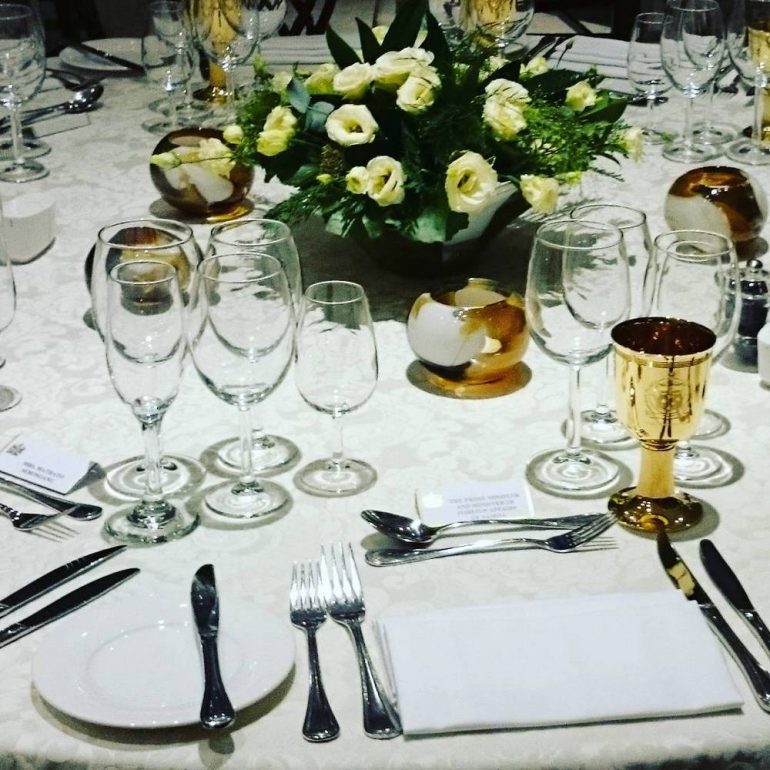 And let's not forget the etiquette associated with taking afternoon tea. As Myka Meier explains in Town and Country magazine, teacups should be held in a very specific way: the handle should be at 3 o'clock (unless you're left handed, and then it would be 9 o'clock) and held with the thumb and index finger pinching the top of the handle and the middle finger supporting the bottom of the handle.
When it comes to eating the accompanying nibbles, always start with savoury and then move to sweet – so sandwiches followed by scones.
Note: This story was originally published on SCMP and has been republished on this website.