Melania Trump recently prompted more rumours she could be divorcing Donald Trump after she was apparently missing from the former US president's recent 75th birthday celebration, on June 14.


And with only a few sightings since the Trumps left the White House in January, the public is curious as to know what the former first lady has been up to in the first half of 2021.
First Lady of Palm Beach
Melania has avoided public appearances with Trump since President Joe Biden entered office, but visitors to their Mar-a-Lago estate in Florida, where the family relocated in January, have spotted the mother-of-one on site with her son Barron.

Videos on social media have shown the trio being applauded as they walk through the private members' club restaurant to dine in front of adoring fans. New book Landslide: The Final Days of the Trump Presidency by Michael Wolfe claims it's a nightly routine for the group to have dinner at a roped off table and for onlookers on the 50 to 60 tables around them to gawp at them like "zoo animals".
Melania has set up an office at the resort, with reports suggesting she may plan to continue her Be Best initiative, which focuses on the welfare of children.

Ms Independent
Much like other members of the Trump clan – including Donald Jr. and Tiffany Trump – Melania is said to have been looking at properties outside the Mar-a-Lago estate.
When the family were based in New York City, Melania had her own additional apartment separate from their penthouse in Trump Tower on Fifth Avenue – so it's no surprise she may be hunting for her own pad in the Sunshine State. However, reports of Melania searching for a new home have only served to reignite speculation she could soon be living a life separate from Donald.
It stems from earlier suggestions that Melania was waiting for Mr Trump to finish his role as POTUS before filing for divorce.
Back to the Big Apple
According to sources close to the family, Melania didn't want to move to Washington in the first place as it was believed she didn't want to leave her glamorous life in New York behind. And last week she was spotted back in NYC, leaving the Trump Tower residence with Barron (who Donald recently said now towers over both of his parents at a whopping 6 feet 7 inches).
The city is also where Melania's BFF sister Ines Knauss lives, as well as her Slovenian parents Viktor and Amalija Knavs. Melania's mother and father are now citizens of the United States, so she's unlikely to be jetting home for good, at least.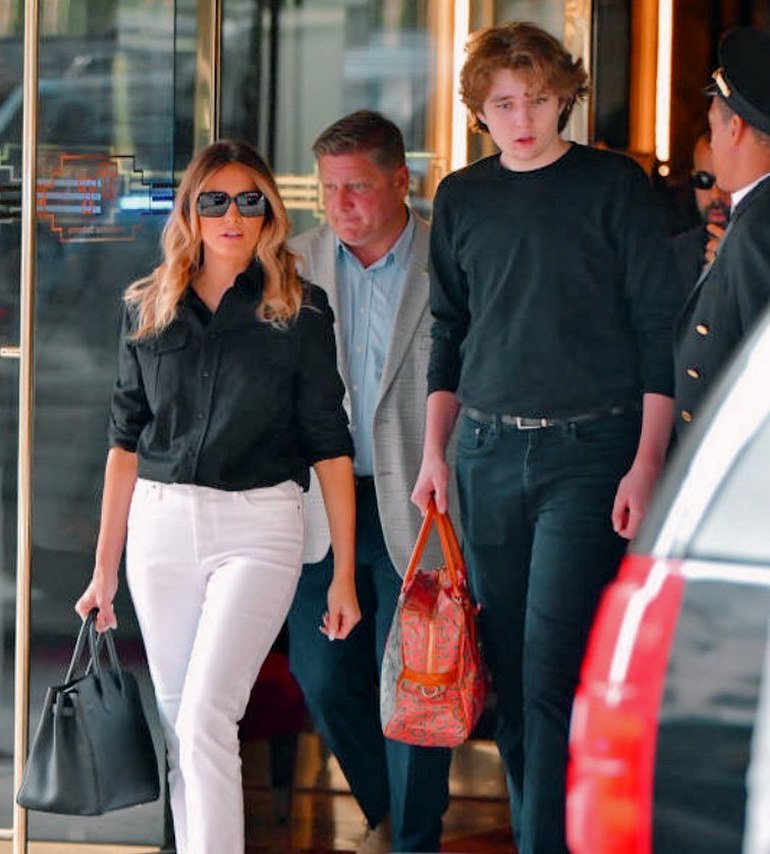 Melania may have been waiting for Barron to complete his studies in Florida before leaving for the Big Apple. She notably stayed in the city with her son for several months after Donald began his one-term presidency 2017. Wolfe writes in his new book that it wasn't even clear how much time she was spending at the White House during Trump's term compared to staying at her parents' home nearby in Maryland.
Jetting to Jersey
According to People, Melania is also said to be splitting her time this summer between the Big Apple and the Trump Golf Resort in Bedminster, New Jersey. However, she and Barron were not seen boarding the plane when Donald travelled there after announcing lawsuits against several tech companies recently. A political source has said that Melania is content spending time with her own relatives and that her spouse doesn't have a problem with it.
The Former First Lady FFL begins a new PR campaign. Melania Trump's entourage seen near 5th Avenue in New York https://t.co/SFUFjCYYtq via @MailOnline

— 🎙️Halli Casser-Jayne.com Podcast America (@HalliShowQuotes) July 7, 2021

"Donald is fine with that as long as she is satisfied, leaves him alone, and makes appearances when needed," the insider told People.
Note: This story was originally published on SCMP and has been republished on this website.