An interesting automaton clock by Parmigiani is out on a roll, and it displays animated figures of a cat and a mouse! All those who have been and still are great fans of the Tom & Jerry cartoon characters, you might find this piece pretty appealing. Aptly christened – The Cat and Mouse, the mechanism is an ode to the awe-inspiring talent of a renowned sculptor – Edouard-Marcel Sandoz. The clock is not just a figure that stands still to fascinate. Instead, it showcases fascinating mechanized movements wherein the black obsidian body of the cat moves in a circular one-hour timed circuit, forever in an attempt to catch the running rodent! And every time the feline comes closer to catching the white gold diamond mouse, the latter leaps away, constantly escaping. Now ain't that an interesting piece of handicraft you would like to own? It's like one of those cuckoo-bird time-tellers, in an even better avatar!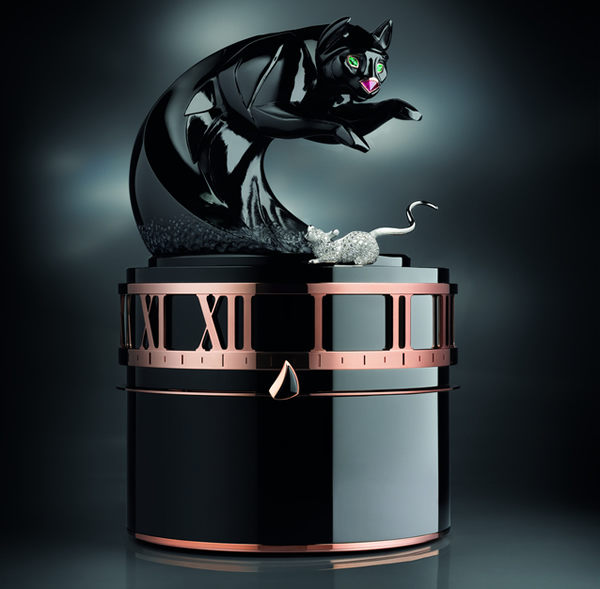 Now are some facts: the Cat and Mouse clock works on a PF670 automaton module and flaunts 17 jewels. It is a manual time-setting clock that needs to be winded using a key. Apart from that, an 8-day power reserve and dustproof exteriors are its additional features.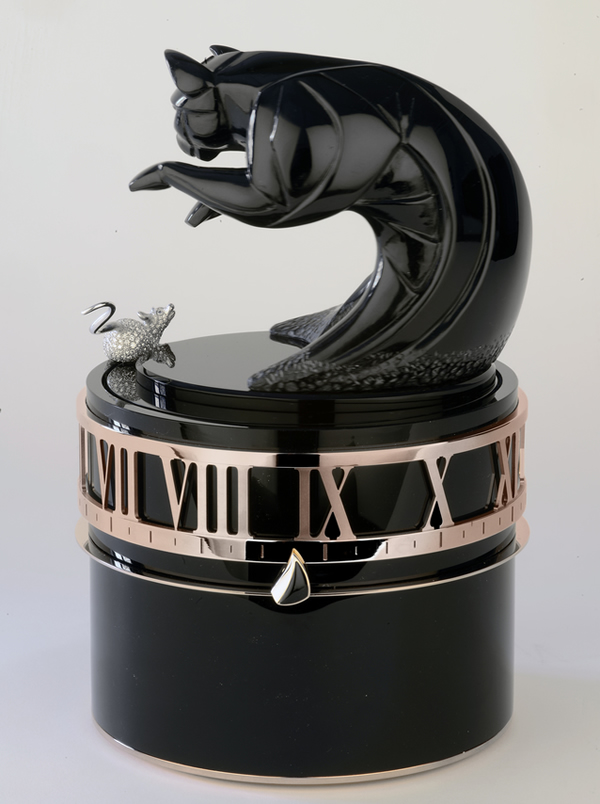 Cat's body is made from black obsidian, while 1.72 ct rubies are studded on the nose, and 1.10 ct emeralds are set with 18 ct gold for the eyes. The car completes a rotation on its axis in one hour.

While the tiny mouse is shaped out of white gold and set with 250 Top Wesselton VVS diamonds
with total weight 4.02 ct. It is also studded with a 0.10 ct ruby on the snout and 0.02 ct sapphires on the eyes

Weighing just 23 g, it leaps ahead of the cat irregular intervals.
[Via – Parmigiani]