High-end home retailer Restoration Hardware (RH) is piloting a hospitality venture in its new, elegant, and lavish Chicago Gallery. If you are tired of shopping at soulless malls, then this is your new destination. Imagine a store where you can also dine and wander around with a glass of wine in hand; a store where designers will make your dream house take shape. Quite a change and quite a vision.



When RH bought Chicago's Three Arts Club, the building needed some serious love and it took years to restore the 70,000-sqft landmark to its original splendor, that of 1914. The entire structure has been redesigned with great respect for its original personality and in collaboration with the Commission on Chicago Landmarks. "It was clear from the moment we saw the Three Arts Club that this was a rare opportunity to reimagine the retail experience by blurring the lines between residential and retail, indoors and outdoors, home and hospitality," says RH Chairman & CEO Gary Friedman.


The success of the rehabilitation and of the concept is raging: there is a constant flow of visitors during weekdays and weekends when the wait to get a table for brunch averages an hour. As clients, sorry, guests enter the building, greeted by valets and doormen, the atmosphere is that of a golden era hotel or Hollywood mansion. Walkthrough the lobby and the reception spaces; appreciate a glass of wine from the curated list in the dramatic 3 Arts Club Wine Vault & Tasting Room; listen to the musical artists on the Historic Performance Stage and secure your table in the Grand Courtyard.


While waiting for a text from the hostess signaling that your table is ready, start exploring the different rooms and alcoves of this magnificent five-floor mansion, the most natural environment for RH furniture and products. Craftsmanship is everywhere: byzantine columns, barrel-vaulted ceilings, a rare 19th-century, seven-foot statue of cast iron recovered in France, etc.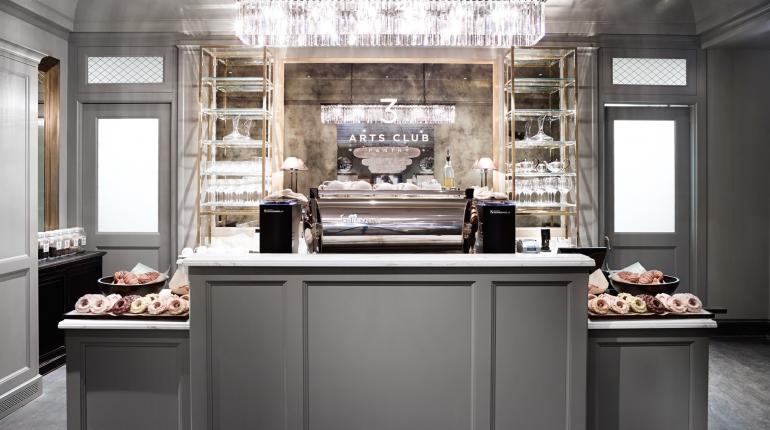 True to its denomination of "gallery", the showroom presents countless new designs and new lines introduced recently by RH: RH TEEN, RH Baby & Child gallery, RH Modern – the largest curated and fully-integrated assortment of modern furnishings, lighting, and décor under one brand in the world. Also presented here: RH Contemporary Art, which showcases original works from a globally curated roster of artists.


However, the center of all attention is definitely the Grand Courtyard: a new pyramidal glass and steel structure, creating a conservatory inside the building that soars to 20 feet at its apex. At the center sits a 12-foot historic fountain lit by the stunning eight-foot rococo crystal and iron chandeliers. This is the set for the main dining experience.


The 3 Arts Club Café offers an inspired menu of seasonal, ingredient-driven fare in a welcoming and relaxed space where guests truly feel at home. To guarantee its success, RH partnered with Brendan Sodikoff, a restaurateur recognized for creating the best cheeseburger in America at Au Cheval by both Bon Appétit and the Food Network, and the best donut for consecutive years at Doughnut Vault. Quite a treat!


When you feel ready to continue your journey, climb a few steps, and arrive on the second floor where you can create and envision your dream home. The RH Design Atelier – a dedicated 3,000-square-foot studio for interior designers, architects, and guests to conceptualize highly personalized, inspiring spaces.


Finally, grab a coffee or a pastry and head to the rooftop, the final touch to this temple of retail. The new Rooftop Park & Conservatory features banana palms, sculptural evergreens, and exotic succulents, as well as a second RH Design Atelier for outdoor living. Open-air pavilions with glimmering chandeliers, boxwood hedges, trickling fountains, and panoramic views of old Chicago are the intimate showcases for RH Outdoor furnishings.


Although RH Galleries have now been opened in several US cities – Boston, Greenwich, Los Angeles, etc. – Chicago remains the only one boasting such a unique hospitality offering. As a return guest, I certainly hope there will be more!
Where: RH Chicago, The Gallery at the Three Arts Club
1300 N. Dearborn Street
Chicago, IL 60610
Phone: 312.475.9116
Geoffrey Ravoire
Founder of UNITIATE, Geoffrey is a Marketing Expert, Luxury Specialist and Hospitality Enthusiast. Wherever he goes, his early career and personal interests have always helped him nurture and cultivate a passion for the Travel and Leisure industries. French-born, Geoffrey has accumulated an extensive experience abroad, thanks to regular visits to foreign countries but also thanks to years of expatriation. Currently based in Chicago, Geoffrey has already lived and worked in New York, Shanghai, Singapore and Monaco. You can meet Geoffrey on Twitter and Linkedin.