As the fashion industry wakes up to the need to reduce waste and make the most of resources, we look at 5 trailblazing companies that lead the way
You wouldn't expect the oil and fashion industries to have too much in common, but these are the two largest polluters in the world.

From carbon emissions to water pollution and consumption, the fashion industry is creating potentially catastrophic consequences for the environment.
However, trailblazers such as the Ellen MacArthur Foundation – a UK-registered charity working to inspire people to minimise waste and make the most of resources – and vegan fashion designer Stella McCartney have fought for years against the "take, make and dispose" industrial model by pushing for a "circular economy", where restoration and renewal are crucial elements for the fashion industry's survival.
Nowadays, an increasing number of luxury brands are putting the brakes on unjustifiable consumption as they embrace and promote ethical practices.
Check out five of the best ethical luxury brands.

Stella McCartney
What: sustainability, recycled fabrics and fibres, natural fabrics and dyes, sustainable supplier selection, sustainable branding, vegetarian brand, cruelty-free/ animal-free cosmetics, social responsibility, energy efficiency, promotion of fair labour practices.
McCartney – the daughter of former Beatle Paul McCartney – is the indisputable leader of sustainability.
In 2001, long before Forbes magazine noted that "Green is the New Black", she grabbed headlines with the inauguration of her eponymous vegetarian luxury brand.
Year after year, the British designer bewildered her fans with organic garments, non-leather accessories and cruelty-free vegan cosmetics and fragrances.
Her commitment to sustainability is unparalleled in the luxury world. She pioneered the use of alternative materials, using regenerated cashmere, Econyl yarn, bio-acetate for sunglasses, biodegradable rubber for shoes, bio TPU rubber for shoe soles, and made the lining of all Falabella bags from recycled plastic water bottles.

She is also the leader of various ambitious ethical projects, such as The McCartneys' Meat Free Mondays Initiative and Cradle to Cradle Fashion Positive Initiative, and is a trusted partner of NGOs and international organisations that have a particular focus on environmental challenges.

Von Holzhausen
What: cruelty-free/ animal-free fabrics, social responsibility, sustainable supplier selection, hi-tech innovations for sustainable fashion, eco-friendly fabrics.
Launched in 2015 by Vicki von Holzhausen, the handbag brand is a pioneer in ecological manufacturing. Her collection includes bags and small vegan accessories that are both stylish and eco-friendly.
"Sustainability is one of the company's core brand values," the brand's founder and creative director told STYLE.
She uses a "holistic perspective", reinventing a traditional model by focusing on every life-cycle stage; starting with the ideas of timeless designs, to the development of sustainable ethical materials, to the factories selected as partners.
Von Holzhausen is conscious about every component that goes into the production process.

The company holds a full inventory of Technik-Leather, which is a cruelty-free, animal-free material, produced in a sustainable way.
According to the designer, one of the most favourable aspects of using Technik-Leather "has been the astonishingly minimal waste produced in making each bag.
"Since Technik-Leather is created in rolls, unlike cow hides, there are no irregular edges, allowing our patterns to lay side by side with little waste between each piece," she said.
"Not only is this material produced in a sustainable way with minimal waste, but our bags are also produced with decreased waste due to this new efficient process."

Viktor & Rolf
What: recycled fabrics, environmentally conscious design, ethical workplace.
The Dutch design duo of Viktor Horsting and Rolf Snoeren have shown fashion connoisseurs that haute couture can be sustainable, too. They have created entire haute couture collections exploiting recycled fabrics and embellishments from past collections.
Evidently, the made-to-order fashion model is by definition sustainable, and yet few haute couture designers dare to push the boundaries and design collections like Horsting and Snoeren.

Through collage and weaving, the designers have brought to life outdated garments, and worn out and damaged textiles have become glamorous garments thanks to their creative genius.
The Viktor & Rolf for Zalando RE: CYCLE capsule collection shows that the design duo take sustainability seriously. The entire collection was envisioned and crafted from Zalando's excessive stock.

Salvatore Ferragamo
What: natural fabrics, fair trade, organic natural fabrics, certified packaging, energy efficiency, fair compensation and living wages, professional development for employees, sustainable work culture, social responsibility, green projects.
Since 2014, the Italian luxury goods maker Ferragamo, which specialises in shoes and leather goods, has been publishing a Corporate Responsibility Report, confirming that transparency and sustainable thinking can be incorporated in the DNA of a luxury brand.
Furthermore, the company has adopted six of the UN's Sustainable Development Goals and it joined the United Nations Global Compact.
Ferragamo has a strong focus on people and principles and it promotes diversity and personal rights.
Through its Manovia division, the Italian company puts craftsmanship and the preservation of artisanal skills at the core of the brand.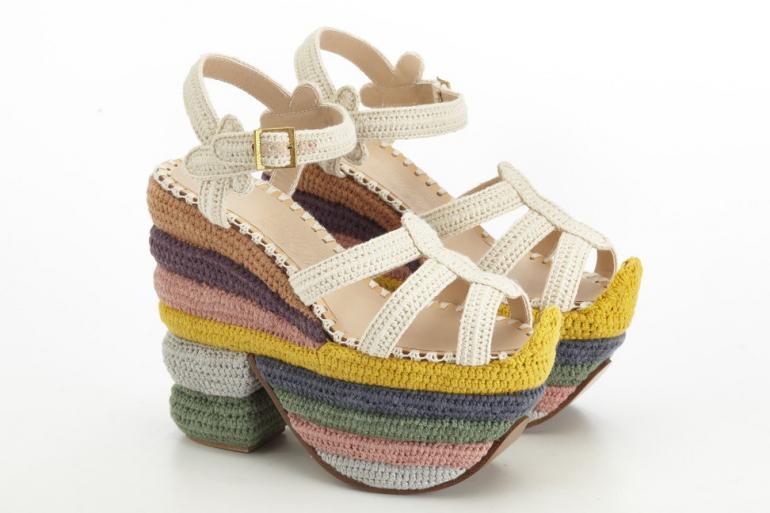 Probably the most innovative aspect of Ferragamo's environmental commitment was a capsule collection made from fibres created by the Italian start-up, Orange Fiber.
Ferragamo is the first brand to use the innovative fibre made from citrus fruit by-products, but this isn't the only time the Italian luxury brand used eco-friendly materials.
Its capsule collection, 42 degrees, is made solely from sustainable fabrics.
Additionally, Ferragamo launched Rainbow Future – a limited edition collection of 100 hand-finished platform shoes made from organic crocheted cotton and wood.

BITE (By Independent Thinkers For Environmental Progress)
What: eco-conscious label, sustainable production, fair wages and compensation, organic natural fibres, social responsibility, sustainable design, eco-friendly practices, sustainable branding.
Founded in 2016, BITE is a luxury brand that responds to the needs of the modern day conscious consumer by promoting slow consumption.

The minimalist aesthetic is antithetical to consumerism, and this aspect is displayed even in the choice of 100 percent natural organic fibres.
Moreover, the brand focuses on environmental and social responsibility.
All BITE garments are produced under safe and fair working conditions, while all the staff in the production cycle receive a fair wage.
Note – This story was originally published on SCMP and has been republished on this website