Designers are forever exploring new materials to incorporate into their designs. Fabrics being replaced by metals such as gold and platinum have become old news now. Chinese artist Li Xiaofeng has started the latest revolution in fashion materials. The artist has actually made wearable costumes from broken porcelain shards! The artist who began as a muralist and later turned his attention to sculpture decided to use something completely new but ancient at the same time for his latest venture. Thus, he came upon the idea of porcelain shards from archaeological sites (new yet old). Lacoste seemed very interested in the artist's unique costumes and, in fact, asked him to design a porcelain polo shirt for the company's 2010 Holiday Collector's Series. This one-off porcelain polo shirt is touted to become the most expensive and exclusive polo shirt Lacoste ever created.

His costumes, which he calls "rearranged landscapes," are created through a unique process in which the artist cleans and shapes the porcelain shards, drills small holes into them, and then binds them together with silver wire. The only drawback of the costumes is the weight. Reportedly these porcelain suits are as heavy as a suit of armor.
However since China forbids the export of ancient artifacts, the artist created his own porcelain bowls, drew custom motifs on them (including the Lacoste crocodile logo), broke them into pieces and tied them into the shape of a polo shirt.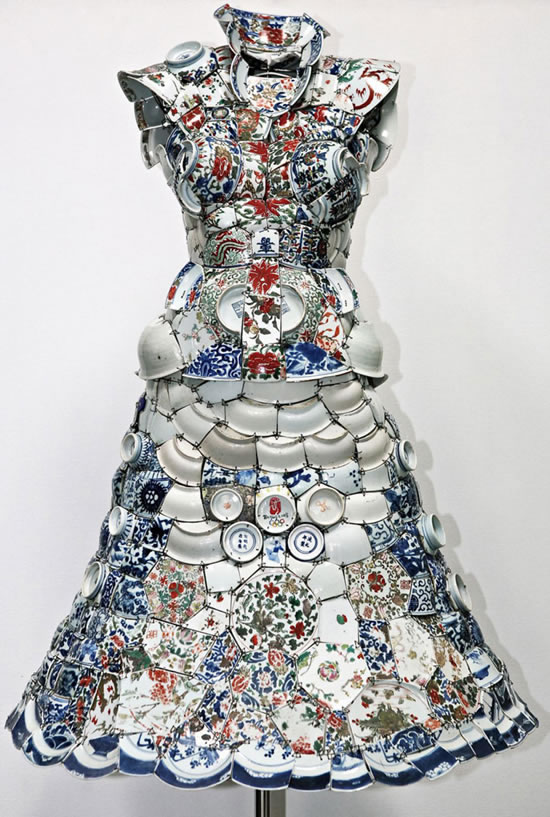 [Oddity Central]