The Olympic Games 2012 is all set to become yet another fashion week of sorts, with big designers like Stella McCartney, Giorgio Armani, Ralph Lauren, Prada, Hermès, and Salvatore Ferragamo designing clothes for their national teams. Italian fashion giant Giorgio Armani, who has designed the Italian Olympic team's official kit, under its sportswear Emporio Armani EA7, has happily said that London 2012 would be "the most fashionable Olympic Games ever." The Italian sailing team, on the other hand, will don clothes courtesy of Prada. Considering that Ralph Lauren dressed up Team USA and Stella McCartney helped Team Great Britain with the help of Adidas, this is certainly not an understatement.

Britain's Next store will offer formalwear for Team GB. As for the French, they have Hermès on their side. Smaller-known countries such as the Republic of San Marino will dress up in blue linen blazers and crêpe de Chine shirts thanks to the Italian fashion house Salvatore Ferragamo. Another Italian brand Ermanno Scervino will also create the Azerbaijan Republic's kit.


The athletes from Jamaica, will don patriotic hues courtesy Cedella Marley, daughter of Bob Marley. Set in green and yellow, the kit has been created in collaboration with Puma. Team New Zealand will wear casual menswear label Rodd & Gunn with "retro black blazers with white piping, and A-line dresses for the women" making it to the cut. Classy, and minimalistic, I guess. However, the Spainsh team seems to getting all the fashion brickbats, with hideous designs that are being described "as a cross between flamenco dancer and McDonald's worker".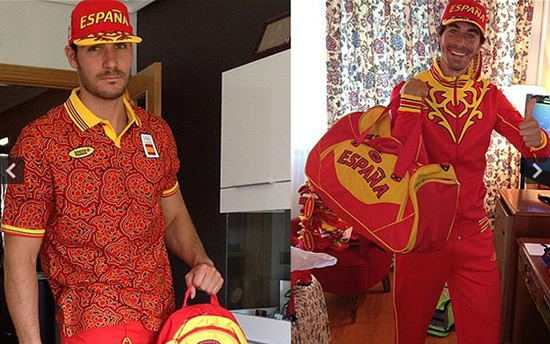 Created by Bosco, a Russian sportswear company, reports suggest, the team would've been a lot more presentable with the help of Loewe, their leading luxury clothing and accessories brand, or even with stores like Zara or Mango on their side.
Showstoppers at the last game, Team Australia, is seemingly out of the race this time. With acid-green "buzz" trim, their teal and gold have received a thumbs down from Australian Vogue editor Kirstie Clements. How all this converts to medals and an interesting opening ceremony, we will find out this weekend.
[Telegraph]