French luxury brand Louis Vuitton is set to celebrate the approaching sunny days with the Louis Vuitton Spring/Summer 2013 Signature 'Damier' Bags Collection. An interesting mix of classy and neon color pallets, the new collection gives a fresh perspective to the iconic Damier pattern. Deviating from the usual straight and narrow Louis Vuitton look, this collection features rectilinear discipline with crisp and bold lines. Most of the collection, inspired by the conceptual artist Daniel Buren and his work Les Deux Plateaux, sports rectangle form with some inclusions of flat flaps. While the regular Speedy was restructured in square and cubic form. This young appeal of the classy brand has something to offer for all tastes and styles. The Louis Vuitton Spring/Summer 2013 collection includes backpacks, tote bags, messenger bags, and small carriers. With this collection, the brand varies into neon color palettes consisting of bright yellows and oranges and vibrant new checker designs. Here are our top five picks



Damier Cubic represents a new look of the iconic Speedy Cube bag is innovatively created with a 3D flocked effect of the Damier cube. Available in Brow, Gray, and Green, this 14' bag is priced at $2860.

The Damier Facette Collection resembles the popular men's Damier Infini range, with shiny calf leather embossed with the historic Damier pattern. Available in Crème and Yellow, this structured wonder is priced at $1750.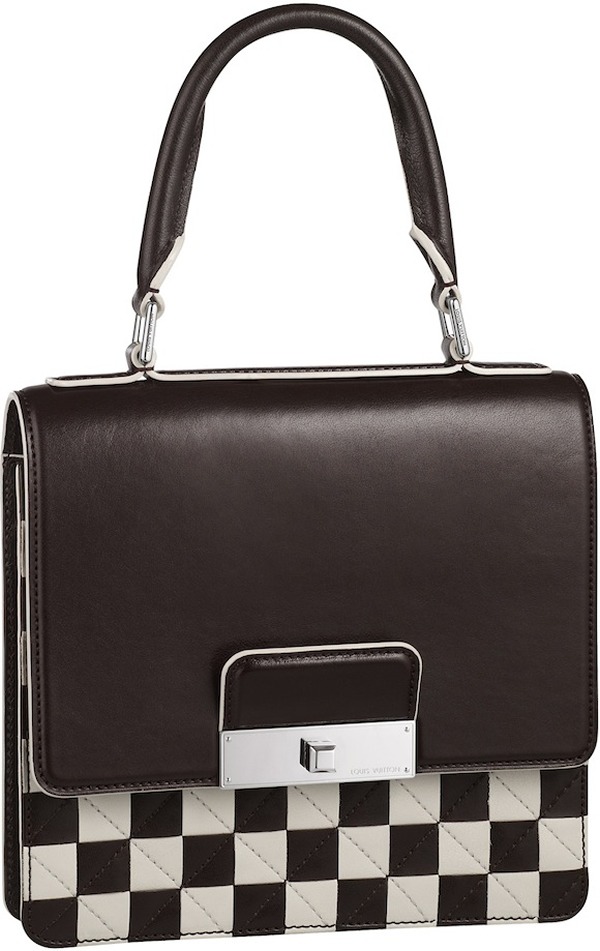 Damier Mosiac will take you back to the retro era with graphic cubes plain calf leather flap. The bags feature a Toron twisted metallic handle with silk lining. Available in Brown and Yellow, this chic bag is priced at $2850.

Damier Optic Mesh infuses the smallest sequins ever used by Louis Vuitton in the patent Damier pattern for a feminine yet festive look. Available in Brown and Yellow, this chic bag is priced at $2860.

The Louis Vuitton Les Extraordinaires Enveloppe Clutch is an uber approach to the previous Les Extraordinaires collection with a strict checkerboard grid covered in delicate crystal glass squares. The price and availability are on request.
[Ilvoelv]