The Victoria's Secret annual fashion show finally happened on Wednesday in Manhattan, and all I can say is, what an event! A bevy of beauties thronged the ramp, including Taylor Swift, who performed throughout the show, along with Fall Out Boy in a sparkly silver mini dress and a Union Jack costume. But worth much more than a mention was the sight of the striking Candice Swanepoel leading Victoria's Secret models in the Royal Fantasy Bra. So much so that we're going to wait for December 10 when the show goes on air on CBS. As should you! Because the bejeweled bra shone in all its gemstone-studded brilliance, and that's not something you'd want to miss!

But besides that, the model who claims to suffer from stage fright stunned audiences with her numerous saucy poses on the runway. Making it hard to believe that she could've had any apprehensions before the show started, "I'm kind of praying that everything goes well and I don't fall, but once I'm on the runway, I get into this zone. I have this feeling of pride." It sure looked like she did when she strutted down the ramp in the $10 million outfits.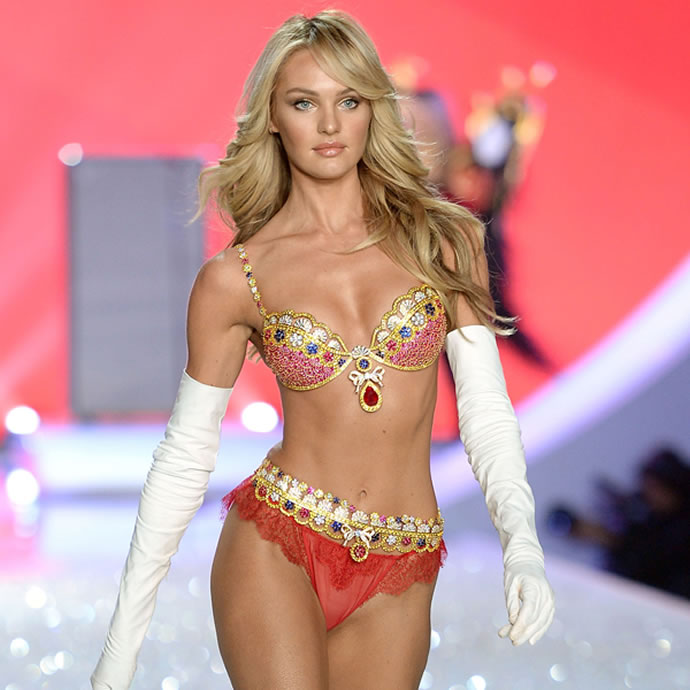 The bra, nicknamed 'The Royal,' comes with matching pink frilly briefs and a gold belt, seen on Swanepoel, along with white gloves and red velvet heels at the invite-only event. "It's kind of a big ordeal. The bra comes with two bodyguards, and we have to handle it with a lot of care," said Swanepoel. The model also flaunted her figure in an all-white ensemble with a white bouquet arrangement and negligee in peach-colored lace and velvet with flowy fabric wrapped around it.

The event also saw Taylor Swift and Karlie Kloss in a square off during a performance. The show closed with Lily Aldridge, Karlie Kloss, Adriana Lima, Candice Swanepoel, Behati Prinsloo, and Lindsay Ellingson rejoicing amidst glittering confetti in the end.
[Via – Dailymail]