Designer laptop bags featuring some bold prints and colors are definitely not new. And it is about time that someone introduced some new pattern or design. And the one to initiate change is Greek designer Alexandros Stasinopoulos. And no, he didn't introduce a new pattern. In fact, he has introduced a whole new material for laptop bags. And so good is his concept that it even won him an IF Concept award. His creation is known as the BRIEFCeramicAse and is made from – ceramic!

This ceramic is certainly not your ordinary delicate ceramic. It's the same ceramic from which high tech Chef knives are made, and it's scratch and abrasion-resistant, tough, and smooth to the touch. These amazing ceramic bags are a cool place for your laptops and other office documents. And the best part is that it won't break even if you drop the bag. You can also decorate it in any way you want and turn it into a piece of art. A great material, it will definitely make a style statement.
And if you think only ceramic can make for a good material for a bag, think again. Designer Nikola Knezevic has created a briefcase made from carbon fiber! Known as the G3 Carbon Fiber Briefcase, it features some clean lines and symmetry and is one of the lightest bags in the market today. The top of the line model of this carbon fiber bag retails for about $4,000! Stylish, lightweight and extremely durable these bags made from ceramic and carbon fiber promise to take over the market in the near future.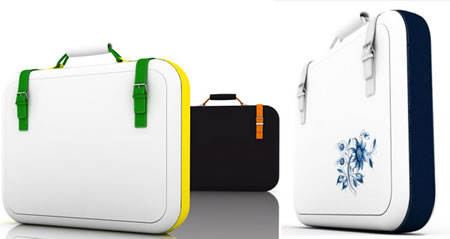 [Unplggd]