Van Cleef & Arpels Sweet Alhambra Collection is rife with symbolism of love and luck. The collection uses a combination of Pink Gold, Carnelian and brilliant cut diamonds to create these little charms. While I doubt any woman would say no to receiving Van Cleef & Arpels Jewelry, receiving it on Valentine's Day makes it extra special. Carnelian used in the collection is a semi precious stone from Brazil; the stone has a long history and has been associated with good luck. The collection is made up of a pendant, a bracelet, a pair of earrings and a ring.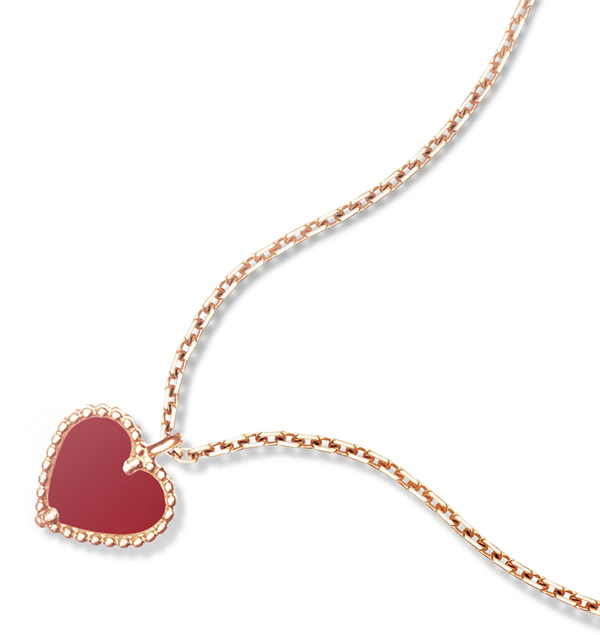 This Pendant has been created using Pink gold and Carnelian. The pink gold adds a feminine quality to this lovely whimsical pendant. The Carnelian Pendant has been encased in a heart outline created with small pink gold beads.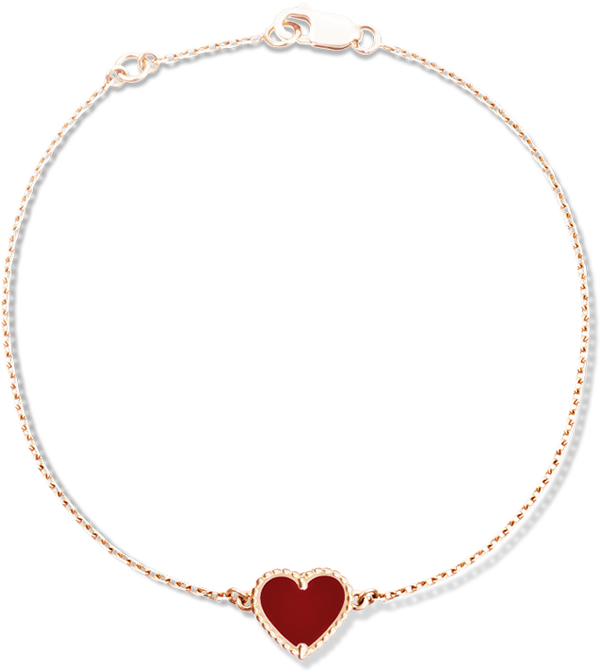 The Bracelet is similar to the pendant and carries the same message of whimsy through its pink gold chain. Beaded pink gold contours surround the Heart design charm.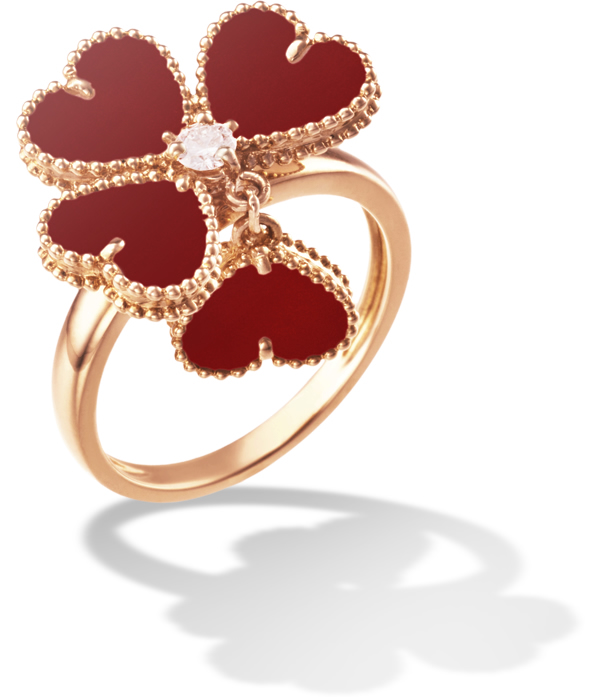 The Effeuillage ring in the Alhambra collection brings in the element of luck by placing the hearts so that it looks like a 4 leaved clover rather than just the standard heart shape. One of the hearts (petals) hangs loosely to represent the picking of petals as we all wonder over the child's game of "he loves me, he loves me not." The loose charm can even be engraved with a message for your valentine. No ring is complete without a diamond; Van Cleef & Arpels delivers a brilliant-cut diamond sitting in the flower center.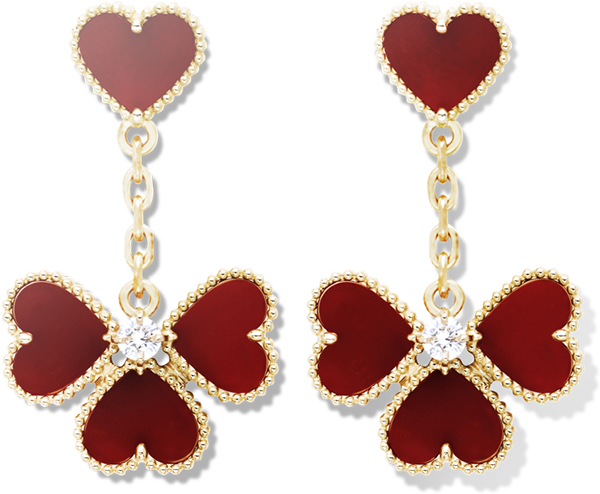 The Effeuillage earrings carry the same theme of luck whilst evoking the game of "he loves me, he loves me not" The earrings show three hearts places around a brilliant-cut diamond to be reminiscent of petals surrounding a flower. This charm hangs from a fourth heart-shaped stud.
The Sweet Alhambra collection by Van Cleef & Arpels is whimsical and symbolic, proving to be a great present for Valentine's Day. In fact, Carnelian is the stone given to mark the 17th anniversary of a wedding, a feat that in today's day and age requires a bit of luck. The price for this collection is available on request.
[Van-Cleef-And-Arpels Via – Embelezzia]