Yes, we all chomp down copious amounts of pizza, hotdogs, cupcakes, and burgers regularly. More often than not, these are picked out of fast-food chain restaurants that don't really squeeze the insides of our pockets. Recently, we came across a bunch of food options, expensive enough to make you think twice before gulping it all down! We've composed a list of the 10 most extravagant and expensive food items in the world. Read below for a culinary feast fit for a king!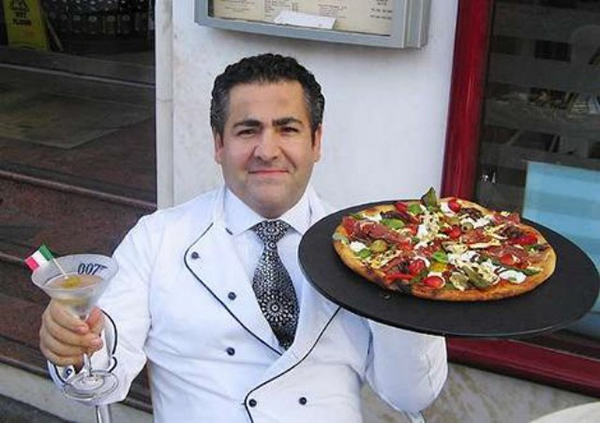 10. Gordon Ramsey's Maze Restaurant Pizza:
Standing 10th on our list of the world's most expensive and extravagant foods is this commercially available and shockingly expensive pizza. Sold at Gordon Ramsey's Maze Restaurant in the United Kingdom, this pizza is available in a thin-crust with onion puree, white truffle paste, fontina cheese, baby mozzarella, pancetta, cep mushrooms, freshly picked wild mizuna lettuce, and topped with a rare Italian white truffle. The price is $178 onward, depending on the number of truffles you opt for!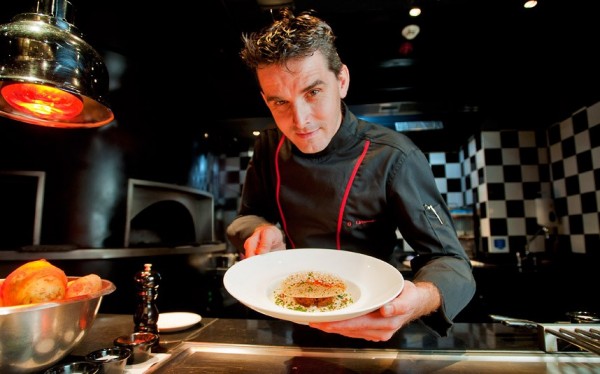 9. Chef Olivier Limousin's Sausage and Mash:
We've all chomped on sausages and mash before. Never have we spent a whopping $115 for a portion of the same before! Olivier Limousin, head chef at L'Atelier de Joel Robuchon, mastered the art of cooking the world's most expensive sausages and mash, containing black truffles and braised in vintage Bordeaux.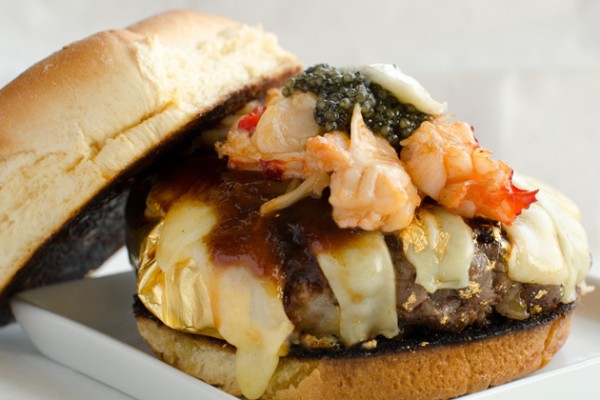 8. The Douche Burger:
There are greasy burgers, and then there are greasy burgers that cost a whopping $666! This concoction is the most expensive burger sold off a food truck and is called the Douche Burger. So what makes this otherwise conventional-looking burger so expensive? It's ingredients! This one packs a beef patty wrapped in golden leaf, foie gras, caviar, lobster, truffles, imported aged gruyere cheese, kopi luwak bbq sauce, and Himalayan rock salt!

7. Zillion Dollar Lobster Frittata:
Well, this omelet might not cost a zillion dollars as its name suggests, but it is pricey enough to make to gasp in shock. Served at Manhattan's upscale Le Parker Meridien Hotel, this is the world'smost expensive omelet, and for a good reason! This egg concoction is packed with a whole lobster and is topped with caviar, pushing its price tag from a reasonable $10 to a whopping $1,000!

6. The Golden Phoenix Cupcake:
Standing 7th on our list is the Golden Phoenix cupcake. Just as its name suggests, this cupcake is far from the ordinary and is made from the finest chocolate, dressed in 23 carats edible gold! On sale at Dubai's Bloomsbury's Cupcakes store, these cupcakes cost nearly $1,000 apiece!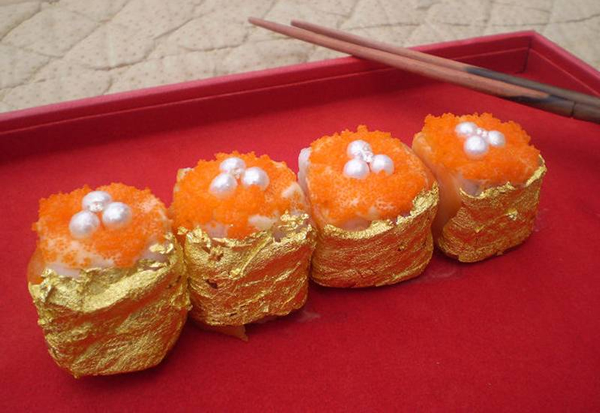 5. The world's most expensive sushi:
Fifth on our list is "Karat chef" Angelito Araneta Jr.'s sushi. This creatively inclined cook regularly places African diamonds on top of pearls while creating the world's most expensive sushi. This sushi serving will set you back by a whopping $1,978 for a serving of five pieces!

4. Black Ivory Coffee Beans:
We all love our occasional cup of brew. However, not many of us have sipped on this extravagant coffee made from beans picked out of an elephant's dung! Disgusting as it may sound, these coffee beans are the most expensive in the world and are produced in a complicated biological process. Elephants are first fed coffee cherries, and the beans are then picked out of their dung. These beans are then sun-dried and roasted. A pound of these coffee beans called the Black Ivory costs a massive $500!

3. Almas caviar:
Considered to be the world's most expensive caviar, this food item wins third place on our list. Hailing from Iran, the Almas caviar is the most exquisite of its kind in the world and is extremely rare too. A kilo of this is sold in a 24-carat gold tin for about $25,000, while smaller portions are also sold for about $1,250.

2. Frrozen Haute Chocolate:
The second most exclusive food item in the world on our list is a dessert. Created by Stephen Bruce, Serendipity 3, with luxury jeweler Euphoria New York, this dessert includes 5 grams of edible 23-karat gold. Served in a goblet lined with edible gold, this dessert has a base with an 18-karat gold bracelet and 1 carat of white diamonds. Topped with exclusive La Madeline au Truffle from Knipschildt Chocolatier, a serving of the Frrozen Haute Chocolate costs nearly $25,000!

1. $50 million Wedding Cake:
To top all of these extravagant food items is this one-of-a-kind wedding cake, expensive enough to make just about any wedding memorable! Unveiled ahead of The National Gay Wedding Show, this cake stands one and a half meters tall and sports six tiers. Sporting more than 2000 diamonds, the equivalent of 2046 carats, the cake was created by jewelers Russell and Case and Chester-based boutique CAKE.