Swiss-based Golden Dreams, known to swank up luxury phones, presented today at BaselWorld three glamorous options for opulent buyers to choose from – a limited edition iPhone in CarbonGold, a hand-engraved dragon iPhone masterpiece, and a Mansory 50 pieces limited edition 24ct gold iPhone5 (64GB).

CarbonGold, a composite material developed in-house by Golden Dreams, is real carbon fiber coated with 99.9% pure gold. And to have this coated onto the iPhone wasn't child's play. It required Golden Dreams to develop an advanced technique to deposit the gold onto the carbon fiber textile, and the result was the very glitzy limited edition iPhone in CarbonGold. Golden Dreams have already dressed iPhones in CarbonGold with 18ct gold before.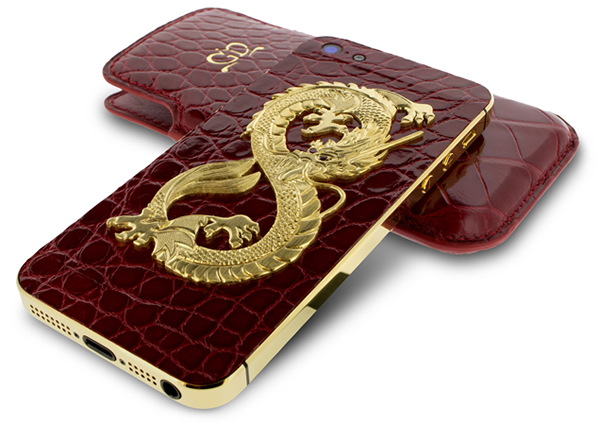 Accompanying the limited edition CarbonGold iPhone is another masterpiece from Golden Dreams – a hand-engraved dragon iPhone. Yes, the phone flaunts a hand-engraved dragon that rests atop a red alligator cloak that forms the phone's rear. In a way, the phone pays an ode to the fascinating Chinese culture. Boasting 35hours of artisanship, the phone is a complete stand-out projecting a very stunning effect.

Next in line is the Mansory limited edition iPhone5 64GB in 24ct gold, which almost holds resemblance to an earlier release of the 24ct Golden Dreams iPhone 5 makeover. However, this edition has germ-ed from the partnership between Mansory and Golden Dreams. Drenched in 24ct gold, with the Mansory branding, there would only be 50 pieces of the 64GB iPhone 5 24ct available for sale. The phone has been priced at $6,500 each.
[Via – Golden-Dreams]