Only a true whiskey connoisseur can understand the art and elegance behind devouring the spirit. And restating this in soul is the Glenfarclas 63-Year-Old Pagoda Sapphire Reserve. Marking a grand finale for the Gearcase Pagoda series, the premium scotch is offered in a jewel encrusted Glencairn crystal decanter and is unlike anything you may have savored before.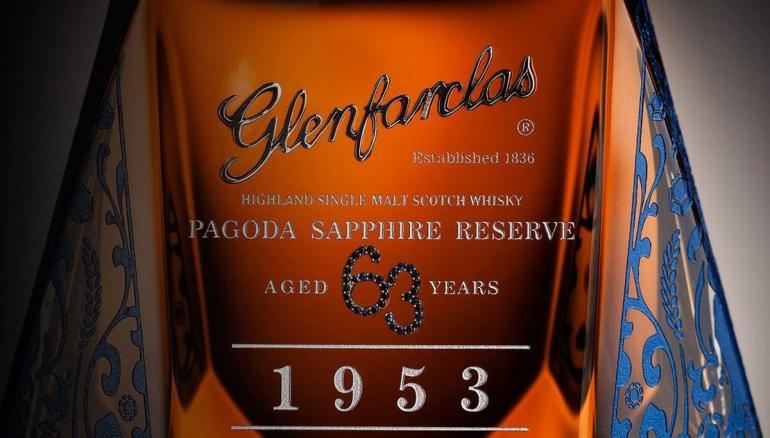 Completing the critically acclaimed Pagoda Reserve Trilogy, the Glenfarclas 63-Year-Old Pagoda Sapphire Reserve is offered in three editions: a limited-edition silver featuring 700ml bottles (priced at ($29,500 and limited to 180 units); the 1.5L Magnums (priced at $62,250 and limited to 63 units); and the Collector's Edition Gold of the 1.5L Magnums (priced at 69,580 USD and limited to 45 units).
As exquisite as the whiskey itself, the decanters by Glencairn Crystal Studio add significantly to the charm as well as the price of the bottles. Each flask comes adorned with Chinese Guardian lions on the sides, painted with a dark blue color to compliment the sapphires and the blue crystal pagoda-shaped stopper. It is further embedded with 36 sapphires to form the number 63 on the front.
Commenting on the decanters, Scott Davidson, Glencairn's new product development director, said "We are incredibly proud of our work on the Glenfarclas Pagoda Series and believe we have delivered some of our finest and most exceptional crystal cut decanters to date. It has been an absolute joy to work on this project as it has given us the chance to incorporate valuable gemstones into our decanters for the first time. Each and every decanter created is a truly unique work of art to honor the quality of the whiskey inside."
The Glenfarclas 63-Year-Old Pagoda Sapphire Reserve is currently available for purchase on the company's official website as well as at The Whisky Exchange.
[Via: The Drinks Business]