We took you through the United States and our next cuisine-meets-design pit stop lies within the kingdom that gave us Gordon Ramsay, a.k.a. hot-tempered chef. It is now London's turn to witness its gastronomic moment. Today, the city of season-driven markets serves up a cure to the 'British food is bad' claim. But another thing it does is combine its prevailing culinary prowess with an astute artistic element. The city's status as the center of worldwide youth culture is reflected in almost all of its design offerings, restaurants included. With a Museum of Culinary History and Alimentation to its credit, London is clearly serious about its eating habits. So let's take a look at the British capital's best.

5) Tramshed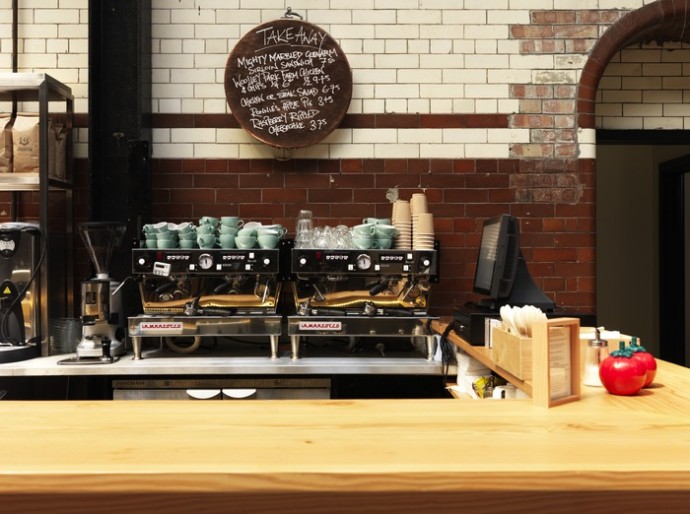 And that's what you call a meat-y concept! The famous grade-2 listed tramshed building on Garden Walk and Rivington Street is one with interiors that are riveting, to say the least. With that in place as well as Time Out's Best Meat Restaurant award, the place creates a new kind of culinary history.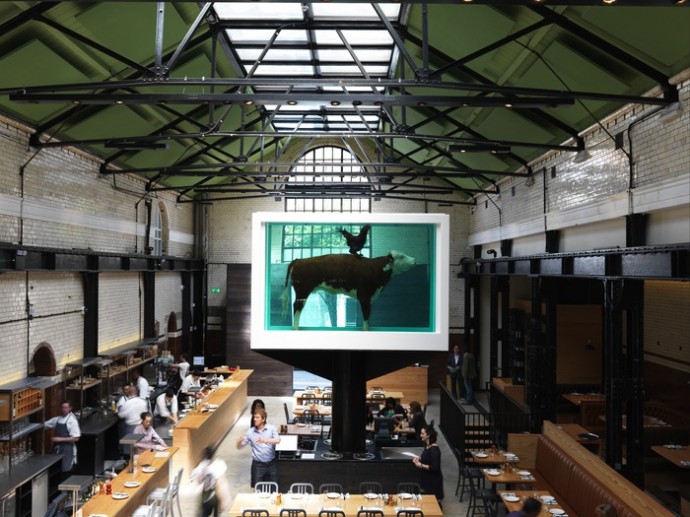 "Steak and chicken are the order of the day at Tramshed." As is their very own art gallery with exhibitions changing every 6 weeks. Hard to ignore, however, is the specially commissioned artwork by Damien Hirst featuring of course, a cow and a cockerel.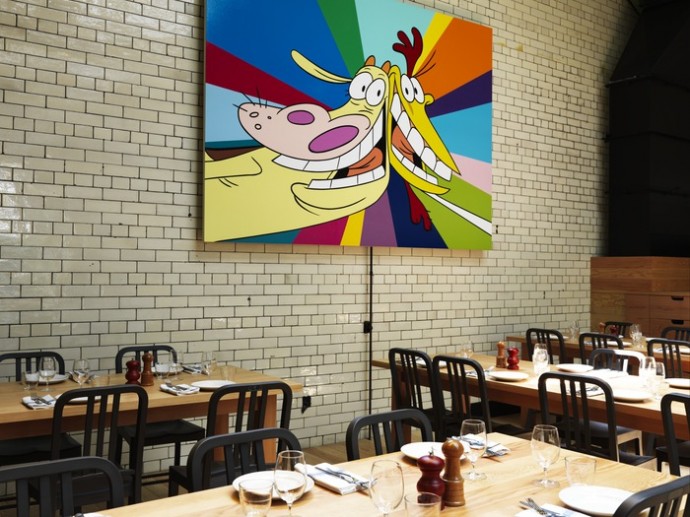 Waugh Thistleton Architects seem to have utilized well, what used to be an electricity generating facility for the Tramway System built in 1905 by Vincent Harris. The place boasts of their particular interest in timber construction from its Mini-Marks bar to its mezzanine floor offering elevated private dining.
[Tramshed]
4) Sketch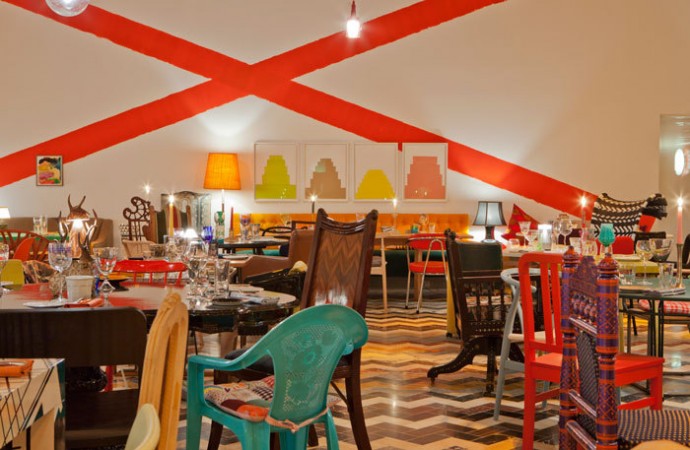 "I want the whole world to be in it." And it is! Martin Creed knew exactly what he was doing while saying those words or during designing, what would come to be known as "an environment that is at once an exhibition, an artwork and a restaurant at sketch."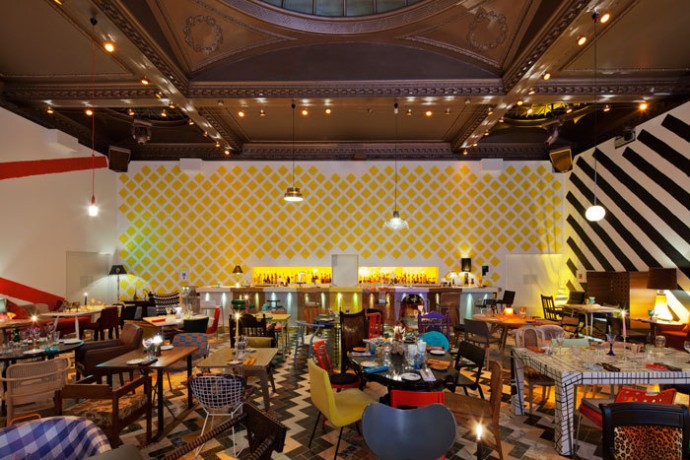 Everything from the walls to the furniture is an artwork in itself. The Turner Prize-winning artist has presented a series of functional and decorative works in the first of a new long-term program of artist-conceived restaurants. Besides the heavy dose of imagination gone into creating this space, an imaginative menu devised by French Master Chef Pierre Gagnaire completes the place.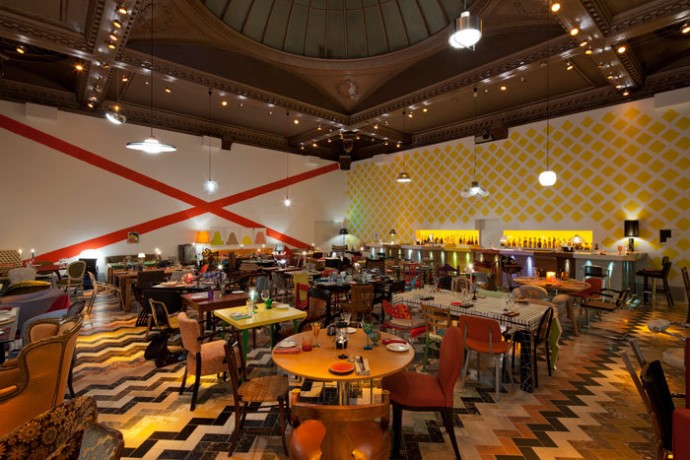 There is something in there for everyone, for Sketch features not just Creed classics but a new work specially made for the restaurant in which every single piece of cutlery, glassware, lamp, chair, and the table is different. "This work brings together a mix of the mass-produced and handcrafted, from classic antiques to contemporary design from around the world."
[Sketch]
3) & Kitchen Table/ Bubbledogs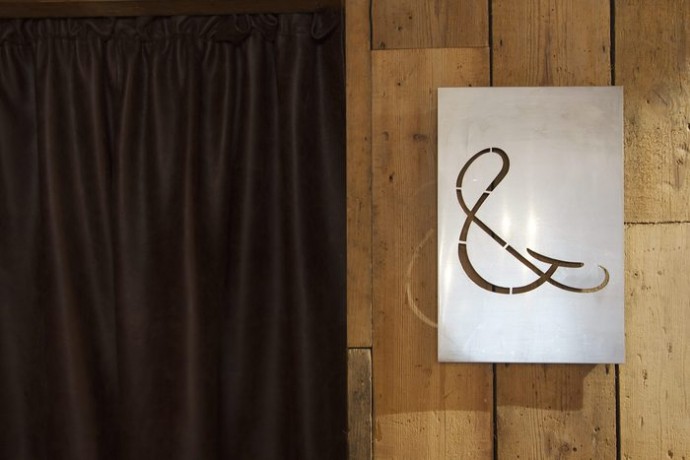 Tucked away at the back of Bubbledogs, behind a bespoke leather curtain, & Kitchen Table is just that, a kitchen table, hinting at its origins as an addition to its bigger sibling. Run by the same team, this gastronomic counterpart of the champagne bar seats 19 in the kitchen, where every evening, James Knappett and his team prepare a menu to represent the best products of the day, making it an exemplar in the private dining experience.


According to Knappett, "when people eat with us at Kitchen Table, we want them to feel like we're cooking for them at home." The table has been designed so that everyone can be seated around chefs, watch them cook, and talk to them about the preparations even. Such an interactive dining experience means a design that ensures the chefs make the food to serve it directly to the guests eating.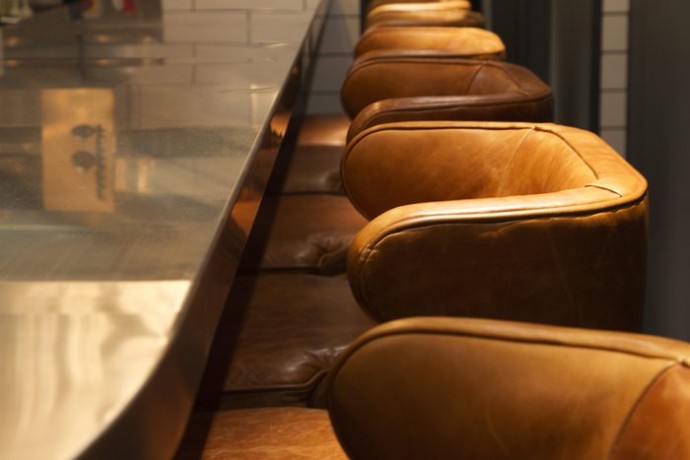 B3 Designers created a space that compliments the front Bubbledogs area yet has its own identity. The industrial-style kitchen homes a stainless steel dining counter with chairs wrapped around it and features exposed ductwork on the ceiling. Time out magazine described it as "a beautiful space, where a huge amount of thought has gone into the detail."
[&-Kitchen-Table/Bubbledogs]
2) Colony Club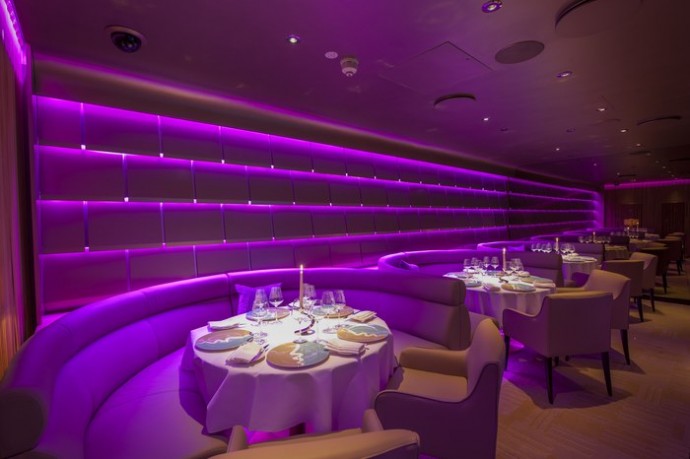 "The Colony Club is a superb contemporary space that sparkles in its glamorous Park Lane setting." And you know what else sparkles from within? The Colony Club restaurant! The club's gracefully curved bar and minimalist 'salles privee' pave the way for the sweeping staircase that leads to the restaurant.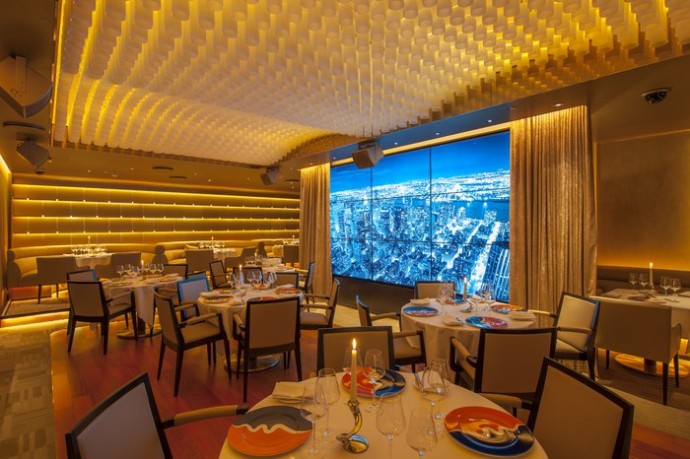 With a stunning new look, space offers "first-class food and service with eye-catching city scenes from around the world displayed all around you," thus combining a traditional dining experience with a fine futuristic aesthetic. Echoing the streamlined contours and motifs of the age of romance and sophistication, The Colony's unique style recreates "an effervescent atmosphere with a very contemporary twist."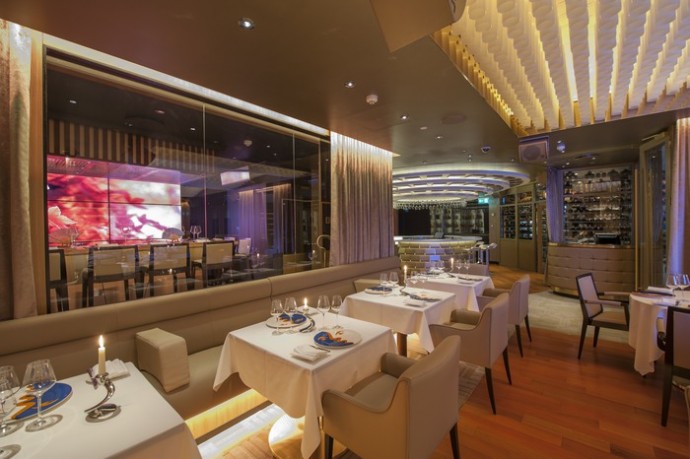 Julian Taylor Design Associates took on the task of refurbishing and rejuvenating the restaurant that lies in the heart of Mayfair, London. Seen as distinct and unique, the environment now exudes an effortless contemporariness coupled with a sense of class and refinement. This can especially be witnessed in the vivacious waves of the restaurant's central ceiling feature. "The design encompasses all the aspects that are critical to the core of our practice's design philosophy, embracing lighting, quality of material, and design refinement."
[Colony-Club]
1) Sushisamba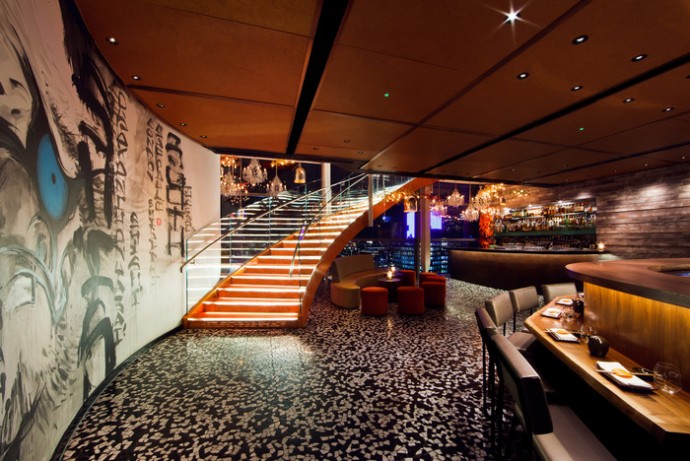 Located on the 38th and 39th floors of the Heron Tower, Sushisamba tops our list, not only for delivering a unique blend of Japanese, Brazilian and Peruvian cuisine but also striking design, culture and music. Featuring the highest outdoor dining terraces in Europe, the restaurant offers unparalleled, 360-degree views of the City of London.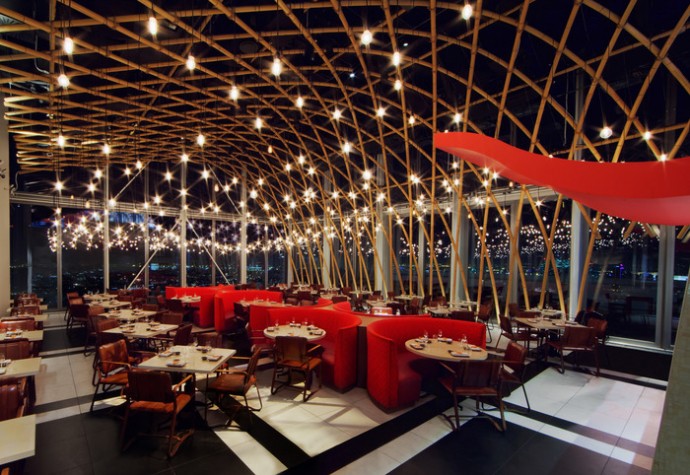 "Two panoramic glass elevators whisk patrons from the ground to the 39th floor, opening up London from inside out as the lifts climb" further and further, still. Sushisamba's main dining room, with its dramatic bamboo ceilings, overlooks views of London with three sides of the glass, from floor to ceiling. A grid of lights hung at varying heights creates a magical experience during daytime and evening.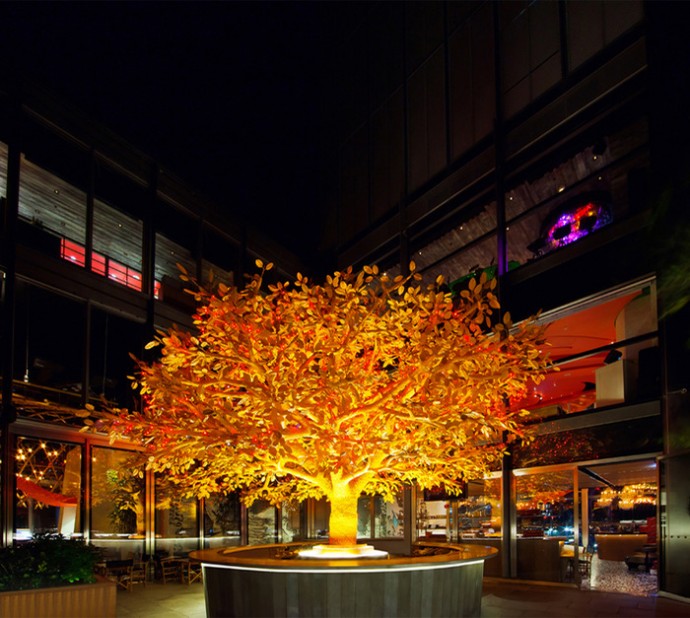 Most notably, the indoor-outdoor elements featured throughout the space, the designed structural orange tree on the west terrace, "reinforce the earth-to-sky motif." While being artworks in themselves, the restaurant features are "reminiscent of great 20th-century art and create a dialogue with the street art found throughout the space." Creating comprehensive, color-infused interiors, architect CetraRuddy succeed in manifesting urban design with a sense of sophistication.
[Sushisamba]