South Africa is renowned for its natural beauty, and 1000's of visitors arrive every year to experience the 'Best International Destination for Wildlife. However, a trip to South Africa also combines cultural diversity and luxurious properties, which offers a holiday that is nearly impossible to match anywhere else on the globe! This year, South African Tourism appointed Rhodes as their brand ambassador for India. Renowned as one of the best fielders seen by the cricket world, he introduces travelers to adventure, wildlife, food, and nightlife in South Africa. Jonty Rhodes recently played host to 4 lucky winners from a contest arranged by South Africa Tourism (India) titled: "Take me to South Africa." During this 2-week trip, they toured multiple locations. They stayed in various properties, which allowed the cricketer to compare some of the top places he has stayed in during his travels around South Africa.

The Table Bay Hotel, Cape Town

Cape Town has so many beautiful properties to stay in. Still, for accommodation that is nestled between the shadow of the majestic Table Mountain, and the mighty Atlantic Ocean, you will love the splendor and convenience and of the Table Bay Hotel.

The Spa in the hotel has an enticing array of treatments that will make it difficult for you to head out and explore the Mother City, even though the vibrant city center is a mere 5-minute taxi ride away.

You could always meet temptation halfway and meander through the adjacent V&A Waterfront, with its many upmarket retail outlets and tantalizing restaurants literally outside your door! The rate for a superior luxury family room with a bay view for two guests is $1,100.
[The-Table-Bay]
Conrad Pezula, Knysna


Nestled on the famous Garden Route between Cape Town and Port Elizabeth is the luxurious property Conrad Pezula Resort & Spa.

The combination of the Knysna's small-town charm, the fabulous 18-hole Pezula Championship Golf Course, the golden beaches, the rejuvenating spa, and stunning rooms, canoeing, archery, hiking, and horseback riding makes this resort a perfect place to stay.

In addition, your itinerary can include bird watching, guided nature trails and thrilling helicopter flips that skim the cliffs and ocean below. The three bedroom Pezula Castle with private pool for 2 guests is available for $9,500.
Conrad-Pezula
Note – The Conrad Penzula is permanently closed
Grootbos Nature Reserve, Gansbaai

Jonty took his visitors for the exhilarating experience of shark cage-diving in Gansbaai and recollected his experience of coming face to face with a mouth full of razor-sharp teeth at the Grootbos Nature Reserve.

Forest Lodge is an intricate bonding of modern luxury and the everlasting beauty of nature. Overlooking the mountain and sea landscapes of the picturesque Hermanus area, the magnificent lodge and 16 freestanding suites are designed to envelop you in the warm embrace of Mother Nature.

Cozy fireplaces, luxurious canopy beds, and spacious bathrooms make this the ultimate romantic getaway. All the meals and a wide variety of guided adventures are included in the stay, ranging from $200 to $500 per person per night sharing.
[Grootbos-Nature-Reserve]
Hamilton's Tented Camp, Kruger National Park

Without trying to flaunt all the international accolades South Africa has won as a wildlife destination, he finds it impossible to write about luxurious properties without including a few private game lodges where he has been fortunate to spend some time on its safari.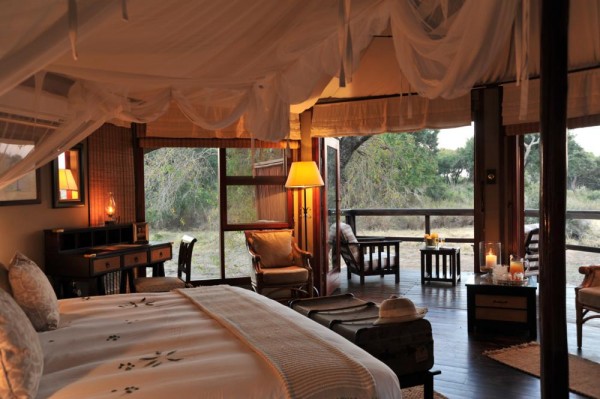 Hamilton's tented camp is situated on one of the few private concessions within the world-renowned Kruger National Park, which allows you not only to traverse the largest Game Reserve in South Africa but also to indulge in the grace, luxury, and style of a true "out of Africa" experience! With their teak floorboards, the six magnificent canvas tents allow the smells and sounds of the African bush to infiltrate your stay without you feeling exposed.

The deep slipper baths, wispy mosquito nets, and outdoor showers with views over the seasonal river make it difficult for you to leave for the morning and evening game drives. Still, the incentive of spotting South Africa's famous Big 5 will ensure that you join the knowledgeable ranger on his daily excursions into the African bush. Book up for $600, including accommodation, three meals, two safaris per person per night.
[Hamiltons-Tented-Camp]
Palazzo Monte Casino, Johannesburg


Johannesburg is South Africa's largest city, and spending time here before rushing off to Cape Town or the game reserve gives you an understanding of why South Africa is so important to the rest of the continent.

A topless-bus tour of the city, followed by a visit to Gold Reef City, where you are "dropped" deep beneath the earth's surface to see first-hand how gold was extracted, gives you some insight as to how and why South Africa has evolved and developed into the Rainbow Nation of today.

Once back in your room at the Palazzo Montecasino, you have the choice of heading out into the Montecasino complex to wander through the upmarket retailers or satisfy your appetite in one of the many restaurants, of which there is a wide variety, to satisfy all tastes and meal requirements. If the tour has tired you out, then rest in your stylish and spacious room, where the opulent décor will ensure your stay is most comfortable and rejuvenating. A stay at the deluxe suite with King Bed for 2 guests will come up to $500.
[Palazzo-Monte-Casino]