Make like a distinguished British aristocrat with a luxury stay in one of these 5-star, heritage-listed luxury hotels housed in fairy-tale castles and medieval manors
et on sprawling estates, these castles, houses and manors are a blast from the past, and discreetly updated with every modern convenience, luxury and amenity for discerning guests.


1. Monkey Island, Bray, Berkshire; Grade 1 Heritage Listing
Bought by the third Duke of Marlborough in 1723, then eventually changing hands and spiralling into decline in the 80s, this idyllic, seven-acre retreat in the middle of the Thames reopens in March as Monkey Island Estate, a luxury property harking back to Georgian times.
Trump-Kim summit: Inside Meliá Hanoi hotel, where Kim Jong-un is staying
The hotel was designed by New York's award-winning Champalimaud Design, and will feature 27 exclusive suites, a kitchen garden and the world's first riverine spa. Its proximity to the Michelin-starred restaurants of Bray also makes it worth a gander.

2. Cliveden House, Taplow, Berkshire; Grade 1 Heritage Listing
Built in 1666 by the second Duke of Buckingham, Cliveden House is set within 376 acres of National Trust parkland, offering an opulent retreat complete with formal gardens and a maze. Take to the river on a vintage launch with a gourmet picnic or enjoy a classic afternoon tea in the dining room before retiring in one of the beautifully appointed suites.
In 2018, Meghan Markle spent the night here before officially becoming the Duchess of Sussex when she wed Prince Harry the following day.

3. Lympstone Manor, Exmouth, Devon; Grade II Heritage Listing
Set on 28 acres of land between Exeter and Exmouth, and overlooking the stunning Devon coast, this Georgian country manor is part of English chef Michael Caines' collection.
The 60-seat Michelin-starred restaurant is his flagship, serving modern British cuisine and fine wines.
The estate's own vineyard produces sparkling wines in the style of champagne for guests to savour, and there are 21 suites to choose from, complete with luxurious linens, gin tray, and some with outdoor marble bathtubs.

4. Hotel Endsleigh, Devon, Cornwall; Grade I Heritage Listing
Set amid the sort of lush landscape that is often described in fairy tales, this elegant award-winning 18-bedroom retreat in Devon presents guests a chance to experience the magic of the West Country.
Restored in 2005 by renowned hotelier Olga Polizzi, Endsleigh promises peaceful country living – exquisite afternoon teas, days spent lost in a good book in a deep armchair, pheasant shooting with their gillie, fishing in the River Tamar, and refined country cuisine come sundown. The hotel is also home to a 100-acre garden designed by the great English landscape designer, Humphry Repton.
André Fu talks about his latest project: Hong Kong's St. Regis hotel

5. The Gainsborough Bath Spa, Bath – Grade II Heritage Listing
In the heart of the World Heritage Site of Bath, The Gainsborough offers the best combination of modern luxury and ancient practices. The hotel's two buildings boast distinguished Georgian and Victorian facades, and the guest rooms offer elegant cocoons in which to relax after taking in the city's sights.
Guests here receive privileged access to the mineral-rich waters through Spa Village Bath, where they can take in the waters at their leisure – a custom that has endured over 2,000 years because of its healing effects. Do not forget to indulge in the rich, spiced hot chocolate after soaking in the thermal waters.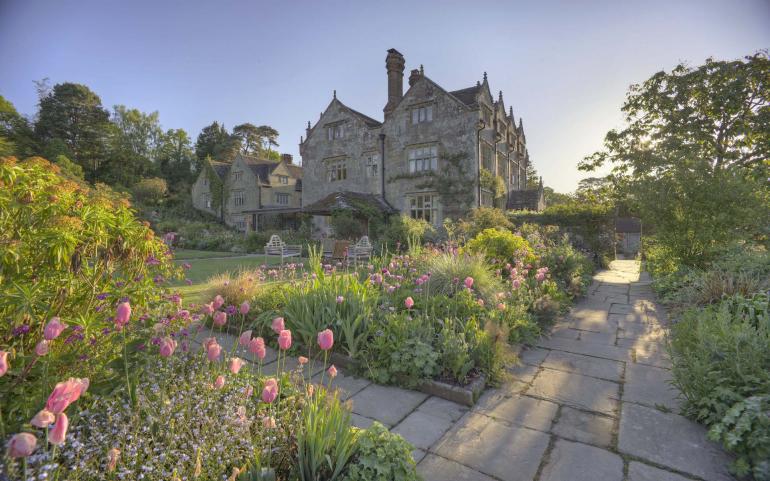 6. Gravetye Manor, West Hoathly, Sussex; Grade I Heritage Listing
A stunning Elizabethan manor, Gravetye offers 17 beautiful rooms, exquisitely appointed by owner Elizabeth Hosking in collaboration with the Designers Guild. It is home to one of the most historic gardens in England, including a Victorian Walled Garden. The landscape is designed to celebrate rather than tame nature and was planned by visionary gardener William Robinson.
Offering front row seats to the garden, Gravetye's restaurant has retained one Michelin star since 2005, and continues to grow in the talented hands of chef George Blogg. We love Gravetye for the luxurious, fantasy-come-alive British experience that it provides.

7. Amberley Castle, Amberly, West Sussex; Grade I Heritage Listing
Built in 1103, surrounded by a 60-foot high wall and ensconced within the picturesque village of Amberly at the foot of the South Downs, this medieval castle offers 19 resplendent bedrooms for guests to live like a monarch (for a while).
Once in residence, one can indulge in a spot of croquet or wander through the 12-acre formal gardens, accompanied by resident peacocks. Dine in the magnificent barrel-vaulted Queen's Room, where cuisine and service are both highly rated.

8. The Rosewood, London – Grade II Heritage Listing
When arriving at the Rosewood in High Holborn, one is struck by its grand facade, while the contemporary 300-plus luxury rooms and suites within offer delicious respite from the buzz of the city.
The Grade II listed Edwardian building is perfectly placed to explore the secrets and thrills of London Town, and we are also in love with its restaurant – The Holborn Dining Room, where master chef Calum Franklin is taking the ancient British art of pie making to an entirely different stratosphere.
Note – This story was originally published on SCMP and has been republished on this website