New York is best known for its soaring skyscrapers, trend setting boutiques, fashionable crowds, and some of the world's top luxurious hotels. It's a city that is associated with affluence and exclusivity. If you're wondering where to stay in total luxury or if you're curious to know where the uber-rich stay when in New York, we've put together a list of seven most decadence suites. These suites are awash in opulence and a one-night stay here can even cost more than an apartments annual rent. Needless to say over the top would be an understatement – here are seven suites in order of their decadence.


7 – Penthouse Suite, InterContinental New York
How much –
$5,000 per night + taxes
What you get – With panoramic views of the Manhattan skyline, this 2700 sq. ft suite is spread over two floors. Tastefully furnished with modern décor and windows framed with wood-paneled columns and Mother of Pearl insets, the suite has a private bedroom with fireplace, living space and kitchenette and dining area.
Why you should splurge – The suite is located on the top floor of the hotel and has floor to floor to ceiling windows that offer breathtaking panoramic views of the Manhattan skyline. The suite has been the back drop and set for a number of famous productions from popular TV shows to ads to music videos, most famously the One Direction "Perfect" music video.

6 – Bentley Suite, St. Regis New York
How much – $10,500 per night
What you get – The Bentley suite is designed in collaboration between St. Regis Hotels & Resorts and Bentley Motors to provide guests a one of a kind experience. The suite is an expansive 1700 sq. ft. with an entryway foyer with black leather-tile floor, one bedroom, one and a half baths, a dining room and a living room complete with floor to ceiling windows. The suite is filled with signature details from Bentley's vehicles from classic leather detailing, rich wood furnishings and Breitling mounted wall clocks.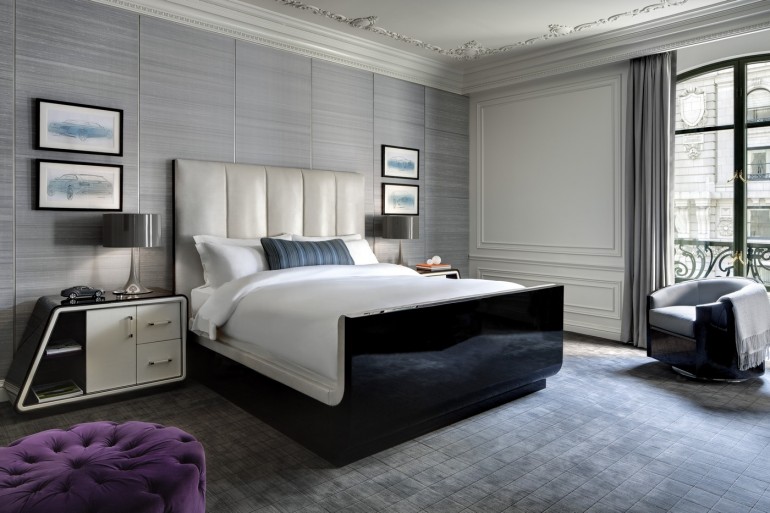 Why you should splurge – Guests are treated to St. Regis hallmark services such as a personal butler, in-suite champagne bar, and complimentary access to the St. Regis Bentley Moonbeam and the Bentley Beluga. Bentley fans will love this suite as it is done up in the automobile's trademark style with many of the suite's fittings reflecting the jewelry features of the car and its classic colors.
5 – Baccarat Suite, Baccarat Hotel & Residences New York
How much –
$18,000 per night
What you get – Akin to the Versailles' Hall of Mirrors, this 1740 sq.ft. suite will dazzle you with its more than 2,000 Harcourt goblets, chandeliers, and crystal amphorae. The suite consists of a bedroom with floor-to-ceiling windows, walk in closet, living room, dining area, butler's pantry and powder room. The décor is luxe French with salon-like spaces and custom-designed furnishings in linen and velour.
Why you should splurge – It has all the hallmarks of an inspired Parisian pied à terre with original works of art from the Baccarat collection and crystal sconces glowing on the walls. Guests also receive complimentary La Mer beauty amenities upon arrival and complimentary hair blowouts by appointment as well as a Baccarat Gift upon departure.