Ever since its launch in 2016, the much-talked-about Palazzo Versace is known for many great things. After all, it was put together by the world-famous fashion brand, has a killer pool and few great restaurants. It has achieved so much in considerably less time and is a part of a bucket-list of tons of discerning travelers. Does it live up to the hype? I recently had a chance to spend a night at the gorgeous property and put it to test, and here's what I think: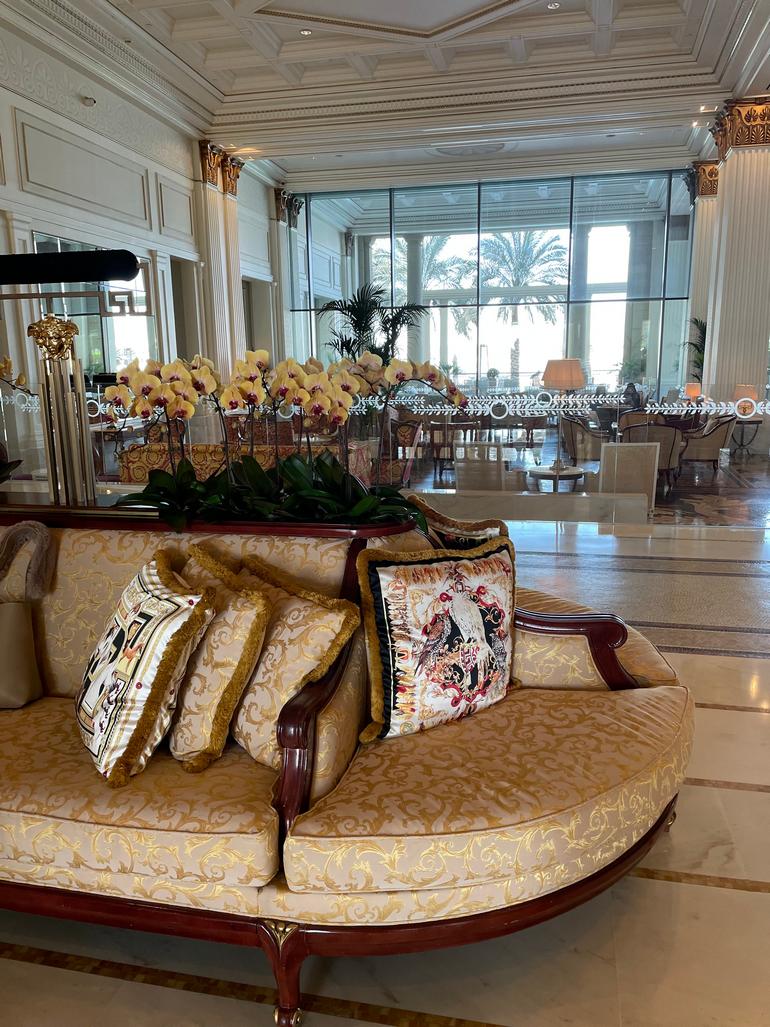 First impressions
On entering the hotel, I'm greeted by a massive, 3,000-kilogram crystal chandelier imported from the Czech Republic, flanked by a 1.5 million-piece mosaic of Medusa set into the Italian marble floors. I love how the lobby interior is decorated with sofa chairs — upholstered in Versace silk — and plump cushions, evoking a wealthy woman's posh (or, depending on your taste, gaudy) living room. The high ceilings top a corridor lined with framed sketches of supermodels sporting Donatella's couture creations, limited-edition Versace urns (there's only four in the world), and rich purple carpets handcrafted from New Zealand wool.
The Versace brand is omnipresent, as you'd expect, from the hand-painted friezes in the lobby to the delicate china used to serve your coffee as you wait to check-in. While my check-in was not so quick and it had its teething issues there, the property made up of a lovely welcome amenity.

In keeping with safety regulations, temperatures are checked using a high-tech thermal camera at the grand entrance, and glass partitions are placed at reception, along with decadent bottles of hand sanitizer. When I'm heading down to catch some sun, the temperature is again checked at the door. What's impressive was that the safety protocols were followed everywhere-from the restaurants to the spa.

Of suite dreams
Overall, the property houses 150 rooms and 65 suites. What's interesting is that each of these features polished parquet flooring and Versace homeware — silk-printed sheets and drinking glasses with the Medusa insignia carved into the bottom. In fact, the mythological figure is peppered throughout the interior, whether overtly — on the towels — or subtly, such as the knobs on the drawers. They come kitted out with designer accessories straight from the house of Versace and include fantastic views over the swimming pool and an absolutely huge bathroom (and tub).

I was lucky enough to stay in the Grand Suite, a luxurious 130-square-meter room with sweeping views of Dubai Creek. I entered into a spacious living room that was separate from the bedroom — the latter an ultra-Instagrammable place that includes a plush king-sized, baroque-style bed dressed in salmon-pink and golden linen (yes, with Versace patterns). Although you'll want to spend most of your time in this luxe hideaway in your pajamas, robe, and slippers, should you feel the need to dress up, two walk-in wardrobes are waiting to be filled. Two huge bathrooms, complete with deep bath rubs, a walk-in shower, and his-and-hers sinks, also occupy the space.

Another detail I loved was the touchpad on each bedside table. With the said touchpad, you could control the lights, mood lights, do not disturb sign, call the butler, and even open and close the curtains.

The answer to perhaps the most important and burning question: the bed was uber comfortable and just silken soft. The smoothness of the silken bed covers made me want to writhe on them more than I needed to. The sheets, which look plain white at first glance, actually have the Palazzo Versace emblem woven into the very fabric.

My stone balcony offered Dubai Creek or city views. Carrara marble bathrooms here are tiled with mosaic murals and house twin vanity units, rainforest showers, tubs, and Versace toiletries with gem-shaped lids. Connecting antiquity with the technology, toilets are quaintly referred to as 'powder rooms' on touch-sensor light switches.
Between the Versace-branded toiletries lining the marble tub and counters, mosaic murals on the walls, and Carerra marble flooring, the suite is worth booking for the bathroom itself.
Foodscapes
The hotel has a wide selection of restaurants to suit all taste palettes. There's international cuisine at Giardino; Persian restaurant Enigma — headed by Iranian-born Michelin-starred Mansour Memarian — and Italian venue Vanitas. I opted for the latter for dinner, a cozy yet luxurious space that is equally fit for an intimate dinner date or a feast with friends. To start, I tried the Bruschetta Burrata, which was served with tomatoes, mashed avocados, and basil freshly-handpicked from the hotel's garden. I loved how freshness took center stage in every ingredient here, and that made it just delectable. Furthermore, for mains, I tried the succulent Tagliata di Wagyu — Wagyu Striploin served with a side of black truffle mashed potatoes and sautéed mushrooms which was tender spiced-right and just bursting with flavors. Naturally, everything was served in Versace tableware. The food quality, as you'd expect from the hotel, was top-notch.

The portions were a good size. However, the dessert: Tiramisu, was undoubtedly the highlight of the meal. The cream was fresh, the sponge was soaked in just the adequate amount of cocoa powder, and the dish's balance made it taste just divine.

Enigma's 'Taste of Persia' menu was another highlight from my stay here where I devoured well-prepared Persian delicacies like Masto khiar wa naana-freshly grated mint and cucumber in yogurt, Salad chupan-watermelon, cress candied olives, walnuts, and homemade cheese and Kashke bademjum- charcoal grilled eggplants with Kashk, fresh mint and roasted onions- screaming culinary mastery in each bite. Ending the meal with Kabab kubide- a delicious minced lamb skewer grilled on charcoal with a drizzle of saffron and Faludeh- Saffron ice cream, glass noodles, and homemade syrups which is prepared right in front of you, I knew I had found the answer to my Persian food cravings. I have tried reams of Persian restaurants but what I loved about Enigma was that the food was incredible without being heavy- an attribute you usually associate with Persian food.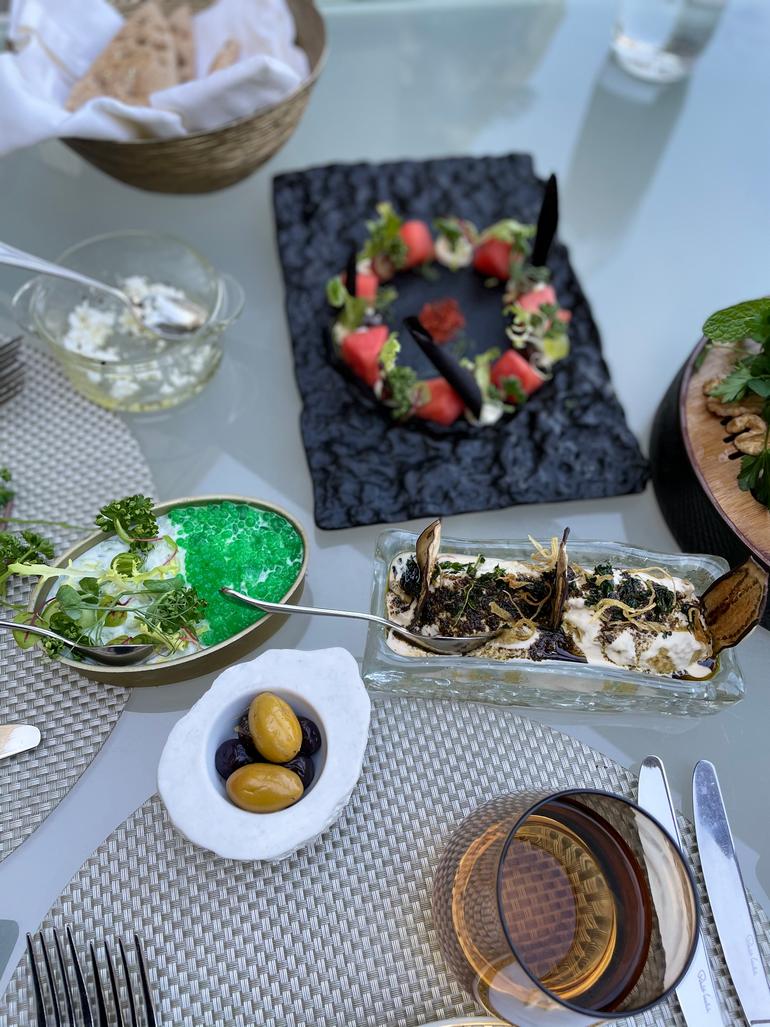 Giardino, the restaurant serving breakfast, matches the fabulousness of the space. It's like entering the bright room, decorated with jungle-motif wallpaper and chairs to match, a second temperature-check camera is placed, and masks are recommended. At the same time, you peruse the buffet of international favorites. Keeping the pandemic situation in mind, there is a server to serve buffet selections for each person. I loved the flamboyant breakfast buffet filled with chocolate fountains, cake, pancakes, waffles, curries, and eggs cooked to order. In contrast, the breakfast buffet is not as overwhelming as other Dubai breakfast buffets-it is a plentiful culinary offering with an array of international stations. I give a thumbs up to the sumptuous almond croissants and for brewing the perfect cup of joe!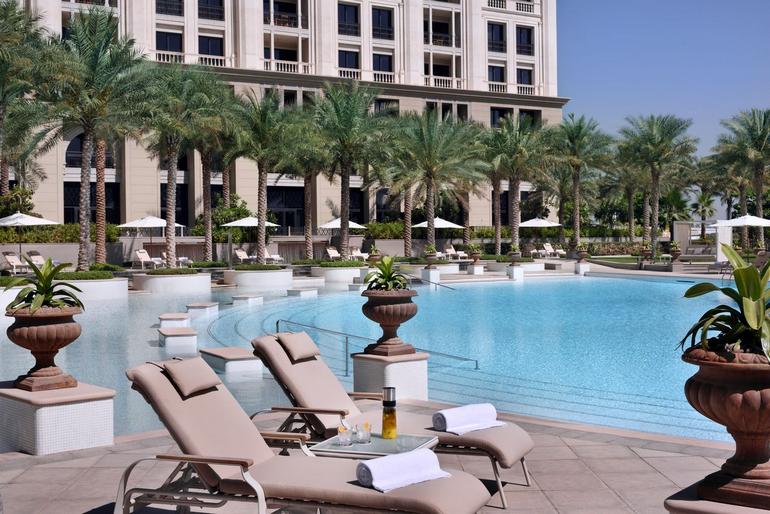 For those looking to swim away from their stresses, the property allows access to not one but three stunning pools. Other facilities include a five-star gym and spa with thermal suites, Moroccan hammam and nail salon offer further embellishments, and landscaped terraces embrace three lagoon pools overlooking a quiet corner of Dubai Creek. Those who prefer sand between the toes can take complimentary passes and transfers to Pearl Jumeira's Nikki Beach Resort & Spa Dubai, a 20-minute drive away.

The spa
The hotel's hallway leading to the spa is filled with framed sketches of Donatella's glamorous designs. We're talking tall-legged models in dazzling gowns. It helps set the mood for self-indulgence as we reach the spa's opulent reception decked out in signature Versace prints, lavish marble mosaics, and fresh orchid flowers.
Putting on an indulgent robe with Versace emblems, I am headed to the treatment room to experience the 75 minutes Precious Babor Facial. The facial includes the standard cleanse, exfoliate, mask, peel, etc., but what was unique about the treatment was the masterful combination of Rose, Gold, and Platinum ampoules combined with unique treatment techniques and how it invigorated, plumped, and firmed my skin with a radiant glow in just one session. I love how BABOR skincare specialists have effectively combined high-performance ingredients to give an immediate real-life" camera filter" effect.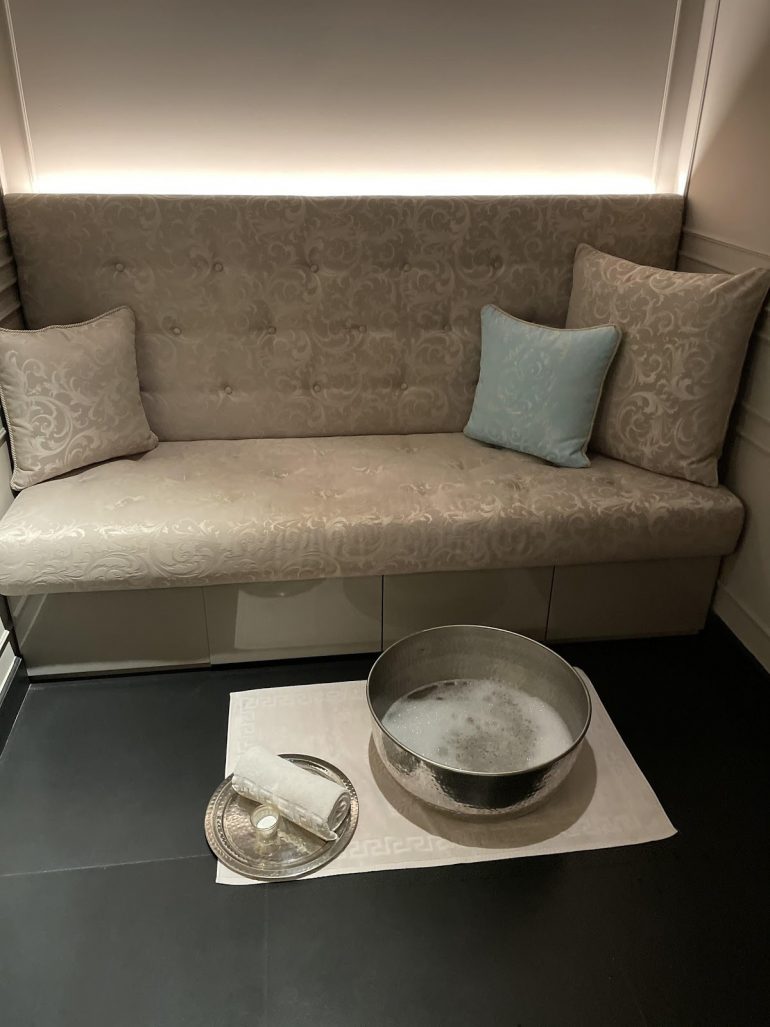 I was then directed to the relaxation area to enjoy the dreamy Jacuzzi situated above a ceiling of star-like lights before relishing a cup of tea with a handful of sweet dates. By the time we were done with the spa, we were feeling content, positive and stress-free. Our only concern was when we could return to Donatella's wellness haven again.

Family-Friendly?
Young Versace Kids' Club features a play area with games, crafts, movie screenings, and a nap room. It is open to unaccompanied children aged four to 12; children below four require a guardian, and the facility is free for up to three hours (additional hours are charged separately).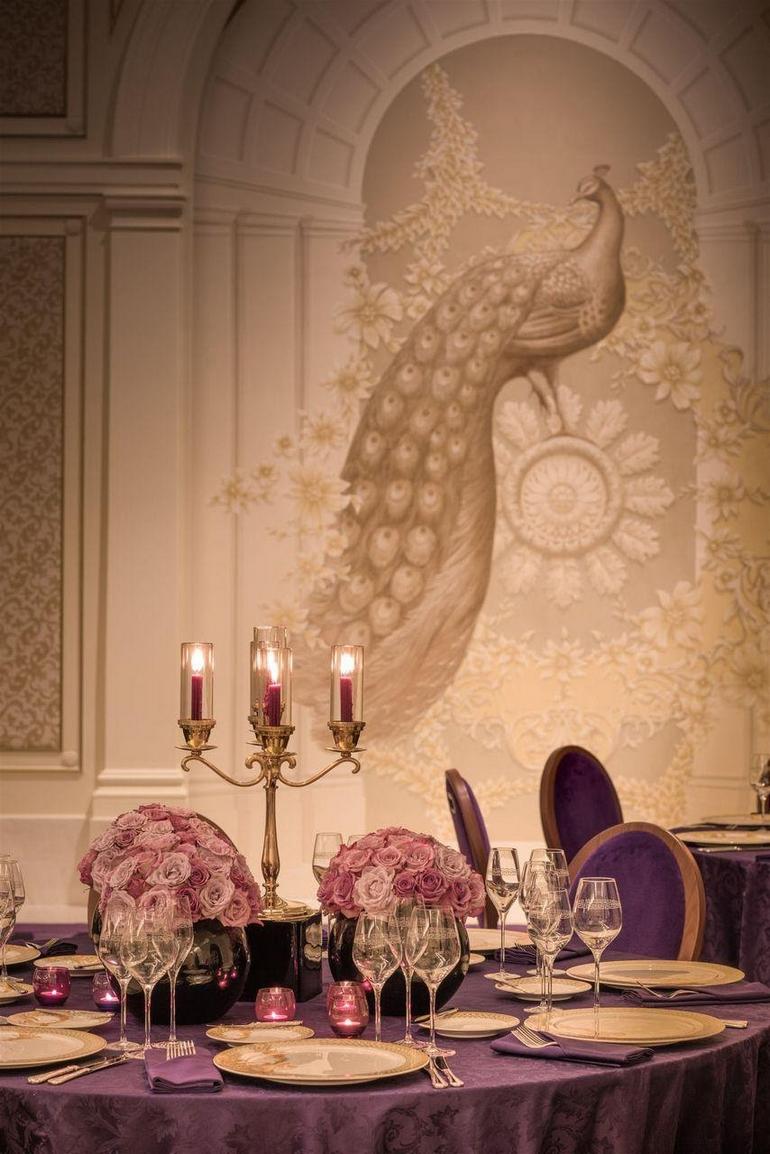 Final thoughts
I love how The Palazzo Versace Dubai is an undeniably elegant retreat where safety is just as important as glamour. The hotel truly is a masterpiece of fashion and craftsmanship. Coupled with foodie delights, great facilities, and impeccable service, this one definitely shines on.
After all, we wouldn't expect less from Versace.
Note– The critic was invited by the hotel. But all the opinions expressed herewith are her own.
PRICE: Rates start from 236 USD for a Deluxe room going to 6680 USD for the signature suite
Where: P.O. Box 128431, Culture Village, Dubai, UAE.
Phone: 00 971 4 556 8888