For this week's Suite of the Week feature we have something from the Mandarin Oriental Geneva. A hospitality brand name that is often associated with class and elegance is well appointed in the French land of Switzerland – Geneva. When a town is constantly hustling and bustling with international celebrities and heads of state, a brand like Mandarin Oriental is a pre-requisite.

The luxury hotel has found a beautiful spot, overlooking the Rhone; yet within close proximity of the business and central district's of the town. The refurbished interiors are superbly stylish, preserving the fine Art-Déco details, but most importantly, the legendery service of the luxury brand is the talk of the town.
Of course, the 189 elegantly designed suites and rooms are temptation enough, but if you're in the mood for indulgence, I cannot say enough about the breakfast buffet. Think oozing local cheese, smoked salmon and littles cocottes of buttery scrambled eggs.
The Mandarin Oriental is definitely a culinary landmark when it comes to gourmet cuisine in Geneva. Both designed with cosmopolitan elegance by the acclaimed designer Adam Tihany. The inventive Rasoi is the fine dining restaurant serving tasty Indian cuisine by London-based, Michelin awarded Chef Vineet Bahtia. Café Calla was opened by Chef Nasser Jeffane, offering a mix of modern Swiss, French and healthy cuisine with local and seasonal products.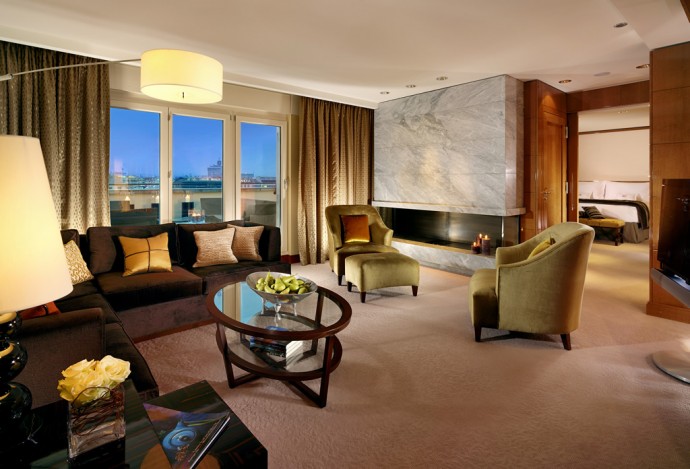 Since I am well aware of your taste by now – classy and luxurious, my recommendation would be the Oriental Suite. Perched on the top floor of the spectacular hotel, the 150 sq m suite is a piece of heaven. Offering unprecedented views of the Rhone, the one-bedroom suite entails a 30 sq m terrace, which I may add is almost the size of a living room.
Using a chic palette of brown, white and green, the suite is a perfect blend of opulence and elegance. The generously sized living room comes with a table seating up to six guests, but the separate dining room – yes, this is heaven indeed – comes with a table seating up to 10 guests.
I must emphasise on the light filled living room which provides sweeping views of the Saleve Mountain, in addition to featuring an open fireplace – perfect for a cosy evening in luxury surroundings.
The elegant master bedroom features a king sized bed, covered with luxurious linens. One can access the massive terrace from within the bedroom. A feature that is striking – personally a favourite – is the black and white marble – clad bathroom, entailing its own hammam and massage room. That is of course, in addition to the basics.
Area: 150 sq m / 1,615 sq ft
Cost: $10,700 per night
Occupancy: 3 persons
Location: Quai Turrettini 1, 1201 Geneva
Why would you want to splurge on it?
A 30 sq m terrace offering views of the lazy Rhone and the Saleve Mountain is reason enough. Of course, this in addition to the legendary service of the Mandarin Oriental.
Address:
Quai Turrettini 1,
1201 Geneva,
Switzerland