What will $37,000 get you these days? A modest down payment on a home or a year of a college education? Well, how about a single night in the world's most expensive hotel room? Luxury goods are available everywhere, at both lower and higher price points than ever. Not to be outdone, hoteliers are keeping pace. The quality of suites, their furnishing, and amenities, is at an all-time level of extravagance because the expectations of guests staying in regular rooms increased with flat-screen TVs, better bedding, in-room technology, and wireless Internet access. Let take you on a tour of the 10 most expensive hotel rooms in the world. Topping the list is-
Penthouse suite at The Hotel Martinez – $37,200 (Cannes, France)
Cannes is a summer haven for sun-deprived Europeans, and the annual film festival is one of the biggest events of the season. The Penthouse Suite at The Hotel Martinez is the ritziest place to stay, located on the seventh floor of the hotel. It has four bedrooms, and the enormous terrace has a private Jacuzzi and views of the Mediterranean.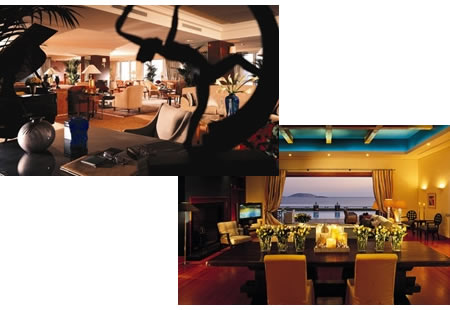 2. Royal penthouse suite at President Wilson Hotel – $35,000 (Geneva)
The name of this suite recently changed from Imperial Suite to the Royal Penthouse Suite, and the price changed as well: The last time we published this list, the suite rang in at $33,000 per night. The suite is accessed via a private elevator. All doors and windows are bulletproof, and there are panoramic views of Lake Geneva Rest assured, it's got bulletproof windows and doors, along with the brilliant views of Lake Geneva.
3. The Royal Villa at Grand Resort Lagonissi – $34,088 (Athens, Greece)
The three-bedroom Royal Villa at the Grand Resort Lagonissi in Athens has an indoor pool, an outdoor heated pool, a gym, a fully equipped kitchen, and large living and dining rooms. We recommend you arrive with friends and split the cost three ways–but for the high-flying moguls who rent this villa, that is probably needless frugality.
4. Presidential Suite at Hotel Cala di Volpe – $27,277 (Costa Smeralda, Italy)
5. Bridge suite at Atlantis – $25,000 (Paradise Island, Bahamas)
6. Palace suite at Elounda Beach Hotel and Resort – $21,030 (Crete, Greece)
7. Royal suite at Plaza Athenée – $17,494 (Paris)
8. African Sapphire Villa at Altamer – $11,428 (Anguilla)
9. Presidential Suite at the Intercontinental – $11,183 (Hong Kong)
10. Royal Suite at Burj Al Arab – $10,900 (Dubai, United Arab Emirates)
According to the hotels on the list, the majority of the clients who book their top rooms are wealthy families in the middle of remodeling their homes, film companies, and corporations. Of course, there are always stories of the random sheik, deposed dictator, or pop star also.
Source