Disney means fantasy – it is a surreal world of magic, magnificence and marvel. We have fallen in love with the princes and the princesses and the thieves and the genies and the fairies and so on. French jeweler Chopard understands that alongside crowning the diamond as her best friend, she also loves to sometimes live in the magical world of enchantment. To honor the charm, elegance and 'sparkle' of these ladies, Chopard has unveiled its new 'Disney Princess Collection'. Take a look at the unique pieces they have crafted:



So she slept a lot, but Princess Aurora never showed a sign of tire. She was as graceful and speckled 100 years later as she was the day she pricked her finger. These earrings depict her charm, boasting a myriad of colors reflected through the perfect marriage of a set of precious and fine stones. The earrings comprise two dissimilar pieces: one with a bird in round emeralds, tsavorites, rose-cut pear-shaped amethysts, and Paraiba tourmalines. The pair is more subtle with ravishing rubies and pink sapphires, with rose-cut pear-shaped yellow and pink sapphires.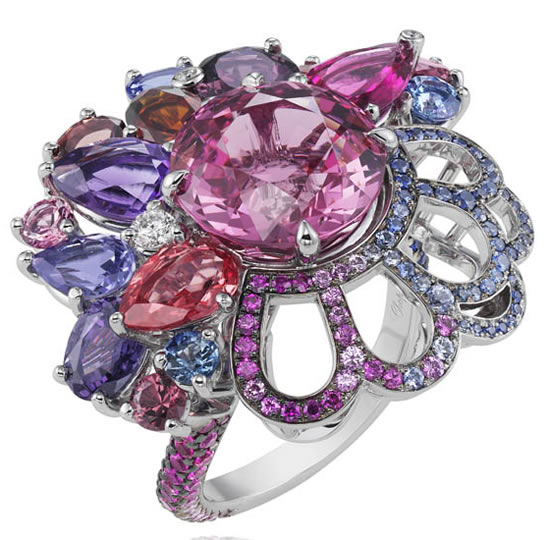 She endured a beast – this woman has more substance than meets the eye, and that speaks a LOT. Keeping this line of thought in mind, Chopard has dedicated three jewelry pieces for this fine lady. One is a stunning necklace inspired by the shape of her yellow gown. It is a white gold necklace set with precious and fine stones like an electric blue 69 ct pear-shaped tanzanite and blue round sapphires, marquise-cut and oval amethysts, pear, square and round-shaped rubellites, morganites, kunzites, and spinels, as well as round pink and white diamonds and heart-shaped pink sapphires. Complementing the necklace is a pair of earrings that would make any woman, pardon the French, drool. Finishing the set is a ring designed in the same manner as the necklace and earring.


The only lady to be off land or air, Ariel is unique. Not only because of her water-borne habits but also because of her sleek fish-like limbs. Her glowing red hair and infectious smile are her charms, and Chopard does some justice to idolize this with a pretty bracelet. It has multiple circles paved with diamonds, layered and intertwined to resemble Ariel's glistening tail, in emeralds and tsavorites keeping alive the traditional Disney form.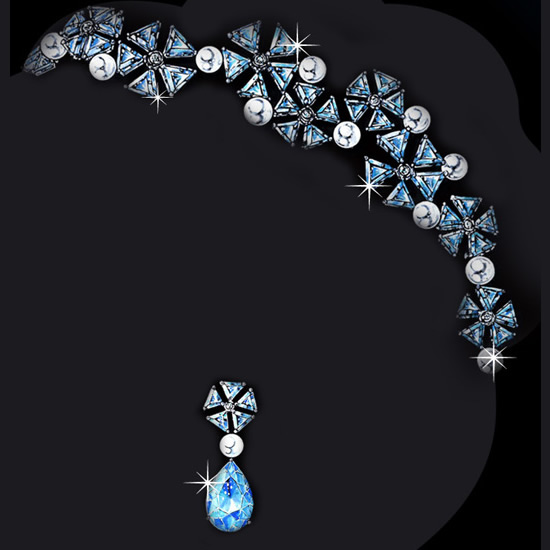 She scrubbed the floors silly and endured suffering caused by her stepmother and stepsisters, but Cinderella still never let that kill her spirit of grace and beauty. Honoring her, Chopard has designed a scintillating crown tiara and earring set. The hairpiece is presented in a wave of dazzling diamonds and triangular aquamarines with white pearls. Stepping in line with this design are the earrings in a singular flower with a white pearl and pear-shaped aquamarine drop.


Princess Jasmine had the most expressive eyes, complementing her beautiful black tresses. Dedicated to her is a pendant necklace, designed in a similar way as the contours of her strong features. The necklace has turquoise beads with intertwined yellow gold. The main drop of the necklace is a pear-shaped turquoise cabochon of 283 ct dusted with diamonds.


She may not have had the luxury and comforts of a palace as many of her peers did, but Pocahontas was as beautiful as the breeze and air that spoke to her. This bracelet comes as a true resemblance to her spirit with its distinct tribal touch and vibrant colors – an intricate union of rubies, pink and blue sapphires, Paraiba tourmalines, amethysts, and diamonds.


A gallant brooch is what has been created for the warrior princess Mulan. It is decorated with rubellite cabochon, rubies cut in squares and ovals, round rubellites, round and pearshaped pink sapphires, violet and pink spinels, and oval pink tourmalines – all celebrating the spirit of Mulan.
As white as snow that she is and having seven men fall at her feet in devotion, Snow White's legacy is depicted in this apple-shaped ring. The rose and white gold ring have round emeralds and tsavorites with round brown diamonds and round-cut rubies.


Willing to kiss a frog, this woman's heart is worth a ton of gold in the dust! Tiana is honored with a magnificent necklace made of briolette-cut Paraiba tourmalines, tsavorites, forest green emeralds, and pearls.
These one-off pieces are kept on display and available on sale at the Harrods store in London until the end of January.
[Professionaljeweller]