Jewellers may tempt customers with beautiful gemstones and dazzling designs, but the most important collection in their repertoire is engagement rings.

An engagement ring is the first and most significant purchase a young couple will make: a ring that is laden with heartfelt sentiment, that will be worn every day and is often their most expensive jewellery purchase.

White gold and diamonds have sealed the deal since the 1980s (coloured gemstones were more prevalent in the mid-20th century) and brands such as Tiffany & Co., Harry Winston, Cartier and De Beers have been finessing collections over the years as tastes slowly changed. For instance, while white gold has dominated bridalwear for decades maisons such as Tiffany & Co. and Graff have recently introduced yellow and rose gold for some designs. They are less traditional and more ethereal, the rose gold particularly suiting all skin tones.
There are trends emerging in design; for instance, multiple-stone clusters such as Harry Winston's popular Belle ring, a round brilliant diamond with micro-pavé frame and band, and designs where the bands stand out, such as the distinctive parted pavé set band that is Graff's Legacy setting.

The princess cut and the round brilliant are the most popular for engagement rings, which is why Harry Winston has just launched the Attraction design – a classic round brilliant with 20 diamonds around the band – but there is a trend emerging for more original cuts that look dramatic. The marquise cut, which the French sometimes call the navette for its elliptical boat-like shape, is one of them. It features 58 facets and dates back to King Louis XV in France who commissioned a jeweller to design a shape that resembled the lips of his lover Madame de Pompadour. In more modern times, David Beckham proposed to Victoria with a marquise-cut diamond set on a yellow band. The marquise diamond is one of the cuts highlighted in Graff's new Fall in Love With campaign.
Other original cuts breaking tradition, and in the campaign are the heart, the pear and the emerald-cut in Graff's Promise setting (accented by two side stones). The Promise setting is one of a series of new settings based on legendary diamonds that have passed through the house. Others are named the Legacy and the Flame, which offers pretty pink diamonds around the band.
The distinctive emerald-cut diamond is also back in the limelight although it was always Harry Winston's favourite and one of the house's bestsellers. In its Bridal Couture collection of unique designs there is a gorgeous eye-catching emerald-cut with flourishes of little marquise-cut diamonds off to one corner.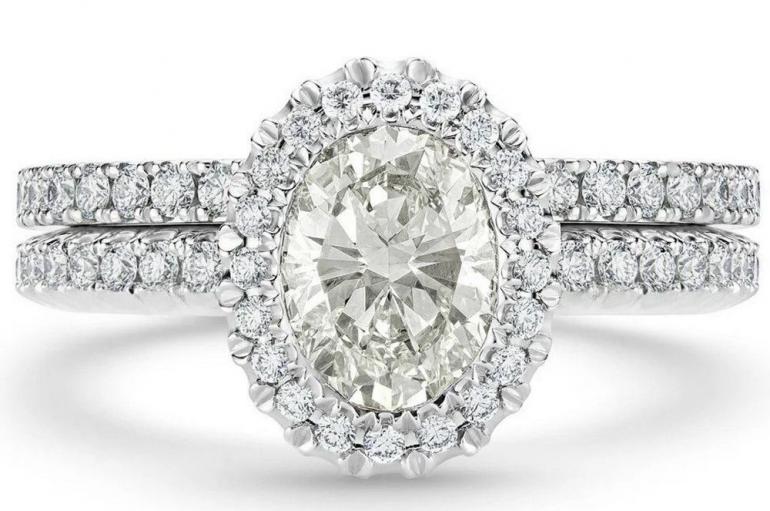 De Beers also is extending its range of fancy-cut diamond engagement rings with a pear shape in the Aura design (a halo of pavé-set diamonds surrounding a central patience) and the Asscher cut, another original shape also seeing a renaissance. Elizabeth Taylor's famous Krupp diamond was an Asscher cut. This particular one originates from the start of the art deco movement and is an elegant stepped square-cut stone with 58 facets.
Tiffany & Co. has added a new cut to its repertoire called the Tiffany True, a fancy cut that exposes more surface area on the diamond's main facet to enhance its lustre. The minimalist yellow gold or platinum band makes the diamond even more eye-catching.
Equally eye-catching are the series of new Destinée engagements rings from Cartier that may presage a return to colour with emerald, sapphire or ruby centre stones. Ever since Catherine, Duchess of Cambridge was given Princess Diana's sapphire engagement ring made by Garrard, sapphires have experienced a resurgence in popularity. Cartier's design may give that trend an added boost.

Closer to home, designs by Ronald Abram, such as its Toi et Moi ring, uses coloured gemstones as well, featuring an emerald alongside diamonds.
Royal love stories, or at least those of famous couples, add a romantic backdrop to a chosen engagement ring. One of the most famous tales is that of Napoléon and Joséphine, a relationship that forms the cornerstone of many Chaumet collections. The founder of the house, Marie-Étienne Nitot, made a lot of jewellery for the couple. It is now adding to its Joséphine collection of engagement rings the Amour d'Aigrette (Crown Your Love), a cushion-cut patience with the signature double wavy band that, when coupled with the matching wavy shaped wedding band, resembles one of Chaumet's famous tiaras.

Chaumet recently restored and reopened its historic Place Vendome Maison with a room devoted to tiaras – Le Salon des Diademes. Hundreds of nickel silver tiaras line the blue walls and serve as inspiration for the designers and clients with pockets deep enough for a tiara for their wedding. These order books are full of clients, largely from Asia. Royal weddings have served as inspiration for brides-to-be and there are dramatic designs at Cartier, which made the Halo tiara for the royal family worn by the Duchess of Cambridge on her wedding day.
The Kokoshnik with diamonds and pearls and the Résonances tiara with the cabochon emerald allude to the emerald tiara that Princess Eugenie wore. However, there are sweet diamond bow headbands, ivy leaf and pearl designs in the De Beers and David Morris collections. One of those for the bride, as Chaumet suggests, really would crown your love.
Note: This story was originally published on SCMP and has been republished on this website.