What would you do if one of the rooms in your house was oddly shaped, much like a genie bottle? You'd break it down or straighten it up? Well, that's not what an Ohio-based resident resorted to. In fact, the owner enhanced the shape converting his "oddly-shaped" room into an opulent home theater, And guess what theme he used. Yes, of course – the genie theme! Amazing Design, Lutz Décor, and Ohio-based Horner networks were the trio who provided the home theater with design and acoustics.

Defining the work as a unique task, each came across their share of roadblocks during the project. This owing to the odd shape of the room. Nonetheless, odds were met with perfection and precision, the result being a magical surround sound home theater attired in opulent luxury, which held close resemblance to the interiors of the genie-bottle.

Crystal chandeliers falling from the tapered roof, velvety curtains and upholstery, comfortable seating with plush cushions, miniature lanterns, and other accessories like hookahs last but not the least, mood lighting – projecting a purple, golden hue, completes the entire visual setting.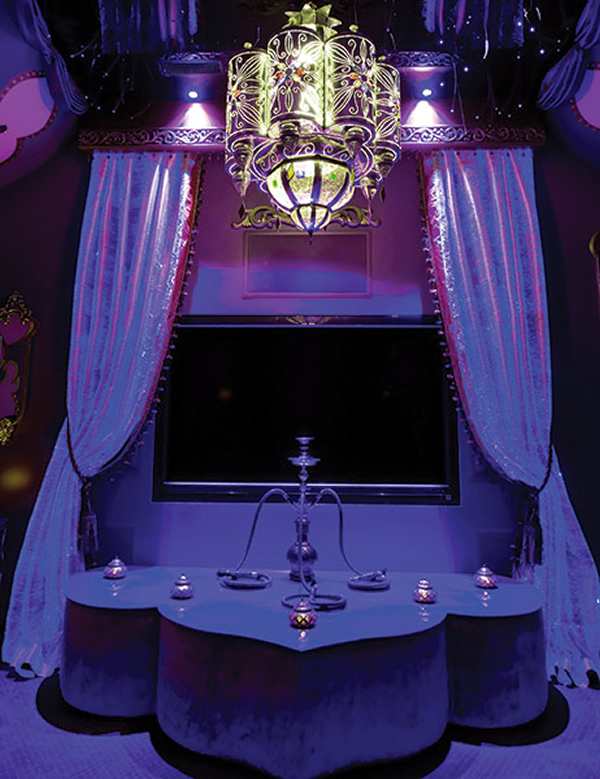 As for the acoustics and screening, a 65-inch Sony flat-paneled LED TV proved to be an appropriate fit, and a Triad Speakers surround-sound system complemented the set. Lustrous curtain fabric was skillfully used to cover up any showing speakers—all in all, a dreamlike setting that would surely grab a second look.
[Via – Electronichouse]