Just to say two simple words "I do", some rich celebrities and I mean REAL RICH folks spend tons and tons of greens (read dollars)! Why? Cause they have loads of cash stashed away and naturally, they just need a reason to lessen your overflowing bank accounts. When the reason is a wedding then it's more vital to flaunt your riches! Money is no object. From TomKat to the Beckhams, we bring to you the 20 most expensive celeb weddings to date.
1) Liza Minnelli & David Gest – Estimated cost of the wedding: $3.5 million
Oscar-winning entertainer Liza Minnelli wed producer David Gest in March 2002 in New York City's Marble Collegiate Church. The over-the-top nuptials featured Best Man Michael Jackson and Maid of Honor Elizabeth Taylor. Among the 500 or so guests at the reception were superstars Diana Ross, Lauren Bacall, and Mia Farrow. Backed by a 60-piece orchestra, Tony Bennett entertained VIPs, who feasted on a 12-tier wedding cake and received personalized favors encased in satin candy boxes embossed "Liza and David 4 Ever." Sadly, the pair divorced the next year.
Many more couples follow…….

2) Paul McCartney & Heather Mills – Estimated cost of the wedding: $3 million
Former Beatle Paul McCartney wed model-turned-activist Heather Mills in June 2002 at St. Salvador's Church in Monaghan, Ireland. The bride ascended the altar to "Heather," a song McCartney penned for her. A covered walkway shielded the 300 or so guests, including Ringo Starr, Elton John, and Eric Clapton, from the rain as they headed to a lakeside tent for the reception. The Indian-themed party featured dancers in an authentic Indian dress and a vegetarian feast. Fireworks capped off the night. Surprisingly, this pair is also in the midst of divorcing.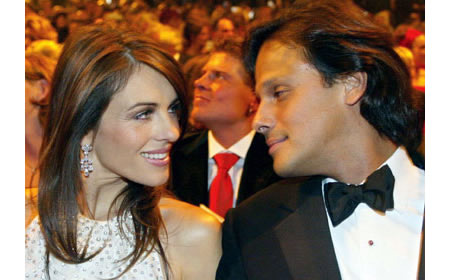 3) Elizabeth Hurley & Arun Nayar – Estimated cost of the wedding: $2.5 million
Model-actress Elizabeth Hurley wed Indian businessman Arun Nayar in March 2007 in an extravagant double ceremony with festivities spanning eight days. Some 300 guests, including Elton John and designer Valentino, attended the first ceremony, held in the medieval Sudeley Castle in Gloucestershire. Hurley wore a traditional chiffon gown designed by good friend Donatella Versace. A second, traditional Hindu ceremony was held in the majestic Umaid Bhawan Palace in Jodhpur, India, where the palace-view Maharani suit costs upward of $10,000 a night.


4) Tom Cruise & Katie Holmes – Estimated cost of the wedding: $2 million


5) Elizabeth Taylor & Larry Fortensky – Estimated cost of the wedding: $2 million
6) Christina Aguilera & Jordan Bratman – Estimated cost of the wedding: $2 million
7) Elton John & David Furnish – Estimated cost of the wedding: $1.5 million
8) Michael Douglas & Catherine Zeta-Jones – Estimated cost of the wedding: $1.5 million
9) Tiger Woods & Elin Nordegren – Estimated cost of the wedding: $1.5 million
10) Eddie Murphy & Nicole Mitchell – Estimated cost of the wedding: $1.5 million
11) Pierce Brosnan & Keely Shaye Smith – Estimated cost of the wedding: $1.5 million
12) Madonna & Guy Ritchie – Estimated cost of the wedding: $1.5 million
13) Donald Trump & Melania Knauss – Estimated cost of the wedding: $1 million
14) Tori Spelling & Charlie Shanian – Estimated cost of the wedding: $1 million
15) Brad Pitt & Jennifer Aniston – Estimated cost of the wedding: $1 million
16) David & Victoria Beckham – Estimated cost of the wedding: $800,000
17) Ashley Judd & Dario Franchitti – Estimated cost of the wedding: $750,000
18) Mariah Carey & Tommy Mottola – Estimated cost of the wedding: $500,000
19) Marc Anthony & Dayanara Torres – Estimated cost of the wedding: $500,000
20) Nicole Kidman & Keith Urban – Estimated cost of the wedding: $250,000
Surprisingly the top two costliest weddings did not have a fairy-tale ending! In Forbes' first-ever search for the 20 most expensive celebrity weddings, they have surveyed A-list nuptials during the past 20 years. They have considered estimates for all the major components of a wedding and reception–the venue, flowers, catering, entertainment, and gown. Imagine if the Honeymoons were included too in this cost!
Source