Every time we read about anything that is most expensive or offering unmatched luxury, or even something out of the box, we try our best to showcase it to you. With people spending exorbitant amounts of money for opulence that they rightly deserve, you would always think about the food they might be having. Here is a shortlist of some fab and costly dishes for you. If you thought Caviar was expensive then move aside!

6) Buddha Jumps Over the Wall Soup
The world's most expensive soup is served in London's Kai Mayfair restaurant for $171. Comprised of shark's fin, abalone, Japanese flower mushroom, sea cucumber, dried scallops, chicken, Hunan ham (a cured ham), pork and ginseng, the soup must be pre-ordered 5 days in advance.


5) Le Burger Extravagant
Move over McDonald's and Burger King, Serendipity 3 serves you another world's most expensive dish – The $293 Le Burger Extravagant! The recipe includes Japanese wagyu beef, infused with 10-herb white truffle butter, seasoned with Alderwood smoked pacific sea salt, topped with cheddar cheese, shaved black truffles, and a fried quail egg. Served on a white truffle-buttered Campagna roll and finished with blini, crème Fraiche, and Kaluga golden caviar, Serendipity tops it off with a sweet solid gold diamond-encrusted toothpick!


4) The Golden Phoenix Cupcake
When it's Dubai, it has to be Gold. Offered at Dubai's new Bloomsbury café, the world's most expensive cupcake is created from a recipe that includes Italian chocolate, 23-carat edible gold sheets, organic strawberries, and lots of edible gold dusting. Priced at $1,000, the cupcake is presented on a 24-carat gold stand and must be ordered 48 hours in advance.


3) Sushi Del Oriente
The nigiri sushi wrapped in 24-carat gold leaves and sprinkled with five 0.20-carat African diamonds served by up-and-coming celebrity chef Angelito Araneta Jr of the premium gastronomy company Karat Chef comes with a price tag of $2,034. How many of the world's most expensive sushis can you gobble down at once?


2) The 27.321 Cocktail
It is no surprise that if you stay at the world's only self-proclaimed 7-star hotel, you ought to receive some surprises on the menu. The 27.321 cocktail is the world's most expensive cocktail, priced at AED 27,321 ($7,438) It is made up of 55-year-old Macallan single malt natural color whiskey from Moray, Scotland, dried fruit bitters, homemade passion fruit sugar, and served in 18-carat gold glass. It has been named so because it is offered on the hotel's 27th-floor bar, with the hotel's height at 321 meters.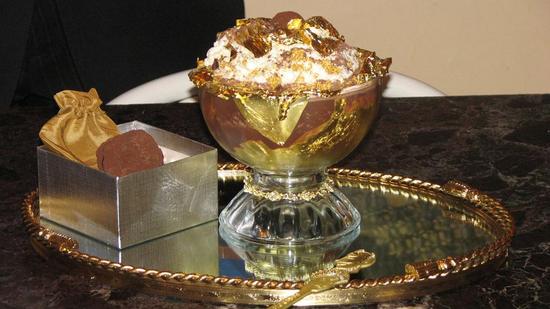 1) The Frrrozen Haute Chocolate
Still sticking gold ingredients for the recipe, the Frrrozen Haute Chocolate is the world's most expensive dessert priced at $18,713. Offered at Serendipity 3, the recipe combines 28 different kinds of cocoa, is adorned with 5g of edible 23-carat gold, and infused with gold flakes. When you eat so much gold, you ought to eat it in a goblet lined with edible gold leaf, served with 18-carat gold and diamond bracelet, and eaten with a solid gold spoon encrusted with rare black, white and chocolate-colored diamonds. It's the perfect food for your Gold diet!
[BBC]