For the sixth year in a row, Forbes has scoured real estate listings around the country and ranked the ten most expensive homes on the market in the U.S. Forbes Magazine just released their picks of the most expensive homes in the US for 2006 with some of the top homes making southern California's overblown real estate market look positively modest. The real estate market may be slowing somewhat, but that fact didn't stop the average price of a home on this list from jumping up to $71 million from $58 million. These are the most expensive residences in the country, with prices so astronomical that only a very small handful of very wealthy people could even dream about owning them.

Donald Trump's Palace by the Sea (pictured above) tops the list-The French Regency-style estate, which is undergoing the final stages of a massive renovation, includes 475 feet of waterfront, an 18-bedroom mansion, eight-car garage, conservatory, carriage house, guest house and pool house. The most startling aspect of the place is the $125 million price tag, the highest asking price ever for a private residence in the United States.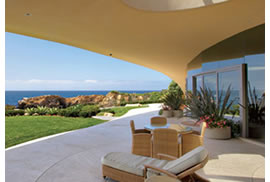 The Portabello Estate in California is listed at $75 million. Three Ponds, a $75 million Bridgehampton, N.Y., estate that has lingered on the market for years, is still up for sale. So is the $70 million triplex that tops off Manhattan's Pierre Hotel. An oceanfront estate in Corona del Mar, a modern masterpiece designed like a nautilus shell, is priced at an ambitious $75 million and ties for the No. 2 spot. A San Francisco mansion clad in French limestone is asking $65 million, twice what it sold for two years ago. A Malibu estate ties for number 5 at a mere $65 million and Robert Taylor Ranch in Brentwood comes in at number 8 with a $60 million asking price.
In compiling the list, Forbes has examined listings and spoke to real estate brokers around the country. If you have a minimum $800 million net worth, the brokers will be happy to show you the place.