It was my first trip to the Maldives and needless to say I was very excited for it. After going through numerous stories and countless Instagram posts I had developed a mental image of Maldives. But as I realized later no words or images can describe this magical place, you have to see it to believe it. My trip to Maldives started at 4.30 in the morning at Hanimaadhoo airport, stepping out the team from Hideaway resort was already waiting for us, our luggage was picked up and was escorted to the hotel's speedboat for a 30-minute ride to the property.


Upon arrival at Hideaway beach resort and spa, the sun began to rise the vibrancy of the blue water slowly increased and soon it was clear why people fall in love with Maldives. Before me were the sky and the ocean in shades of blue that I had never seen in my life. The island is 1.4 kms long and offers 50 overwater bungalows and 50 beach villas. It is surrounded by turquoise hues of water that shimmers as it splashes on the sugar white sand.
My home for the next four days was a deluxe water villa with pool built on the stilts on the ocean. The interiors were decorated with a relaxed beach house style – white walls, wooden flooring and blue upholstery. As tastefully it is decorated the villa is spread across 195 sq.meters and has all the creature comforts you can need or to put it simply it spoils you with choice. To being with the villa is built right on top of the ocean gives you unobstructed views of the turquoise waters, you wake up with view and dive into slumber hearing the soft splashing of the waves, the villa has a massive jacuzzi that faces a big TV should the weather spoilsport and if this was not enough there is a large outdoor deck with an infinity pool and loungers. And yes, there is high-speed Wi-Fi as well. As secluded the villas maybe service is just a phone call away, all the villas come with a private butler and attending to my needs was Jockey, from luggage transfers at arrival to pick me up for meals, he was always there in a jiffy with a smile.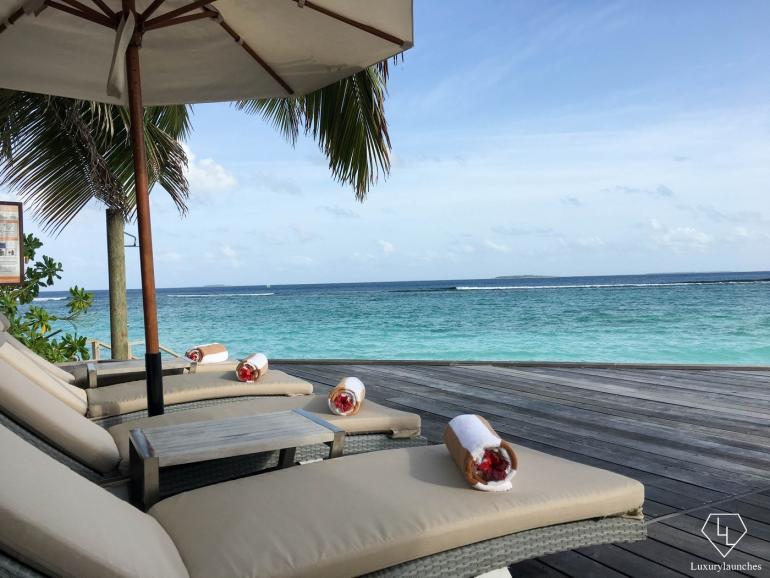 The restaurants at the Hideaway beach resort and spa are diverse and high quality, including the Meeru bar and girl for cocktails and Mediterranean cuisine, the Asian Samsara, the modern European Sunset pool cafe and all day dining Maathefaru which also served an amazing spread of breakfast. Again there was no shortage of choice be it fresh juices, omelets, meats, cereals, smoothies, and pancakes.
While there is no shortage of things to do on the island I will start with my favorite and that was Manta Ray spotting and feeding. Two days every week at 6.00 pm to be precise Meeru bar plays host to a school of Mantas. Guests along with the staff can feed these amazing creatures as they come up right up to the shore. The crystalline turquoise waters come to life with a colorful bazaar of sea life – manta's, baby sharks fish and if you are lucky, then you may even spot turtles.
Next on my list was snorkeling, the area around Meeru bar attracts a lot of marine life and because of the rich expanse of corals, it is very popular with divers. Although I was not lucky enough to spot a turtle the feeling of fishes including baby sharks wiggling next to you is just magical.
Satisfying your adrenaline rush is the Water Sports area which offers jet ski's, banana boat rides, parasailing, wakeboarding, etc. If that is not enough a few meters into the sea is Maldives first floating aqua park, although climbing on it was a task jumping on a trampoline in what looks like the middle of the ocean was an experience in itself.
The Hideaway Resort and spa also has its private yacht that takes you on the high seas for dolphin spotting and fishing to be topped with seeing the sun set in the horizon. To get some underwater action without getting your feet wet guests can jump onboard the Penguin, Maldives first semi-submarine which holds up to 5 passengers and offers some amazing views of the corals and marine life.
One of the highlights on this 1.4-kilometer island is the Hideaway spa. Recently awarded the best spa in Indian ocean by World Luxury Spa awards it is a collection of 12 treatment rooms, nail bar and a hair salon. All housed in an intimate setting of teak wood and cascading water features that exude tranquility. After an activity-filled day of jet skiing, snorkeling and cycling in the property I decided to opt for the full body massage. The 60-minute treatment was relaxing and invigorating at the same time, it was just what I needed to enjoy the evening ahead of me.
My stay at the Hideaway resort and spa was an experience in itself. It is a place which has something for everyone, the backdrop of the blue and green ocean the clear skies make it ridiculously romantic. But at the same time a solo traveller like me can unwind be alone and still not get bored – from waking up at 5.45 am to catch the sunrise from my villa, to cycling from one end of the property to the other, to feeding mantas, to taking a trip to a nearby village and know more about the Maldivian culture, I can just go on and on. The icing on the cake is the service it's prompt, friendly and smooth.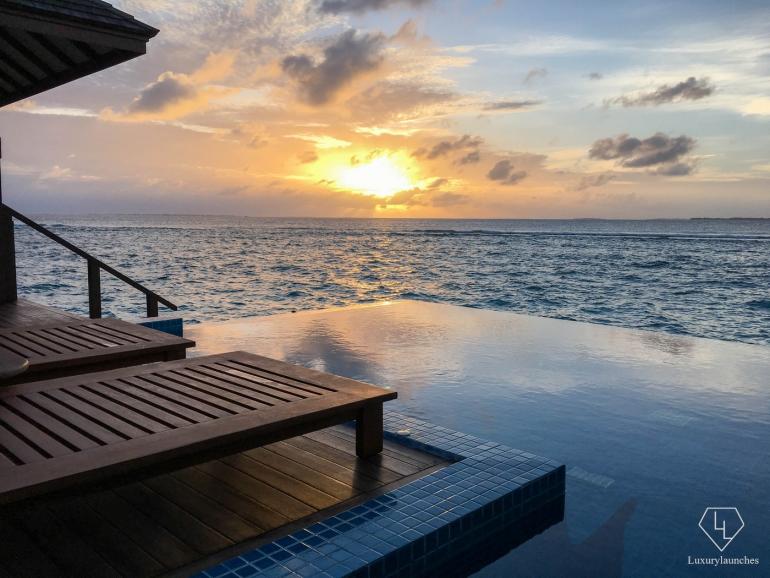 Exploring the reefs in the Penguin semi submersible
Utheemu Island tour
Where: Hideaway Beach Resort & Spa Maldives
Dhonakulhi Island, 99999, Maldives
Phone: +960 650-1515
Note– The critic was invited by the Hideaway Beach Resort & Spa Maldives. But all the opinions expressed herewith are his own.