The Mona Lisa hasn't always slept at the Louvre. If you want to sleep in the room where the Mona Lisa spent a few nights in August 1911 head to Hôtel Da Vinci. Jennifer Delord from Six Senses Zil Pasyon in the Seychelles dropped me a one-liner saying quite simply that this hotel might "interest" me. Hôtel Da Vinci more than interests. It intrigues. For it is to 25 Rue des Saints-Pères that a certain Vincenzo Perrugia, having masterminded the theft of the Mona Lisa, absconded from the Louvre with his great booty or beauty.

To commemorate the centenary of the Mona Lisa's return to Paris, 2 years after its theft, on 4 Jan 1914, the re-christened hotel reopened following a thorough renaissance. The exquisitely restored abode continues to be a celebration of the artistic spirit that colours its history and imbues its purlieus.
For if the Mona Lisa is priceless, so is the hotel's setting. Located in le 6ème arrondissement, the most charming of Parisian arrondissements, this little jewel studs a street streaming with magnificent art and antique galleries. If Rive Droite (Right Bank) is for the glitterati, then Rive Gauche (Left Bank) is for the artists, literati and intellectual snobs. I prefer this gorgeous boutique property in Paris's cultural heart to the ostentations of the "palaces parisiens" in the 8ème arrondissement. I've always lived in le 6ème arrondissement and have always said, "Je quitte le 6ème arrondissement uniquement pour aller à la Place Vendôme!" (I leave the 6th arrondissement only to go to Place Vendôme!")

The beautiful young Paris-based Italian owner Luana Bellusci, who happens to be the designer, has infused artistry into the hotel ornamented with lavish Italian velvets, fabulous Venetian glass mirrors and mesmerising Murano glass lanterns and lamps that insinuate Italy into this most Parisian of Paris's quarters. Warmth exudes, be it from the roaring fireplace in the lounge, the golden light bathing this luxurious space hotly upholstered in rich hues or the gracious welcome. The glass-panelled facade frames ("frame" being the operative word in these painterly precincts) the parade of galleries outside and the hotel has a lovely lilting feel about it that makes it seem that one's on a gondola floating past the suite of art and antiques.


There are two splendid suites (€510 each)- the Mona Lisa with an opulence of the finest Italian fabric and glass and a ravishing private terrace garden. But my suite, the signature suite Chambre de l'Adorateur, is where our "painting-purloiner" slept with the world's most famous woman. Perhaps he hadn't then the voluptuous beds the hotel now dispenses nor bathrooms fragrant with sexy Roberto Cavalli toiletries created exclusively for them so the Mona Lisa's lover must've spent a somewhat less romantic sojourn than if he'd postponed his kidnapping a hundred years. What he then had was a little fanlight through which to escape from the roof with his lady should the police arrive. He hadn't to avail of this amenity (now serving to filter golden strains of sunlight into this garret room) as Perrugia managed to reach Italy and was caught only when he tried selling the painting to a Florentine antique dealer two years later. He was exonerated with a trifling one-year imprisonment due to the nobility of his mission: he wished to repatriate the world's most famous painting that Napoleon "theived" from Italy, where it belongs… Evoking this room's fascinating history, behind the veloured bed board hangs a desolate picture frame signifying the painting's theft. Then you find a trunk stashed in the room with the Mona Lisa surreptitiously peeping out of its semi-closed top. Brilliant dash of imagination! But such quirky details recalling Leonardo da Vinci and the Renaissance abound throughout the hotel for those who appreciate the subtle contexts.

After my first night in this special suite, Suite Mona Lisa being occupied for a long stay, I choose transfer to the more feminine Medici Room (€420) frescoed with one of Da Vinci's first tableaux, "Madone à l'Oeillet," reflected in a fine Venetian mirror. The "Chambre de l'Adorateur," steeped though in legend, clad in black and antique gold is a tad masculine. The Medici Room, amidst its Venetian splendour, brings us chicly back to Paris with its quintessentially Parisian wooden-beamed ceiling and terrace offering views over the Seine.

The rooms, in characteristic 6ème arrondissement style, aren't palatial and mightn't accommodate the acquisitions of an obscene shopping escapade. But the refined and cultivated clientele, often signet-ringed, that graces this creative address is hardly the sort to give themselves to such vulgarities. They are much likelier to ferret the plethora of antique galleries and ship home a work of art pricier than the whole Louis Vuitton boutique…

If in this artistic enclave the Italian deputy manageress can only be called Raphaella in homage to that other great Renaissance painter Raphael, then furthering myth it is only apposite that the housekeeper be called Scheherazade! And how marvellously she manoeuvres housekeeping. 5-Star Luxury hotels ought to send their staff to GM Christine for training for the Da Vinci is an idyll where caressed service as smooth as its Italian velvet meets Parisian flair and delicacy. Reception staff is so wonderfully attentive and so astonishingly quick to deliver you feel you're the only guest in residence. Helen is an angel and Mirouna who melds Turkish origin, Romanian upbringing and Parisian panache can engage you in intellectual discussion on everything from art (she conducts art exhibitions when not conducting the reception) to green living- refreshing change from the meagrely cerebral reception staff at 5-Stars whose conversation doesn't exceed the parameters of automated check-in/check-out protocol.

Anna presides and swaddles at the softly lit Da Vinci Cafe that replicates the fabled Venetian cafe Florian down or rather up to its historic ceiling except Da Vinci's version has an enchanting inner garden terrace with a gurgling fountain which thrills on a summer day and makes for a delicious oasis in grisly winter. This hotel is about intimate luxury and breakfasts are both intimate and luxurious- no straggling 5-Star-type superfluity here. What you have is an artisanal baker exclusively furnishing flake-at-touch pure butter vienoiserie the 5-Stars can't match and upholding Italian breakfast tradition freshly-baked cake- a different variety every day. The cheese and fruit selection is compact but quality. There is surprisingly no toaster and I'd have liked more dry fruit whilst homemade muesli would seem in the ethos of this venue. The coffee, although the same brand as at the Venetian prototype, is rather more French than Italian but their fine French Kusmi teas delight, especially when you're snuggled up by the fire on large leather sofas in the lush and hushed library lounge equipped with chilled zingy lemon-infused water.

The Da Vanci hasn't a restaurant but what it has is a subterranean spa in Italian mosaic conjuring the colours of the Mona Lisa tableau. This seductive underground escape with plunge pool and vaulted ceiling scintillating with stars can be privatised for their new Brunch & Plunge. The ritual heralds with Louis Roederer champagne served as you simmer in the pool boiling with bubbles from a potent jacuzzi jet. Post plunge, languish away over brunch of breads, cheeses, salad and cold cuts.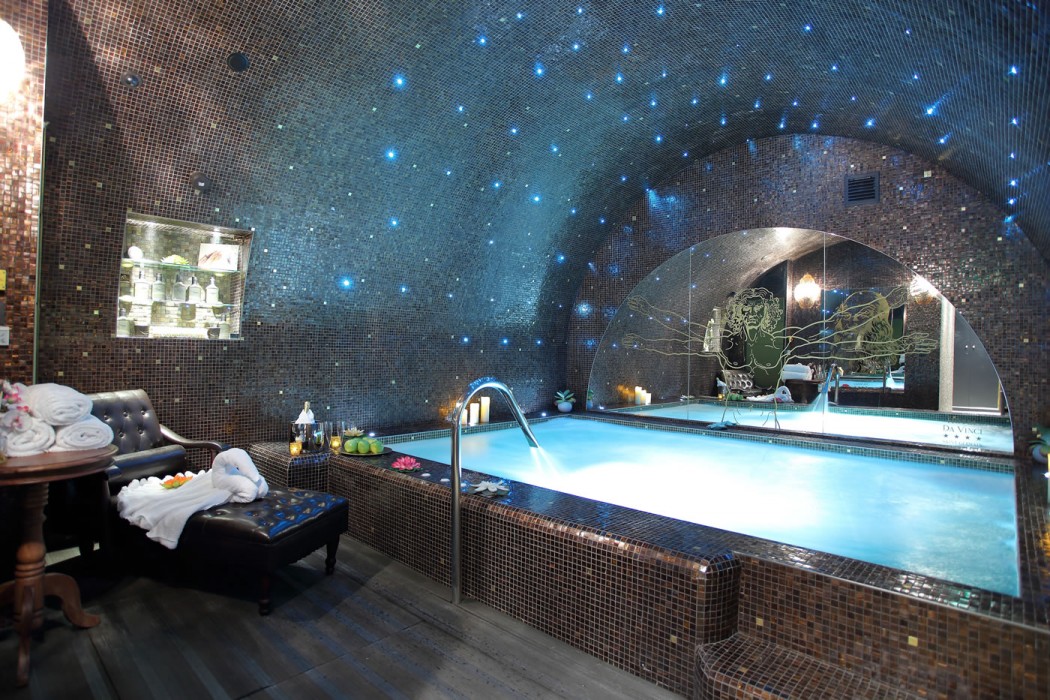 This spa offers top-notch massages and on request one of the most salubrious facials in town with all-natural luxury Mon Masseur products by Olivier Lecocq. Whilst the spa's a sensation, it is perhaps more given to aesthetic captivation than to practicalities I find when dressing post-treatment. To wear my shoes I need to reach the spa's sole seating in the poolside relaxation area to access which one must traverse the shower that creatively but inconveniently occupies the narrow passage between spa entrance and pool so you wet your feet and your shoes in to-and-fro crossings. Never mind, this is conceived to be a très très romantic space and one is meant to turn up with a debonair companion who'd carry one across the ford.
Da Vinci has a bar service but no supper. However, its environs boast Paris's best cafes. Besides, with discretion the hotel sends you to the most tasteful tables in the vicinity like Alan Geaam's restaurant AG where 20-something-year-old chef Nicolas Perrot nimbly effects daintier dishes than I've found at many of the Michelin-starred restaurants (and I have eaten at almost all Paris's Michelin-starrers). From the friable amuse-bouche to the artisanal bread served with exceptional organic olive oil (the wines are organic too) everything is fresh, vital, flavoursome. Creativity comes in deconstructed presentations of soups and starters. Textures (apart from stodgy risotto) are startling and could challenge some of those mighty Michelin-starrers. This place is cute, with culinary craft that doesn't destroy your bank balance.

The wonderful Rue de Verneil, one of my favourite streets in Paris, that opens opposite the Da Vinci leads straight up to another excellent Parisian address Le Poulpry. Hitherto exclusive to the prestigious École Polytechnique, the restaurant opened its doors not long ago to the public but remains one of Paris's most hush-hush addresses, frequented by the likes of Francois Holland, a regular before he became the French President. The restaurant has 3 private rooms into which politicos and VIPs vanish. Ask restaurant manager Maxime to relate the history of this establishment, associated with royals and aristocrats since its inception when the famous queen La Reine Margot ordered the road it stands on. The hôtel particular created in 1703 was acquisitioned in 1705 by the Marquis de Nointel Louis de Béchameil (of Bechamel sauce fame), a gourmet and art fanatic who had Watteau dress its interiors. Subsequently bought by the Marquis du Poulpry (hence the name) this institution's vicissitudinous history is too long to relate here but Maxime tells it better than I and it tastes better over the classic French cuisine that complements the classic decor.

The Da Vinci is a haven of history and intrigue, a veritable enthralment of the senses, a pampering of the sensibilities, a carnival of art both within and without (remember the Musé d'Orsay is just down the Rue de Verneil). It is Venice in Paris so you've the best of both worlds served up with flawless service. I doubt I have ever called anything perfect, but if perfection exists on earth, it must be Hôtel Da Vinci.
Where : Hotel Da Vinci
25 Rue des Saints-Pères, 75006 Paris, France
Phone : +33 1 55 35 41 88
Note – I was hosted at Hotel Da Vinci but the opinions expressed herewith are my own.