It'd been almost three years since my last stay at the Mandarin Oriental's flagship hotel in Hong Kong. But as I entered the lobby, I gratefully noticed that not much had changed. The black marble floors and walls were gleaming; porters and doormen still wore their black and yellow-striped hats; the colossal crystal chandeliers still hung from the ceiling; and the reception staff were dressed in their orange linen qipao tops and trademark black skirts. Everything was the same, yet new.


The legendary hotel is a home away from home for both seasoned travellers and locals alike. At the heart of the hotel's winning philosophy stands a singular focus on service, discretion and comfort. It has made this particular hotel a perennial favourite amongst the A-List, and both old and new money from around the world. It is and always has been The Place in Hong Kong. Unlike at luxury hotels in New York or Paris, the people you see having breakfast in the Clipper Lounge, drinks at the Captain's Bar, or availing themselves of the loos, often are the city's residents – The People. As the saying goes, "A place is only as good as the people in it. It's the people that make the place."
The hotel, the first one ever to be built on Hong Kong Island, celebrated its 50-year anniversary in 2013. What many don't know or realise is that most of its staff have worked at the property for almost that long. There's Giovanni Valenti, a 72-year old Florentine who moved up from Restaurant Manager to the front office, and to Concierge Ambassador in his 37 years there. Or Executive Pastry Chef Yves Matthey, the longest-serving senior chef since 1987. And Executive Assistant Manager – Guest Relations, Danny Lai, who in his 44 years of service held a variety of roles including a porter and baggage master.
"The hotel is located in the heart of Hong Kong. Some even say it is the heart of Hong Kong."
A hotel's merits are judged by a number of things, perhaps the most important and telling one of all being quality of service. Considering the longevity of the Mandarin's staff, it's evident that its employees like working at the establishment. More than that, their passion creates a pleasant environment for the guests who walk through the doors, leaving them happy and satisfied when they walk out.
During my check-in, I learnt that all of my room preferences from my previous stay had been saved and remembered — a detail that many luxury hotels don't pay enough attention to. Moments later, I was escorted to my Harbour Room on the 15th floor, where a concierge named Eric proceeded to inform me about the in-house dining options, how to operate the room's air conditioning system and offered to call upon him at any given time if I needed anything. It all went by in a flash that when Eric closed the door behind him, I ambled around my room to give myself time to realise that I was finally there, just as much as I wanted to admire the space.
The hotel has 501 rooms and suites, and the Harbour Room is the best guestroom option other than the suites. I'd personally forgo contemporary décor for a cosy, homely feel, and the light blue, gold and cream colour scheme, crisp white linen bed sheets, heavy drapes, and burl wood panelling achieved just that. The bathroom is a whole other story: a black and white marble, open-plan configuration with a walk-in rain shower and separate bathtub. There's even a television fitted in an oscillating mirror by the sink. And my favourite detail of all: Hermes Un Jardin Sur Le Nil bath and body products, which smell heavenly and, coincidentally, matched the vases of short bamboo stalks on the shelves. Given that the building was the first hotel in Asia with a bathtub in every room, I was delighted to see that the bathroom wasn't an afterthought but a key design focus just as much as the bedroom.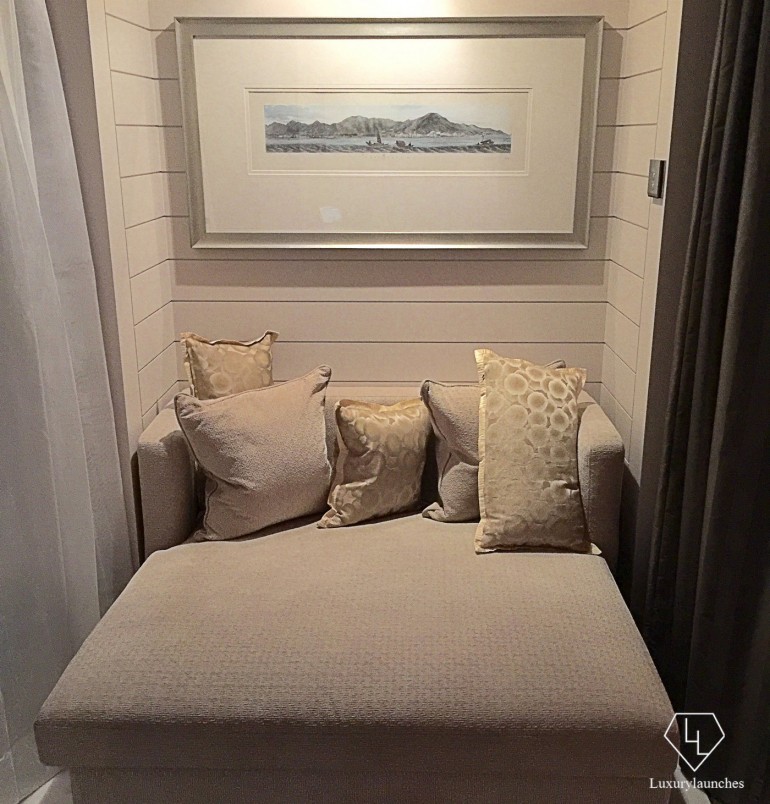 The room is named after the Victoria Harbour, best viewed from the veranda section that can be curtained off from the bedroom area. The space also has a daybed that's lovely to lounge in, and a work desk. At night, I couldn't help but wander over the window from time to time to watch junks and ferries swell the water as tiny sampans bobbed in their wake. The neon and silver lights of Kowloon lit the water up in ripples of colour whilst the Hong Kong Observation Wheel shone brightly in the distance.
"Apparently, housekeeping staff must master a 'foot-fold' technique, which is a specific tucking of quilt and sheets that ensures guests feel comfortably swaddled but not constricted — with minimal touching of the bedding."
More details I loved were the SMART lighting controls on both bedsides and an innovative pass-through valet box for complimentary shoe polishing and letters. A pair of binoculars casually sat on a rosewood end table by the window, and I noticed a stone ice bucket with dragon motif and plush monogrammed slippers in red and black that guests are encouraged to take home. There's also a twice daily housekeeping service, a pillow menu and a clothes steamer to boot.
I ventured out for meals and sightseeing throughout my stay — except for breakfast, one brunch and post-dinner drinks one night at M Bar — because the hotel is located in the island's Central district. I'm usually not one for absolutes but I think it's the best area to stay in Hong Kong — and Causeway Bay, where the cheaper shopping stores are located is just a short 10-minute cab ride away. Premier business and tourist destinations like the Bank of China Tower, Statue Square, The Landmark, Prince's Building, IFC, Lan Kwai Fong and SoHo (the hyperactive nightlife area), and government buildings are all short distances away. Since I was there during the cool end of spring weather, it was enjoyable to take leisurely strolls back to the hotel each time.
That's not to say that the hotel doesn't have ample F&B options to spoil you for choice. Mandarin Oriental, Hong Kong is the only one in the city (and Macau) to have three in-house Michelin-starred restaurants. They are Pierre Gagnaire's two Michelin-starred French restaurant Pierre; the one-star modern European Mandarin Grill + Bar, and the one-star Cantonese restaurant Man Wah, where I sampled a delicious dim sum brunch. There's also The Krug Room, the only one in the world where progressive gastronomy dishes are paired with Krug champagnes; Café Causette, the international all-day dining venue; The Chinnery, a lounge serving British dishes; The Mandarin Cake Shop, where cakes and patisserie are displayed like jewels; and the famous Clipper Lounge, Captain's Bar and M Bar as previously mentioned.
In a bustling city like Hong Kong, where people seem to walk twice as fast as anyone else in the world and time waits for no one, it can get overwhelming. Though my schedule didn't afford time to book a spa appointment or visit the pool, I did drop by both venues one afternoon. I've always been a fan of the chain's award-winning spas for their service and standard and I was curious to see how this outlet added up.
The overall décor, influenced by 1930's Shanghai, didn't disappoint. I especially loved the antique statues and artwork that graced the corridors, and the porcelain sinks in the bathrooms that featured oriental motifs. Everywhere I looked were reminders of where I was and which hotel chain I was in. The nine-treatment rooms facility also includes a Chinese herb steam room, a hydrotherapy Kneipp pool with an ice fountain, a tea lounge and experience showers. There's also an indoor pool with a real-time video wall, a fitness centre with private trainer services and a hair salon.
"The Mandarin Spa has been awarded five stars by the prestigious Forbes Travel Guide for six consecutive years."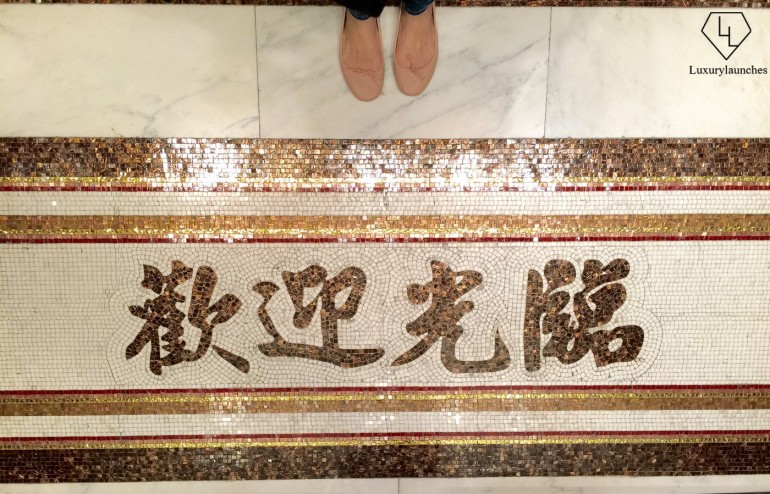 But I was most excited to visit the in-house Mandarin Barber. Given that the space runs much like a private gentleman's club, I couldn't help but tiptoe and peek around corners to catch glimpses at the white-coated barbers attending to guests' grooming services. The world-famous Shanghainese Pedicure by Samuel So, whose family has been performing the service at the hotel since 1989, is also offered in private rooms.
As I packed up to leave at the end of my stay, I thought about the Mandarin Oriental's famous fan campaign where celebrities front "He's a Fan/She's a Fan" advertisements, born from the hotels' fan logo. I thought about how different it was to other hotels' campaigns. I also thought about the impeccable service I'd experienced yet again. How I loved returning to my room every evening because it gave me a sense of residence. How things were made in-house, from the cake shop's signature rose petal jam, to my earl grey tea at breakfast. And how different a stay at Mandarin Oriental was compared to other hotels. I came to one conclusion.
I am a fan.
Where: Mandarin Oriental, Hong Kong
5 Connaught Road
Central, Hong Kong
Phone: +852 2522 0111