December 2, 2015 marks the 10 year anniversary of Mandarin Oriental, Tokyo. To celebrate the occasion, MO Spa has created a special treatment called "Decade Spa Journey" with a 30-minute body scrub using Azuki beans followed by a 60-minute Quintessence body massage.

The Mandarin Oriental Tokyo spa reception and retail area exuded a quiet elegance, with tan marble and warm wood tones.
I received tea and a refreshing towel while I filled out the treatment questionnaire and was informed about the Decade Spa Journey treatment I was about to receive.
I had arrived early for my treatment to make use of the water and heat facilities. From the saunas and heated water pools, spa guests have dramatic floor-to-ceiling views of Tokyo's urban center from the 37th floor. It's quite a fabulous feeling to rest in the sauna with a bird's eye view of Tokyo's skyscrapers.
After the sauna, guests can rest in the relaxation room prior to their treatment. There were fruit juices, flavoured peppermint water, dried fruits and nuts on hand for guests to enjoy.
The big beds were soft and comfortable, encouraging complete peace and relaxation. At the scheduled time, my therapists Hiroko came into the relaxation room to get me. She spoke good English and had a friendly, cheerful manner. When we entered the treatment room, I was struck by how beautiful it was with the late afternoon sun bathing the room with soft golden light.
Out of a total of 9 treatment rooms, 5 are suites with a view. During the treatment, the curtains are not drawn so that guests can continue to admire the view.
We began with the body scrub using pink Himalayan salt and Azuki beans ground by Mandarin Oriental to a specific coarseness. Azuki beans have traditionally been used by Japanese women for beauty treatments and its antioxidant and moisturizing properties will nourish the skin. Hiroko worked meticulously over my body, asking if the pressure was ok while buffing away all the dead skin cells. When I rinsed off in the shower I could already feel that my skin was very soft and smooth.


The Therapeutic Quintessence body massage uses Mandarin Oriental's signature Quintessence massage oil – a unique blend of frankincense, warming ginger and uplifting mandarin. The massage is predominantly influenced by Chinese medicine to balance the 5 elements in the body and pays special attention to the upper back and neck areas.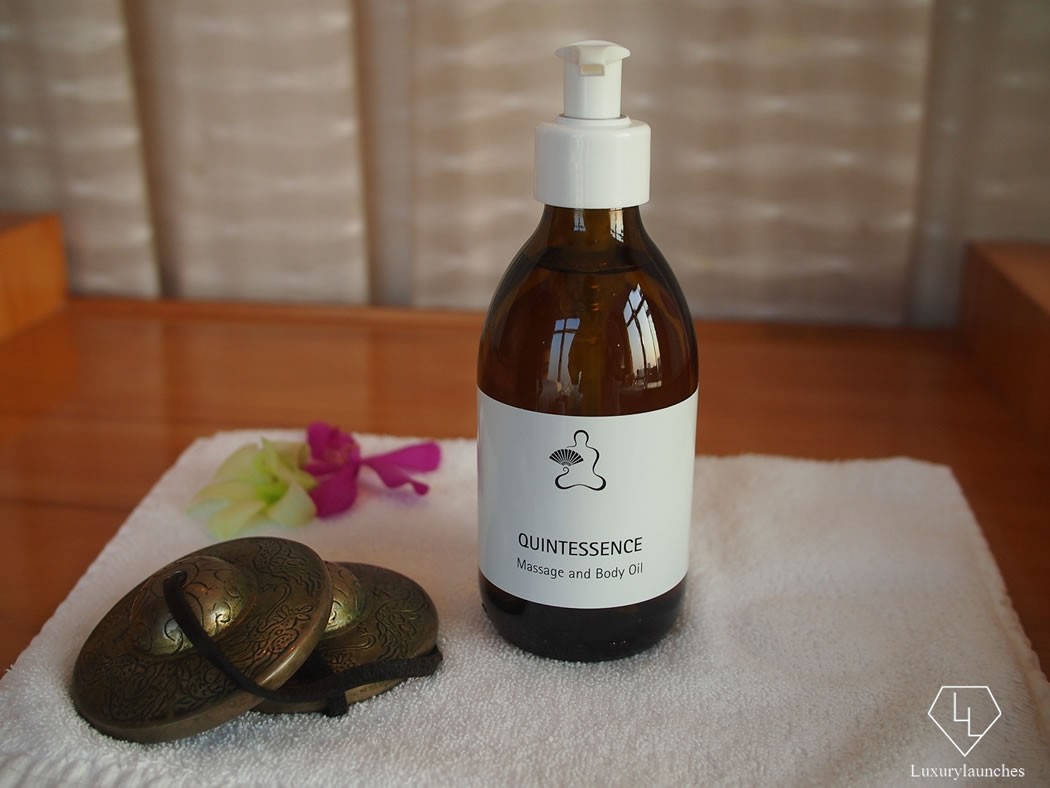 Hiroko applied a generous amount of massage oil on me, making the massage particularly luxurious. She had the touch of an excellent masseuse with a reverential respect for the body. When she removed her hands from one part of my body to place on another, she doesn't take her hands off and on abruptly, but does it slowly, gently easing away to put on another area just as carefully. It's as if there's a buffer layer around my body that she conscientiously approaches. Hiroko's fingers were strong in places that needed it, gentle and soothing in other areas. I felt completely pampered and blissful.
When it was time for me to turn over for the next part of the massage, I glanced out the window and saw that the low sun was hanging like a glowing red ball, hovering just above the skyscrapers. Lying on my back now, Hiroko covered my eyes with a pad but I could still feel the sun light in the room, like a golden energy force. The choice of music was also unique, instead of the usual soft spa music, the music here was uplifting, strong and almost invigorating.
When the massage ended, I looked up and saw that the sun had gone and it was a different world outside. The buildings had started to twinkle in the fading light of a cold winter evening.
Hiroko directed me to the side bench where some Japanese sweets, strawberries and tea were laid out.
I was smiling from ear to ear. Hiroko remarked that I was glowing and she said it was probably from the detoxifying body scrub. It was more that I was grateful and appreciative to have received such an excellent massage. It had been a moving, life-affirming experience. It seemed that there is goodness in the world because there exists such a massage.
I had started to feel the symptoms of a cold that morning and after the treatment it felt like the massage had a positive effect, really balancing the energy within and making me stronger to fight the virus.
The Decade Spa Journey is a fitting tribute to Mandarin Oriental's 10 years in Tokyo, delighting their guests with excellent service and the finest treatments.
The Decade Spa Journey is offered as part of the DECADE package that includes 2 nights' accommodation for 2 in a suite, a Mandarin Oriental, Tokyo bespoke suitcase, commemorative gifts and breakfast for 2. Prices start at JPY 475,000 and is available from January 4, 2016 to April 30, 2016.
Where: The Spa at Mandarin Oriental, Tokyo
2-1-1 Nihonbashi-Muromachi, Chuo,
Tokyo 103-8328, Japan
Phone: +81 3-3270-8300