Having been born and raised in Singapore, a place that's reputable as a melting pot of cultures, and where food is as much a draw for locals and tourists alike as its cosmopolitan city life, I've had the pleasure of tasting some of the finest Asian fare in the world. Being Chinese, every special occasion since I was a child has meant a multi-course celebration at one of my family's favourite restaurants. My father, in particular, has loved the food served at one chain's restaurants since before I was born, and we still dine there together as a family at least twice a month.

To me, fine Chinese cuisine isn't a new concept. From Cantonese to Shanghainese and Sichuan delicacies, I appreciate and enjoy them all. But I have to say that after my recent dining experience at Cassia, Capella Singapore's Cantonese fine dining restaurant, the establishment may just be a little ahead of the pack.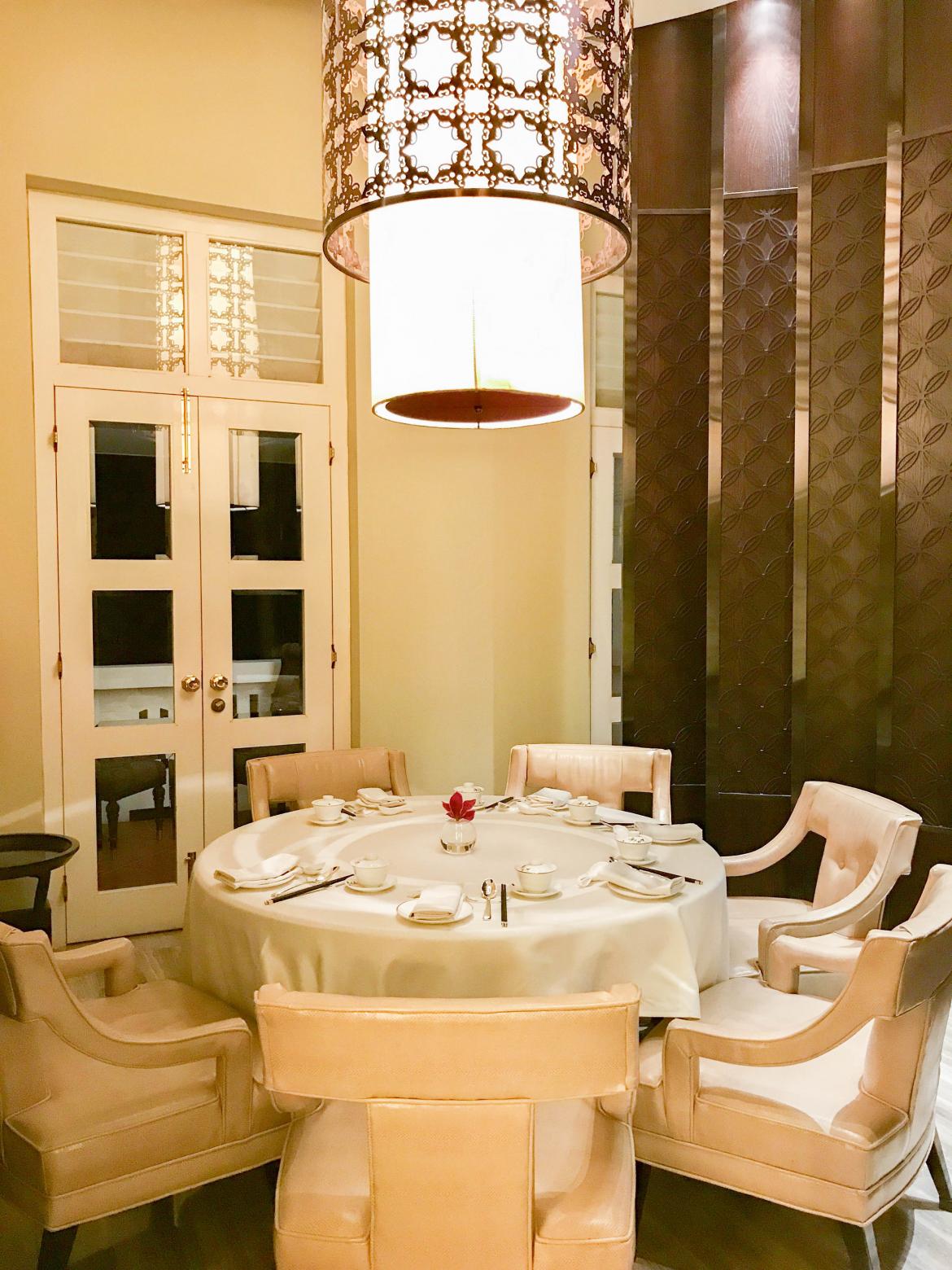 Named after cassia bark, a spice derived from an East Asian evergreen tree bark, the restaurant draws inspiration from the age-old spice routes in Southern and Western China. Recipes are "based upon traditional and regional favourite" and dishes are "prepared with full respect towards tradition" using fresh local ingredients and produce. Signature offerings include Signature Wok-fried Japanese Wagyu Beef with Black Pepper Sauce, Baked Young Lobster with Superior Stock and Steamed Assorted Rice with Abalone wrapped in Lotus Leaf.

There was no one better than my parents, really, to invite along with me one Saturday evening when I was booked to dine at the restaurant. I knew I could count on their impartiality. What I didn't count on was for them to compliment the quality of the cuisine over and above even that of my father's favourite restaurants.
The highlight of our evening was our second course, when we were served Executive Chef Lee Hiu Ngai's signature Double-Boiled Thick Chicken Broth with Fish Maw, Duo of Scallops and Flower Mushroom Soup. Even now, I'm not confident of putting into words just how good and scrumptious the not-too-thick blend and fine texture of the bisque tasted as it warmed my throat with every spoonful (those of you familiar with fish maw soups will know best what I'm referring to). We joked that it would have been a disappointment if the soup wasn't up to par, having been informed that it was Chef Lee's family recipe, but fortunately, it was more than adequate. It may have been the best fish maw soup I've had to date.
"What I didn't count on was for my parents to compliment the quality of the cuisine over and above even that of my father's favourite restaurants."
Not forgetting our first course — a dim sum platter specially arranged for us — featuring three items: Deep-Fried Fish Roll with Cheese, wrapped in Vietnamese Rice Paper; Steamed Crystal Dumpling with Black Truffle and Fresh Mushrooms, and a Steamed Har Gau, Prawn Dumpling with Bird's Nest and Dried Scallop. The crystal dumpling — with the truffle and mushrooms wrapped in a delicate glutinous skin — was so finely made, I almost held it up to the light.
After the soup, things pretty much stayed on points for the rest of the meal. Our third course was a Steamed Chilean Sea Bass with Black Garlic, a classic Chinese dish that was cooked to perfection; not too salty and with just the right amount of flavour. By the time the bowls of Seafood Fried Rice were flourished in our faces, our bellies were full but our minds told us to keep going. It would have been a shame to let it go to waste.
When dessert came around, I went with my standard pick of a Chilled Mango Pudding with Fresh Fruits, while my parents each opted for a Double-Boiled Tianjin Pear infused with Tangerine Peels. The latter was a dessert I hadn't yet heard of — granted, I'm not really a fan of Chinese desserts so I'm hardly an authority — but I thought that the idea of a double-boiled fruit was quite unique. Even more so when I had a bite and found that the pear hadn't lost its crunch despite being steeped in water.
All in all, I can't wait to go back.
Where: Cassia
1 The Knolls, Sentosa Island
Singapore 098297
Phone: +65 6591 5045
Note– The critic was invited by the Capella Singapore. But all the opinions expressed herewith are her own.