One of my first outings in Chicago was a visit to The Peninsula hotel. I headed straight to the Concierge, asking for the Salon de Ning. Salon de Ning is a refined and glamourous bar that mimics the living room of a Shanghainese socialite from the 1920s. As the Concierge told me, every Peninsula boasts one, except Chicago. The closest venue here, with a bold Chinese theme, would be the Shanghai Terrace restaurant. My expectations were high and I was truly excited to finally dine there.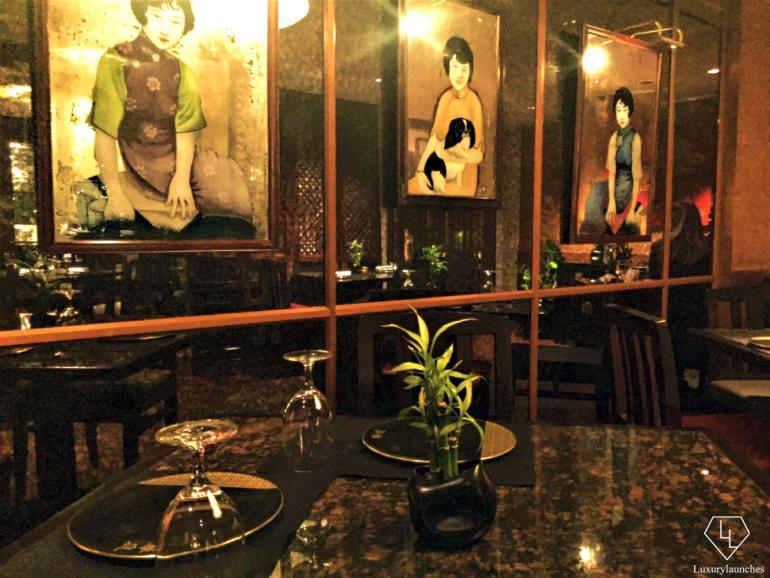 Shanghai Terrace sits four floors above Michigan Avenue (Chicago's prime shopping street) and offers an oversized deck in the summertime, transformed into an ice rink for winter months. Although we did not step out because of the extreme cold, the deck area looked beautifully appointed.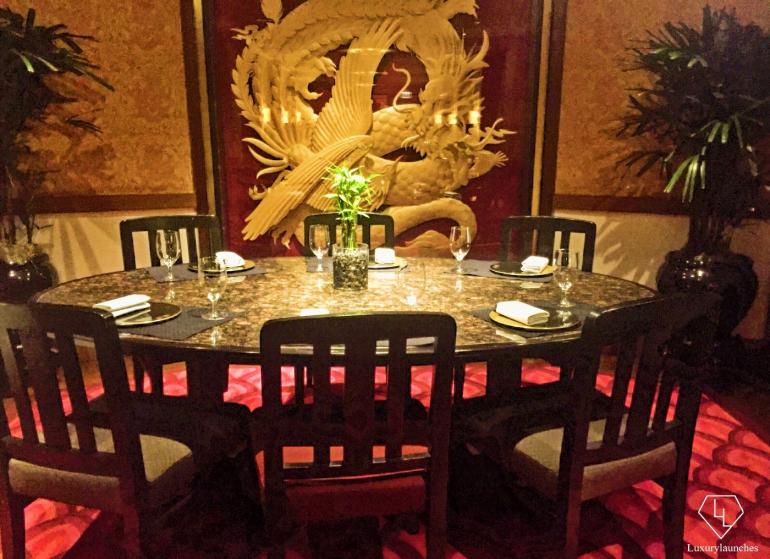 Compared to the Grand Lobby, the entrance to Shanghai Terrace restaurant feels understated, if not concealed, perfectly evoking the discreet glamour of speakeasys all over Chicago in the 1930s, or the small family-run gems you can find in Shanghai's old streets. A wall of Chinese tea artifacts, gold tones, red lacquer, and Chinese art make the décor elegant, inconspicuous and spot on.



The evening began with a round of drinks: within minutes we were sipping on a Ning Sling and a Cucumber Haze. The traditional Sling was invented in Singapore; this original version came out orange and not red, due to the passion fruit juice. The Cucumber Haze is a tequila-based cocktail with cilantro, ginger shrub, lime, and cucumber. Drink combinations were colorful, nicely balanced, and exquisite.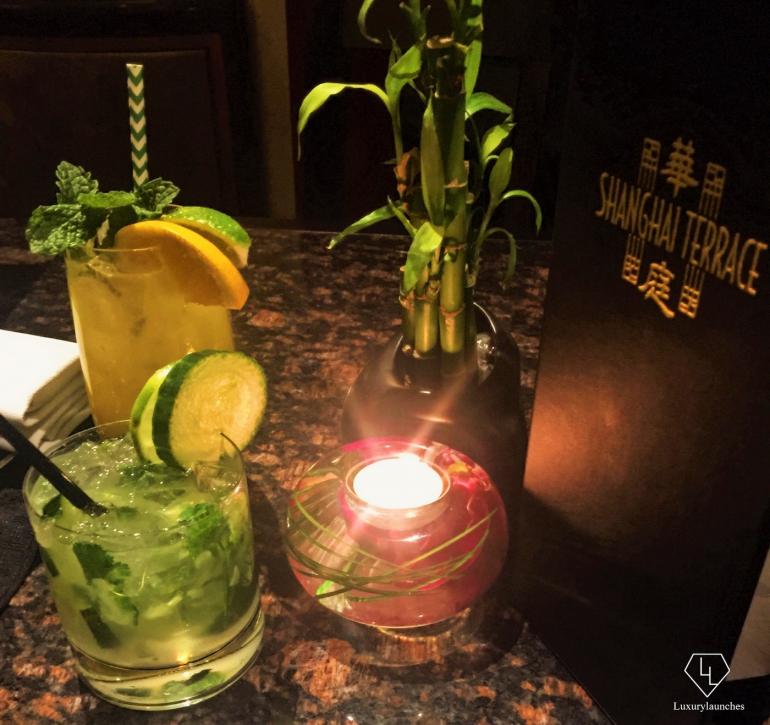 We ordered one appetizer and some dim sum: roasted duck and pork with spices and honey and four lobster and chicken dumplings with black truffle. The pork had a very pleasant texture and density; we enjoyed the intense contrast between the crispiness of the duck skin and its meat, tender and flavorful. As for the dumplings, they were quite a revelation! The texture and the flavors so perfectly matching and blending kept us wanting to try more kinds…and so we did. We ordered a set of four Shanghai-style pork dumplings that came steamy and with a nice bite when dipped in the soy/ginger sauce we were offered.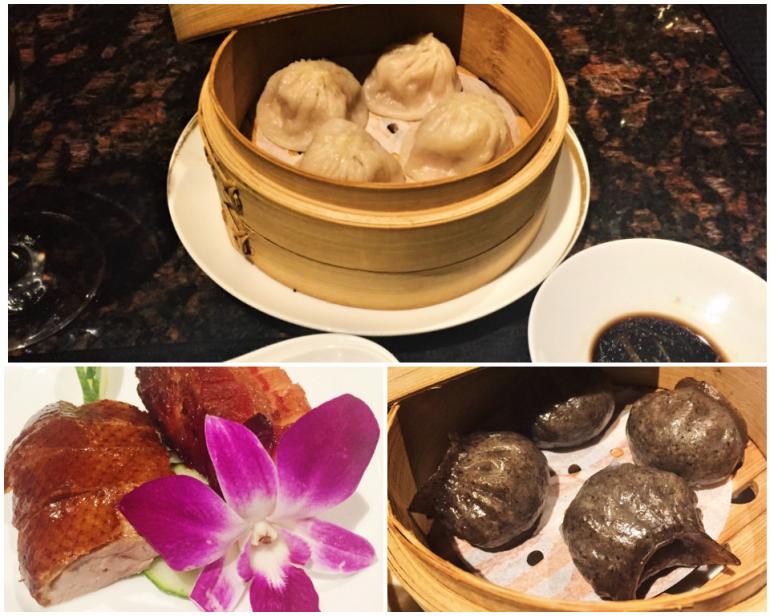 Main courses followed: the kung pao chicken was beautifully executed and I appreciated that our server asked for the level of heat and the type of rice I would prefer. The ti kuan yin tea Chilean seabass came out in a delightfully creative floral shape. The soy and tea seasoning was simply amazing. While enjoying our food, we couldn't help but notice that those around us had a Chicago accent: a good indicator of the reputation of the restaurant in the local, affluent community.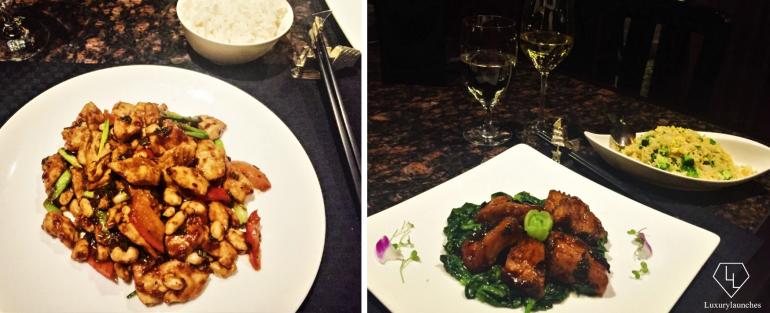 While contemplating the dessert menu, hot towelettes were brought to the table on silver trays: a much-appreciated touch, especially when exposed to the recent Arctic wind chills in Chicago. The beautiful presentation of the Asian pear tatin equally matched its flavor and richness. The ginger cream surrounding the traditional sesame balls still has us daydreaming!



Outfitted with red and black uniforms, the servers are polished and carry themselves graciously. All throughout the meal, the wait staff was friendly, attentive, and very knowledgeable about drinks and dishes, rendering the entire experience that much more enjoyable.
Having lived in Shanghai for several years, I was incredibly excited to try Shanghai Terrace. Every taste, look and smell of that meal transported me back to China. I even had to repress myself from engaging in Mandarin. My only hope is that winter won't be too long and that soon will come the time to enjoy al fresco dining on the private deck, in the center of it all.
Where: Shanghai Terrace, The Peninsula Chicago
108 East Superior Street (at North Michigan Avenue),
Chicago, Illinois 60611, USA |
Phone: +1 312 337 2888
Geoffrey Ravoire
Founder of UNITIATE, Geoffrey is a Marketing Expert, Luxury Specialist and Hospitality Enthusiast. Wherever he goes, his early career and personal interests have always helped him nurture and cultivate a passion for the Travel and Leisure industries. French-born, Geoffrey has accumulated an extensive experience abroad, thanks to regular visits to foreign countries but also thanks to years of expatriation. Currently based in Chicago, Geoffrey has already lived and worked in New York, Shanghai, Singapore and Monaco. You can meet Geoffrey on Twitter and Linkedin.