On my latest visit to London, I had the opportunity to dine at Bar Boulud, the outpost of the New York flagship at the majestic Mandarin Oriental Hyde Park. Tucked away at the bottom left corner of the hotel façade — directly opposite Harvey Nichols — the French-inflected bistro and wine bar host one of the city's top tables.

Owned by Lyon-born chef Daniel Boulud, the restaurant offers a seasonal bistro menu based on rustic French cooking, as well as popular American staples like the 'yankee' and 'piggy' burgers complete with juicy beef patties "with everything on top". It's also known for attracting a diverse mix of guests, including families, business executives, couples and even Hollywood celebrities. But more of that later.
When I stepped into the basement space, the first thing I noticed was the warm and inviting interior of the establishment. Undoubtedly, with its sleek open-plan kitchen; vaulted ceilings; deep, red leather banquettes, and zinc-topped bar, the décor is proper and on point.

Ushered to a corner table for two with, in my opinion, the best view of the entire restaurant, my friend and I perused the menu for longer than we'd anticipated because almost every item sounded seriously sumptuous. Starters like the rillons croustillants (crispy pork belly with Dijon), oeuf meurette (poached egg, lardon red wine jus, and sourdough croutons) and tartine de crabe (celeriac and apple, hand-picked Cornish crab on toasted brioche) called out to us. But eventually, we narrowed it down to a robust soupe à l'oignon (French onion soup) and crevettes (seared garlic prawns).
"With its sleek open-plan kitchen; vaulted ceilings; deep, red leather banquettes and zinc-topped bar, the décor is proper and on point."
Topped with a sliver of toast with gruyere cheese and paprika, the soup was resplendent with caramelized onions and a light textured stock that went down well and good, although the overall flavor could have afforded more punch. As was the prawn entrée — a dish I personally love and order everywhere I dine — that wasn't cloaked in as much garlicky chilli sauce as I would have liked. Although on its own, the sweet and sour blend was thoroughly enjoyed by my friend, who happily mopped up every last drop with chargrilled bread.

Then came the mains. We could have gone in so many different ways, with options including maigre a la plancha (stone bass with pearl barley mushroom risotto and Jerusalem artichokes); pappardelle d'automne (house-made pappardelle green lentil and tomato ragout crème fraiche); filet de chevreuil (venison fillet, kale, parsnip blackberry and sloe gin jus) or the aforementioned American transplants.

As it happened, I was mid-trip that evening and in need of tending to my weekly carnivorous craving. Hence, I raised my hand for a filet d'agneau en croute d'herbes (herb crusted lamb loin, spinach purée fondant potato, green beans and mint jus) and my friend followed suit with a good ol' fashioned rib eye. The restaurant sommelier was also kind enough to offer us a 1989 Lamé Delisle Boucard Bourgueil Domaine des Chesnaies Val de Loire wine to pair with our food — answering a question my friend posed to me when we first sat down on whether there was wine in the magnum bottles that stood on the side tables. The portions were impressively generous, so much so that we regretted adding sides of truffle mashed potatoes and green beans. Halfway through, we simply couldn't stomach another bite. Let alone dessert.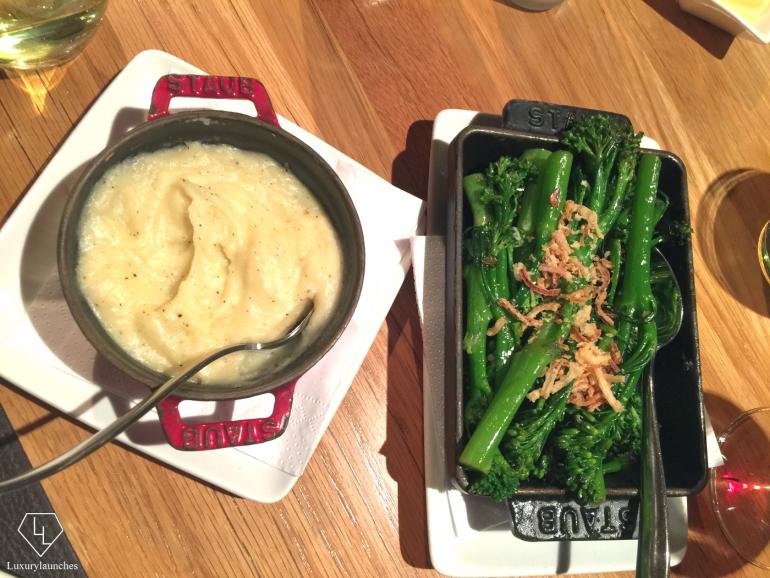 Curiously, as we sat there rubbing our bellies and chatting, I looked up to see actors Liam Neeson, Ciarán Hinds, and Hinds' daughter, Aoife walk past. Minutes later, actor Geoffrey Rush with his wife and daughter walked in. Though with celebrity sightings, you could wind up sitting there wondering if it's really who you think it is, any doubts were diminished when both parties stood up all around to greet one another. Having bumped into or interviewed numerous celebrities myself, I'd never experienced a 3-in-1 deal before. It was the highlight of my evening.
Where: Bar Boulud
Mandarin Oriental Hyde Park
66 Knightsbridge, London SW1X 7LA
Phone: +44 (0)20 7201-3899