Choosing a dream resort for your holiday includes much more than checking prices and room amenities: it is about the complete experience and value you will find in being immersed in an unusual universe with your loved one(s). If you believe that as much as I do, then look no further for your next Hawaiian adventure: The St. Regis Princeville Resort in Kauai Island, Hawaii will blow your mind.



Let's spend some time setting the décor: Kauai is known as the Garden Island, the oldest island in the Hawaii archipelago, and the most protected. Kauai doesn't have the big shopping options of Honolulu and the large tourist facilities of the Big Island. It is preserved and wild, yet comfortable, accessible, and safe. Don't expect to see high-rises, cohorts of tourists, and interchangeable hotels on Kauai: the island attracts discerning travelers, adventurers and cherishes heritage and quaintness.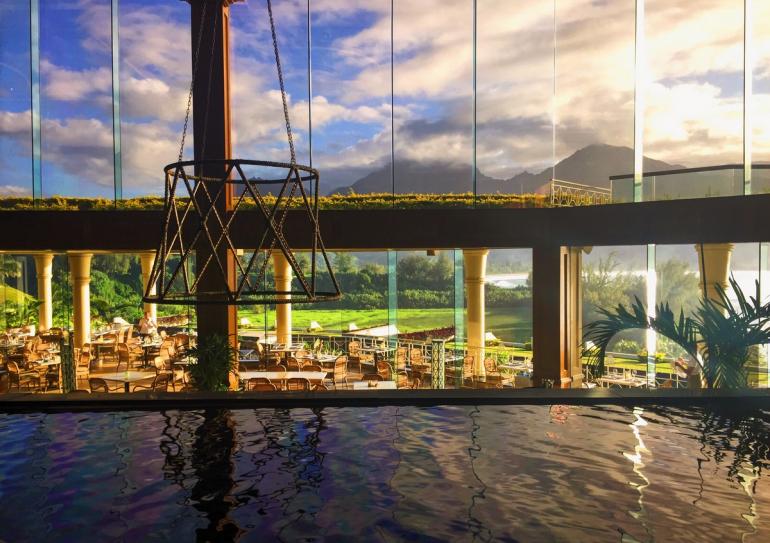 The St. Regis Princeville Resort is the embodiment of Kauaian values and features. When approaching, you feel drawn to the sea, surrounding you with its powerful surf, yet equally charmed by the lushness of the Princeville golf community. As you step into the hotel, wherever your eyes may fall, they're happy to discover a part of Kauai: local artists and craftsmen are responsible for all artwork and hardwood floors are made from local palm wood; the only non-local features are the abundant and elegant Murano glass light fixtures. Side note: make sure to pay attention to the zebrawood on the walls of the Spa as you walk in for your appointment, they are unique.


After breakfast, head down a few floors and meet the pool attendant who will show you to the best available sun chairs by the pool or on the beach. You'll be given at least two towels per person, your sun chairs orientated to your preference to maximize either sun or shade – all that with a genuine Aloha spirit and smile. We opted for a cabana, the Palm Cabana to be specific, and got escorted there by a pool attendant, always referring to us using our family name. Cabanas vary in location and amenities but always include a minimum of one queen sunbed and 2 sun chairs, a cooler, and several side tables perfect to place your magazines, cocktails, and laptop – wifi is reliable and fast throughout the pool and beach area.


After settling into our cabana, we took a walk on the beach. Upon our return, the staff had removed sand from the floor of the cabana and stocked the cooler with Chandon sparkling wine, water, and glasses. Such a nice touch. Service at The St. Regis Princeville feels discreet and personal.


The beach area is the major selling point of the property. A cove on the side of Hanalei Bay, the beach at The St. Regis Princeville Resort offers a tremendous advantage as it's protected by one of the largest coral reefs in Hawaii. Waves break far from the beach and the water is very calm when it hits the shore and believe me, this is not a given in Hawaii. I am sure you will appreciate that, especially if traveling with children or anticipate making use of the snorkeling gear available at the hotel.


No matter where you are in the resort, the view is ocean and jungle: not a single building is visible from the resort, only beaches and steep mountains around. This gives you an immediate feeling of privacy, relaxation, and lets you forget that civilization isn't far.
The same goes for the pool area, which is located by the beach. The large pool is beautifully appointed with palms, hibiscus, and local rocks. On the left side, you will find two other large jacuzzies and a kids pool complete with kid-sized sun chairs. Nice touch! It is important to mention that both the beach and the pool have multiple handicapped accesses. On top of the multiple water stations around the area, the hotel staff makes regular rounds to take orders or to offer shots of iced tea – the lemon-lime ice tea was to die for – or ice-cold towelettes to keep you fresh and hydrated.


Located on the pool deck, the Nalu Kai Grill & Bar offers fantastic salads and specialties together with a generous choice of refreshing cocktails and fruit juices; plus of course a full wine/beer menu. Lunch service was efficient and friendly, we especially appreciated our waiter's ability to navigate us through the menu and describe the various fresh fish options.


The Cobb Salad was beautifully executed and I loved the dried papaya in it, a very enjoyable twist. The Hawaiian Green Papaya Mango Salad was equally delightful and so was the side of Swordfish we ordered: grilled to perfection, moist and tasty. We took a chocolate chip ice cream sandwich back to the cabana and stayed gazing at the lushness of the site for several more hours.
One of the most convincing facts about the resort is its clientele. Looking around, I saw mainly young couples (late 30s early 40s), some families, and a few retirees. After a little investigation with pool neighbors and staff, I discovered that a good share of the guests is actually loyal guests who have been coming from an early age with their parents and can't help but to come back, now as a couple or a new family. To me, loyalty from guests is one of the best ways to judge a place. Here again, The St. Regis Princeville Resort scores high. Just a few days after leaving the resort, I feel I have found quite a special place here, and already entertain the thought of coming back. Time to begin my own tradition?
Where: The St. Regis Princeville Resort
5520 Ka Haku Rd, Princeville,
HI 96722, USA
Phone: +1 808-826-9644
Geoffrey Ravoire
Founder of UNITIATE, Geoffrey is a Marketing Expert, Luxury Specialist and Hospitality Enthusiast. Wherever he goes, his early career and personal interests have always helped him nurture and cultivate a passion for the Travel and Leisure industries. French born, Geoffrey has accumulated an extensive experience abroad, thanks to regular visits to foreign countries but also thanks to years of expatriation. Currently based in Chicago, Geoffrey has already lived and worked in New York, Shanghai, Singapore and Monaco. You can meet Geoffrey on Twitter and Linkedin.