At a hammam, you wash away all your troubles. The dead and dry skin, the tired muscles and the knotted nerves. And when it is done in an oasis, there is a higher level of peace and satisfaction. Hidden amidst the Dubai skyline, in a cozy nook of the Dubai Media City is One&Only Royal Mirage Dubai. and within the premises, located at the Residence and Spa courtyard is The Spa. The exterior is Arabic, like the hotel, and inside is a multi-floor paradise for pampering.
It was in 2008 when I first experienced a Morroccan hammam. It was steamy, intimate, aggressive and also soothing. I might have had a few kilos off the weighing scale – I felt that clean. At the Oriental Hammam, there is no aggression. The therapist who was to give me the Traditional Hammam Experience was a pretty Morroccan lady, broad shouldered and arms of steel. My experience at the hammam was enhanced thanks to her knowledge of the art of 'bath'.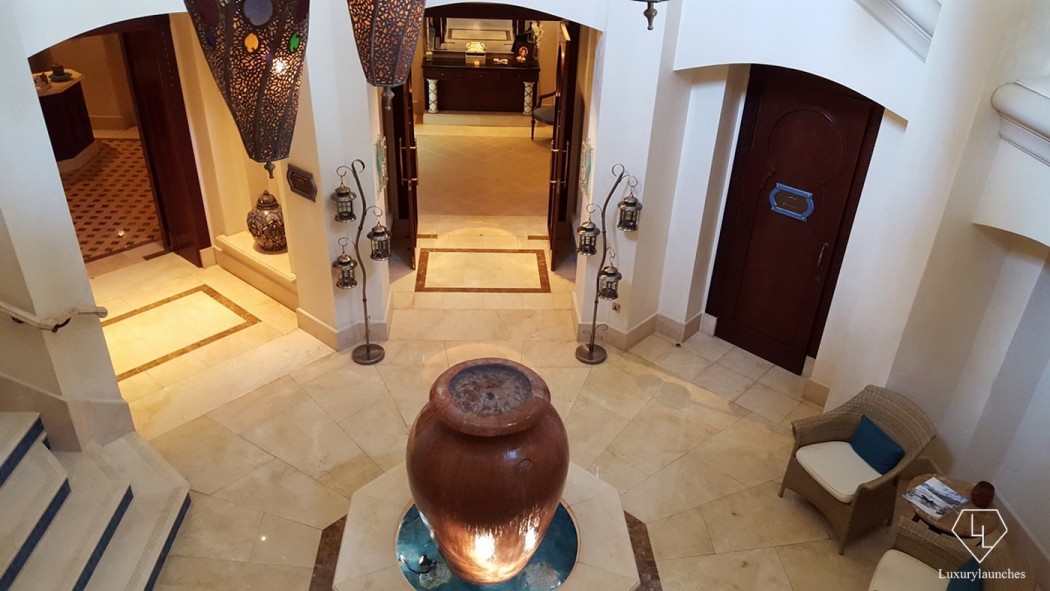 My adjectives might seem erotic, but my intent is to explain that the hammam experience was a powerful one. The hammam is located in the basement. A long, winding stairway took me to the reception for my treatment. On the way I fell spellbound to a long, iron chandelier that dropped from the ceiling, across two levels to a minimum height off the ground. The hammam and The Spa is at the basement while the Zourari Hair Salon and Fitness Centre are on the first floor.


Oriental memorabilia is a constant at the spa and the hotel. Big vases, wooden furniture and the smell of scented oils took me into a page from within the Arabian Nights.

After a cordial welcome the spa manager described the therapy process and showed me a tray of products that will be used which included oil (eucalyptus was used for me), sea salts, soap, body gel, exfoliating Morroccan scrubs/mud, a loofah and shampoo.
I was then lead into a circular hammam area from the reception by my therapist. We entered a dark, tiled bath area which had a big circle in the middle with stone seats where the massages took place.

Along the circle, there were incisions in the wall where water kept flowing into stone basins. There were seats on either side of the basin. I was lead into one such opening and made to sit while the therapist prepared my bath. She returned and asked me to go into a steam room. There I sat alone and pondered over life as perspiration added to the moisture in the room. After 10 minutes she returned to lead me back into the open cubicle and sat me down.
She then took me to the centre area and I was to lie down. Here is where the scrubbing took place. there was no force involved (as it did on my first experience) but right amount of pressure. This bit I felt a little odd though. It wasn't supposed to be a regular massage, this was a strenuous routine where the therapist attempts to remove all trace of dead skin from your body. My therapist was a little soft on me. And I'm not even the delicate darling type.
After she had scrubbed me with some Morroccan exfoliating scrub and mud, with a scent of eucalyptus, she took me back to the cubicle, scooped a bowl of water, asked me to check the temperature and began to bathe me.
I got flashes of memories where I stood on a similar stone ledge in a bathroom in my town back home in Kerala and being bathed by my grandmother. Similar concepts, different cultures.
She washed my hair too. And once it was over, I was lead into a relaxing lounge where I was asked to lie down and stare into the high ceilings and protected from the sun by thick maroon curtains. I was also offered hot Morroccan tea and dates.

On leaving the spa, the manager bid me farewell, the oriental-way by applying a soft stroke of fragrant oud on my hand, as a goodbye gesture.
Verdict: While the hammam was a steam area with running water, it lacked warmth. The treatment seemed rushed and disconnected, being shifted from one space to another – like a drill. The therapist did a good job, and her application of pressure while scrubbing was just right. I felt the lounge was relaxing and comfortable, but not cosy.
Treatment details:
The One&Only Spa has an extensive menu of services, which include body wraps, body massage, face treatments, sun treatments and men-only treatment too. Prices for these range from Dhs290-Dhs795. There is a unique Signature Experience featuring three unique rituals combining body, face and massage treatments. The experience is priced at Dhs 825.
Oriental Hammam offers seven treatments – Royal Hammam; The Hammam Rose Ritual; Head, Hand and Feet Massage; Traditional Moroccan Massage and Oriental Back Massage. Rates for these start at Dhs 285 and go up to Dhs 545. The Traditional Hammam Experience was what I indulged in, and that costs Dhs 445. A complete oriental treatment is offered with the Signature Experience, priced at Dhs 695.
Where : The Oriental Hammam
One&Only Royal Mirage,Al Sufouh Road – United Arab Emirates
Phone : +971 4 315 2130
Note – I was hosted at The Oriental Hammam at One&Only Royal Mirage spa but the opinions expressed herewith are my own.