There is no doubt the Fairmont Hotel in St Andrews, formerly known as the Bay Hotel, deserves its 5 star status. But that status doesn't mean it's luxurious in every way, it's just means it's luxurious in a very American way. That's not a criticism, it's just a fact. As with most hotel chains, the Fairmont's biggest plus point for some will also be its biggest turn off for others – it's exactly what you would expect! There are loads of wealthy American golfers enjoying the spacious, very well equipped but also very bland rooms, mixing with their fellow countrymen and women in perhaps the biggest hotel foyer I've ever seen.



I was invited to stay so I could experience the Clubhouse's new menu. As you would expect of a golf focused hotel – it is St Andrews after all – the Clubhouse is………..well, like a clubhouse!

But don't let that put you off. The food was top notch, the service superb and the views while enjoying one of the best steaks I've ever had were truly amazing. The Clubhouse is situated a few minutes' walk from the main hotel and it offers a welcome respite from the more formal dining options offered there.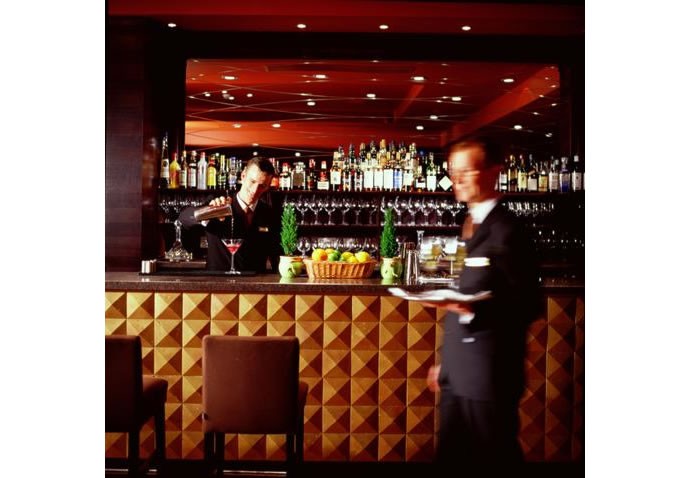 In the hotel itself you will find tasty traditional Scottish fayre in The Squire, including fresh and locally caught seafood sumptuously prepared. If you fancy something different then head to the highly acclaimed La Cucina restaurant for classic Italian food. Once you've finished your fine dining experience a visit to the Kittocks Den is a must. There is nothing better than enjoying one (or two, or three, or more) of their 35 different malt whiskies to help you sleep soundly in your tartan clad bed.

As you would expect of any 5 star accommodation there is the obligatory spa. It's serene, with pipe music playing discreetly in the treatment rooms which sit alongside an indoor swimming pool with hot tub, and the children get a well-equipped games room.
The one stand out feature of the spa which is not often seen in many other hotels is the very serious gym. It was once frequented regularly by Prince Willian when he was a student, and the Scottish football team are regular visitors, so if it's good enough for professional sportspeople and real live royalty, then it's good enough for us mere mortals.

Regarding the golf, you would be hard pushed to find better kept courses anywhere in Scotland. Both the 'Torrance' and 'Kittocks' require a skill with a club way beyond my capability. But the millimetre perfect, vibrant green of the 'greens' and the stunning fairways suggest this is definitely a holiday location for the golfers who take their game seriously.

Related to that, the one thing to bear in mind is that it's nigh on impossible to get access to the 290 rooms and suites when the annual Dunhill Celebrity Pro-Am takes place in October. I was reliably informed that the likes of Samuel L Jackson, Hugh Grant, Damien Lewis, Andy Garcia, Bill Murray and Michael Douglas often use the Fairmont as their temporary home for the duration of the tournament.
But if you are lucky enough to get a room, because the hotel sits atop a cliff edge overlooking St Andrews Bay, you are guaranteed amazing views of the North Sea, the world famous town once frequented by a bona fide Prince and Princess, and of course the golf and golfers. It's approximately 10 minutes from St Andrews itself, but there is an on demand shuttle service for residents taking them to and from the historic town centre.

There is no doubting the fact this hotel is luxurious, but it feels like luxury for a very specific market, and that is the golf loving traveller from the US. The attention to detail you expect of a 5 star hotel is there, but unfortunately that detail is just a little bit dull.
However the service is superb, the food fantastic and the location absolutely lovely. And both golf courses are exactly as you would expect from a famous name like The Fairmont. And their afternoon tea was truly exquisite.
But within minutes of driving away through the huge Americana style driveway, I was hard pushed to remember anything memorable about the £58 million building itself (which, by the way, was built by US billionaire Donald Panoz in 2002, hence the strong Las Vegas style influence on design and service).
But what I will remember is the fantastic food, the amazing afternoon tea, and the attentive and friendly staff. That's worth five stars in itself in my book.
Address : Fairmont St Andrews
St Andrews KY16 8PN, United Kingdom.
About Rob Bruce –
Rob is a marketing professional with nearly 20 years experience of brand building, 15 of which have been working in the premium and luxury sector. He is also lifestyle writer covering all that is tasty, beautiful, quirky and luxurious in the world, with a focus on the UK and Scotland in particular. He's an avid consumer and reviewer of the finer things in life including food, drink, gadgets, travel and events.
You can follow Rob on his website and Twitter as well.