Have you ever wondered what kind of cars the founders and CEOs of multi-billion dollar tech companies drive? Most of the tech moguls prefer to keep a low profile, barring a few; and despite of their multi-billion dollar net-worth, some of them still prefer to drive around in old and cheap cars. So, here is roundup of what tech cofounders and CEOs are driving these days going from ridiculously expensive to the most modest machines.


10. Mark Zuckerberg – founder and CEO of Facebook (Pagani Huayra – $1.3 million)
We start the list with none other than Mark Zuckerberg; one of the five founder members of Facebook and certainly one of the most influential figures of the tech world. His personal wealth is estimated to be in excess of $33 billion but the 30 year old billionaire didn't move onto expensive automobiles until recently. He was spotted driving around in an Acura TSX and a Volkswagen Golf GTI, but Zuckerberg reportedly has bought a Pagani Huayra recently. The Italian hypercar has a starting price of $1.3 million.
9. Larry Ellison – CEO of Oracle (Lexus LFA – $375,000)
In 2014, Forbes listed Larry Ellison as the third-wealthiest man in America and as the fifth-wealthiest person in the world, with a fortune of $52 billion. The American businessman is best known as the co-founder and chief executive officer of Oracle Corporation, an enterprise software company. He owns many cars but was recently spotted driving this top of the line Lexus LFA, which starts at $375,000.
8. Bill Gates – founder of Microsoft (Porsche 959 – $225,000 when new)
The one-time world's richest man, now dethroned by Carlos Slim, can be seen driving around in a Ford Focus, but it's his other ride that has gathered more attention. The Microsoft founder is quite famous for his love for Porsches and has a big collection of some of the best machines ever made by the German automaker. The most famous one however is the Porsche 959 Coupe. Famously dubbed as "Gates 959", it is one of the pre-production Porsche 959's built in the mid-eighties and was stored for 13 years by the Customs Service at the Port of Seattle due to regulations. Back in 1999, then-president Bill Clinton signed into law the "Show and Display" rule, which made certain highly collectible cars exempt from government safety and crash regulations. Bill Gates and other car nuts were more than influential in getting the law passed. This allowed Gates the freedom to drive his $225,000 Porsche 959 on the road.
7. Evan Spiegel – Snapchat founder and CEO (Ferrari – model not known)
Unlike most of the other names in the list, Evan Spiegel led quite the privileged life and enjoyed many luxury cars while growing up. But the 24 year old founder member and CEO of Snapchat has made his own position in the tech world and his company is currently valued close to $10 billion. After a Series B funding round in June last year, Spiegel immediately bought himself a Ferrari.
6. Larry Page – Co-founder of Google (Tesla Roadster – $109,000)
Larry Page, one of the co-founders of Google and the current CEO of the company, is quite the environment lover and believes in preserving the nature. In addition to an electric bike and a Toyota Prius, Larry owns a Tesla Roadster. The Tesla Roadster is a Battery Electric Vehicle sports car which has a chassis of a Lotus Elise but with an electric motor. The roadster has the ability to travel 393 km on a single charge and can race from 0 to 60 km in just 3.9 seconds. It has a base price of $109, 000.
5. Sean Parker – Co-founder of Airtime (Tesla Model S – $100,000)
Facebook's first president and former Napster cofounder Sean Parker started as a rogue hacker during his teens and went on to become the darling of tech world. He also cofounded Plaxo, Causes, and Airtime and his net-worth currently is estimated to be close to $3 billion. He drives an Audi S5 in San Francisco, which starts at $50,000, But sometimes in Los Angeles he is seen driving a flashy $100,000 Tesla Model S.
4. Steve Ballmer – former CEO of Microsoft (Ford Fusion Hybrid – $26,000)
The American businessman who was the CEO of Microsoft from January 2000 to February 2014 and is the current owner of the Los Angeles Clippers ranks number 32 on the Forbes 400. His personal wealth is estimated at $20.7 billion but he still prefers to drive his Ford Fusion Hybrid.
3. Dustin Moskovitz – Co-founder of Facebook (Volkswagen R32 – $25,000)
The 30 year old internet entrepreneur co-founded Facebook along with Mark Zuckerberg, Eduardo Saverin, Andrew McCollum and Chris Hughes. He left Facebook in 2008, but in March 2011, Forbes ranked Moskovitz as one of the world's youngest self-made billionaires on the basis of his 2.34% share in Facebook. He has a net-worth of more than $6 billion but drives a Volkswagen R32.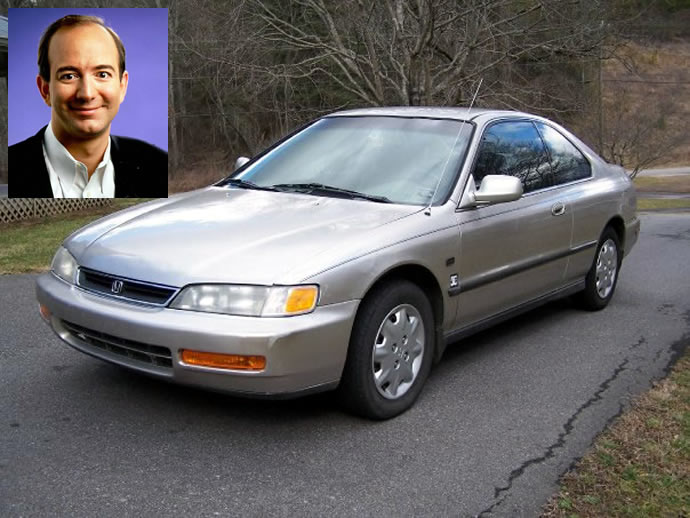 2. Jeff Bezos – CEO of Amazon (1996 Honda Accord – resale value of below $4,000)
The American business magnate and investor was born in New Mexico and his humble beginnings is considered as one of the crucial reasons for his massive success. His current net worth is estimated to be somewhere near $30 billion but tech genius still drives a 1996 Honda Accord. The same model today would cost below $4,000.
1. Travis Kalanick – Co-founder of taxi app service Uber (does not own a car, just hails an Uber cab)
The 38 year old serial entrepreneur dropped out of UCLA and co-founded companies like Scour Inc. and peer-to-peer file-sharing platform Red Swoosh before teaming up with Garrett Camp to start the famous ride-sharing service Uber in 2009. The company was recently valued at $18.2 billion and though his share in Uber is not known, but he needs to own 5.49% of the company to join the billionaires' club. But despite his billion plus net-worth, Travis uses his Uber's ride-on-demand service to get around.