After the New Bentley Continental GT inspired RCA students to design women wear, Audi has taken a more familiar route, as the AUDI trimaran yacht – a graduate project by German designer Stephanie Behringer puts ups its first look. The project has been developed ​​under the supervision of the AUDI concept design based in Munich, Germany. The concept incorporates two jet skis inside a motorboat. The multi-hull-based design is made up of the main hull and two smaller ones that support the two pods on either side where the jet skis are kept.

The slender shaped hulls make riding for the lightweight AUDI TDI (turbo-charged injection) diesel engines and electricity-powered jet skis stable and reduce water friction. You can cruise the boat at speeds as low as 8 knots powered just by the skis. At the same time, the jet skis are electric driven that to emissions and noise-free. The 15-meter longboat with a 6.40-meter wide hull can hit top speeds of up to 30 knots.
The boat can house 12 people on deck in its four berths. The boat also features a saloon table inside one of the spaces, and if the folder in, offers two more berths.
The elegant yet bold look of the boat is complemented with equally elegant and light silver framed jets. The deck area also features a sun lounger and two large seating benches. The high walls ensure a dry ride too.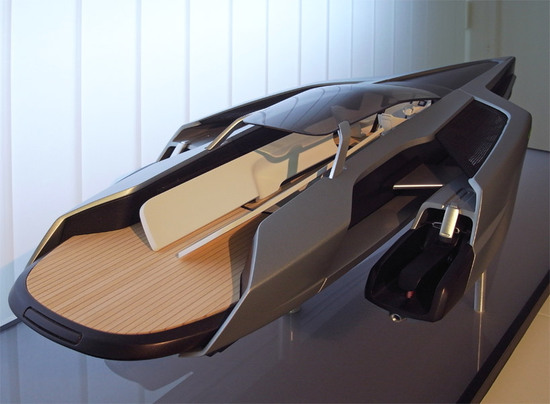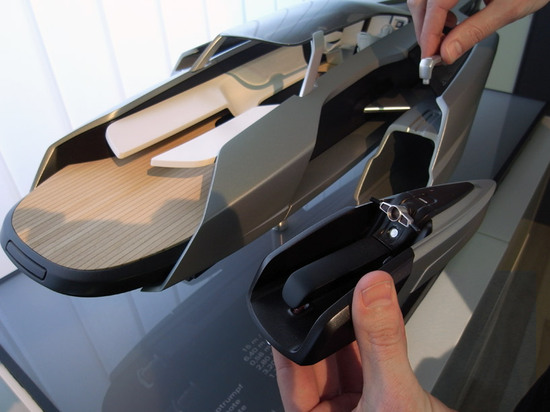 [Designboom]