Looking at the pictures, you might confuse this sleek two-door supercar for an Aston Martin with additional customized bodywork; however, only when you see the badging you will realize that it's in fact a Bentley. Meet the Bentley EXP 10 Speed 6 concept, a hybrid two-seater supercar that has taken everyone by surprise. Revealed at the VW Group's pre-show bash, the concept is the most un-Bentley like creation we have seen from Crewe in many years; and we absolutely love it! With an aim to rival exotic front-engined GTs like the Aston Martin Vanquish and Ferrari F12 Berlinetta, the EXP 10 Speed 6 will form a fifth separate product line if it ever makes the production cut.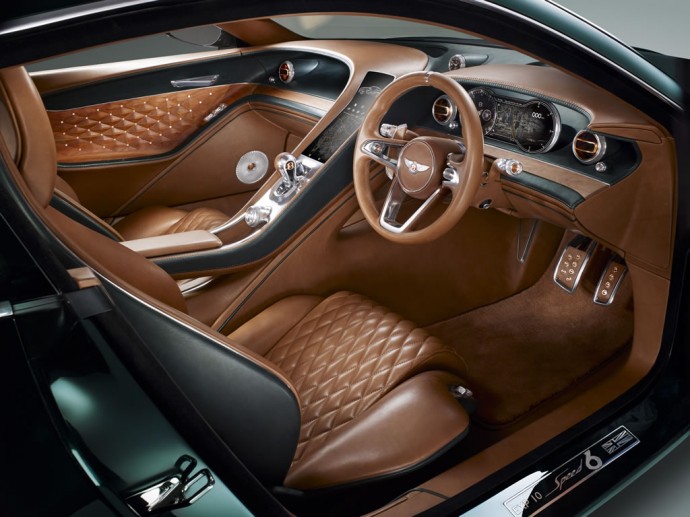 The EXP 10 Speed 6 prototype coupe's production variant is estimated to be priced around £130,000 ($200,000 approximately) when it goes on sale within three years. "The showcar has the potential to be the new pinnacle luxury two-seat sports car. It offers thrilling, driver-oriented performance, complete with trademark modern Bentley luxury and effortlessness," said Wolfgang Durheimer, Bentley Chairman and CEO. As for the design, it does have a lot of traditional Bentley styling trademarks, however the over-all shape has a distinct Aston Martin-ish flavor to it. There's also a new interpretation of the iconic Bentley grille and the automaker's signature four-round headlamps design, which we particularly like.
On the inside, the first thing you'll notice is that it's a two-seater, rather than a 2+2, like so many Bentley coupes before. Other than that, for the interiors Bentley has stuck with current themes with quite a few modern upgrades. A gorgeous leather-wrapped steering wheel is flanked by huge leather and metal paddles, while a digital gauge cluster replaces the antiquated analogue dials. A portrait-orientated 12-inch curved touchscreen infotainment system that echoes the Porsche 918 Spyder just above the gear shifter completes the centre console. That's all we know about the concept as of yet and we expect to get more information including the engine specs in the coming days.