Heesen Yachts' 160-footer Home may be the most silent and stealthy yacht, but it is making noise! Launched in 2017, this yacht is so quiet that it could easily go unnoticed, and taking it as a compliment is only natural. Home has been described as the world's first fast-displacement superyacht equipped with hybrid propulsion. On a ship, the ultimate luxury is not a swimming pool, a spa, or a games room but a silent cruising mode. Home, priced at $29.5 million, is quiet and quick, and boasts a unique hybrid engine that combines diesel-mechanical and diesel-electrical power sources. Without so much as a peep, Home can reach a speed of 9 knots in silent mode, cutting through the ocean with as much smoothness as a Tesla, emitting only around 46 decibels. Let's delve into the details and learn about the marvels of the Home Yacht.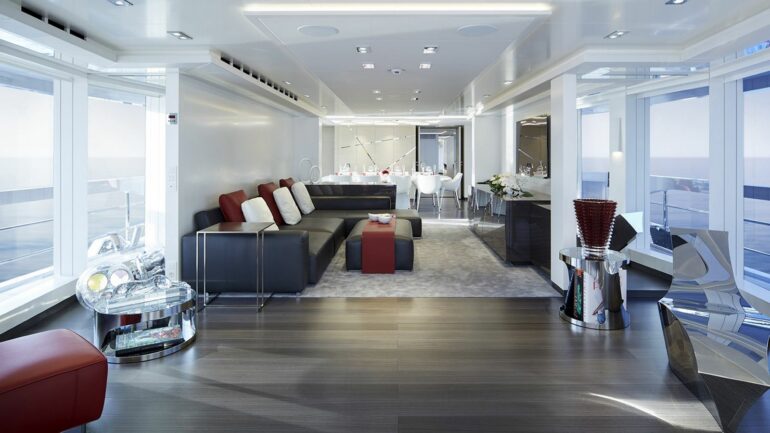 Home is where the heart is
Home motoryacht is all about fuel efficiency and comfort. She's also about being speedy while remaining silent. This 160-foot motoryacht offers superlative performance and efficiency with a volume of 500GT. It may not be the biggest yacht, but it still impresses and packs a punch with a striking superstructure and a spacious aft platform with a wide staircase. Home is a pleasure to be in (or charter), boasting contemporary Ibiza-style interiors designed by Cristiano Gatto.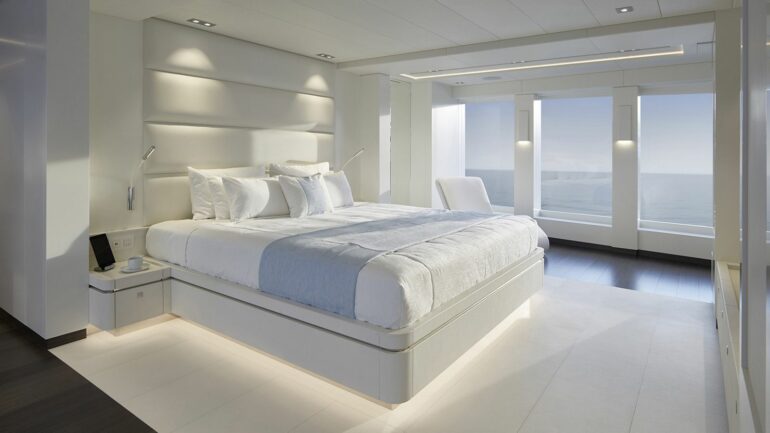 She can accommodate 12 guests in 6 cabins, all of whom are constantly treated to uninterrupted vistas thanks to floor-to-ceiling glass in the main living areas and the full-beam master cabin. The sun deck is dotted with sun loungers forward, featuring glass screens to shield against the breeze without obstructing the stunning views.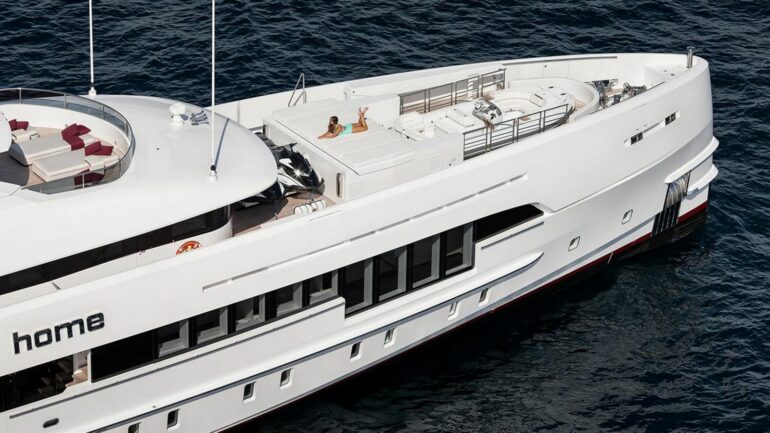 A jacuzzi with an attractive sit-up bar lies just behind. The upper deck comprises a laid-back sky lounge complete with beanbags, day beds, and teak decking for a casual vibe.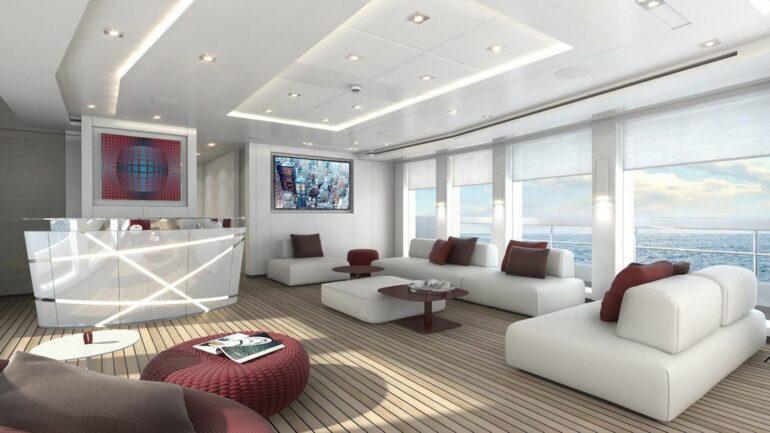 The main deck features a lounge aft, while the main saloon is equipped with a TV lounge, a dining room, and a beach club next to the large swim platform. There's plenty of adrenaline-packed fun inside Heesen's Home with the latest array of watertoys and an air-conditioned gym. The standout space aboard Home is the full-beam master cabin on the main deck, which manages to fit in an impressive dressing room, an en suite with a shower, and even a private office.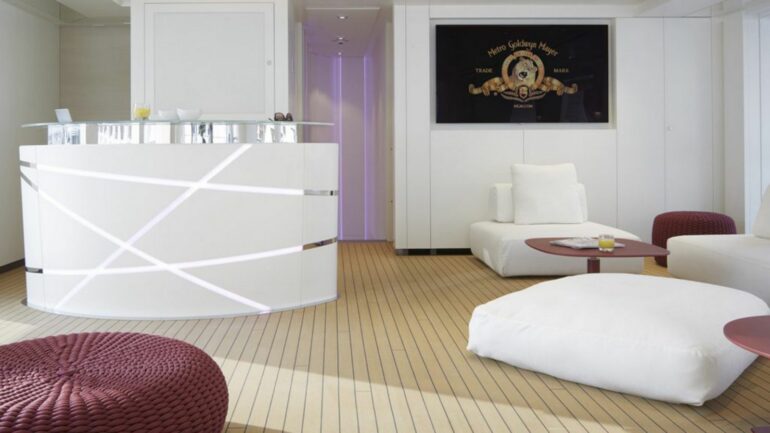 On the lower deck, guests are accommodated in a spacious VIP cabin, two double cabins, and two twin cabins. It's worth noting that, unlike our homes on land, this floating Home isn't an ostentatious display of the American owner's wealth. On the contrary, it features simple, almost sterile interiors with nothing to distract from the beauty outside. Designer Cristiano Gatto adds a touch of elegance and taste using 14 different materials, including leather, lacquered wood, and marble. Then there are the occasional pops of colors like burgundy, as seen in the main saloon, along with warm lighting to create an inviting atmosphere.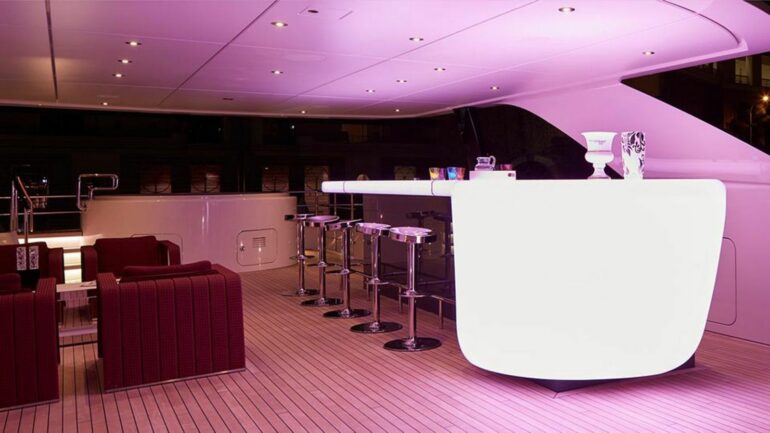 Gatto shared, "I've designed a lot of yachts, but this one has really captured my mind. It's so peaceful. This is not a boat for show; it's a boat for living in – with our lives being so chaotic, finding a place where you can just exhale and be is so special."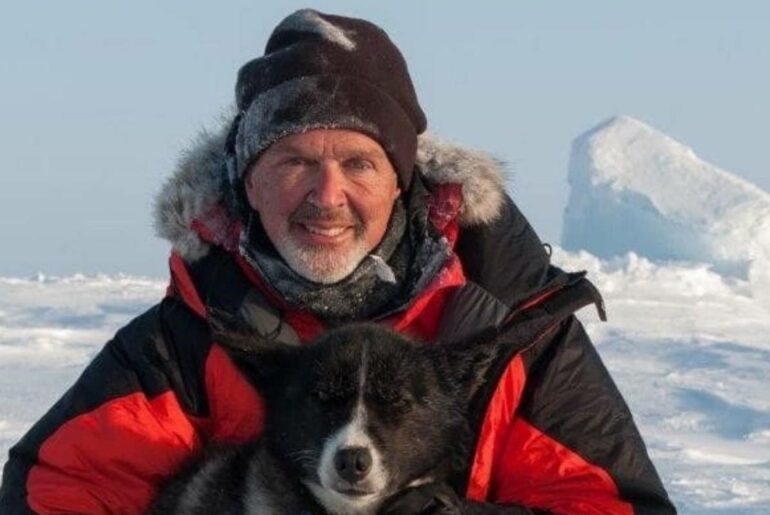 Home Yacht is owned by investor Harald McPike-
A Swiss-born Austrian who went from being a former professional blackjack player to a risk-taking investor. He is the force behind Starling Bank, one of Britain's hottest fintech companies. The 65-year-old math genius studied economics at the University of Vienna, and his love for math helped him go beyond academics into casinos. With a razor-sharp mind and a talent for mathematics, winning became second nature to him. McPike's spokesperson said, "As a young man in the 1980s when computer technology was in its infancy, Mr. McPike used his mathematics and programming knowledge to help him win at cards, legally."
In 1989, he founded a quantitative trading business called QuantRes and began trading in global financial markets. More recently, McPike started investing in fintech companies and poured millions of pounds into Addepar, the US-based wealth management platform, RedShield Security, a cybersecurity firm, and Imagr, a startup selling checkout technology. It's not all work for McPike; he is quite the adventurer who has climbed to the summits of Kilimanjaro in Tanzania, Chimborazo in Ecuador, and Lhakpa-Ri in Tibet. "I love travel and have a passion for hiking and mountain climbing," he said.