Are you fed up with WFH culture? I have been on the WFH boat for as long as I can remember and has nothing to do with the pandemic, but since we are talking about boats and homes, then this snazzy Star Ferry conversion yacht in Tai Tam deserves some attention and mention. Wrongly called Dot, this massive 6,000 square feet of living space can be your humble abode for a not-so-humble price of HK$21 million (roughly $2.8 million). Formerly known as Golden Star, this self-sufficient, chic dreamboat is ideal for sailing lovers worldwide. The owner repurchased the beauty in 2011 and spent 18 months having her converted at the Leung Wan Kee shipyard in Zhuhai. A full-time project manager was based at the yard to oversee the incredible and unique conversion. Let's dive straight inside the image gallery of this wonderful home on the sea that has become available owing to the owner's relocation:



This is a dot, formerly known as Golden Star. Asia Pacific Boating says Dot can be your home that spans over 6,000 square feet of living space and an additional 4,000 square feet for storage and utilities.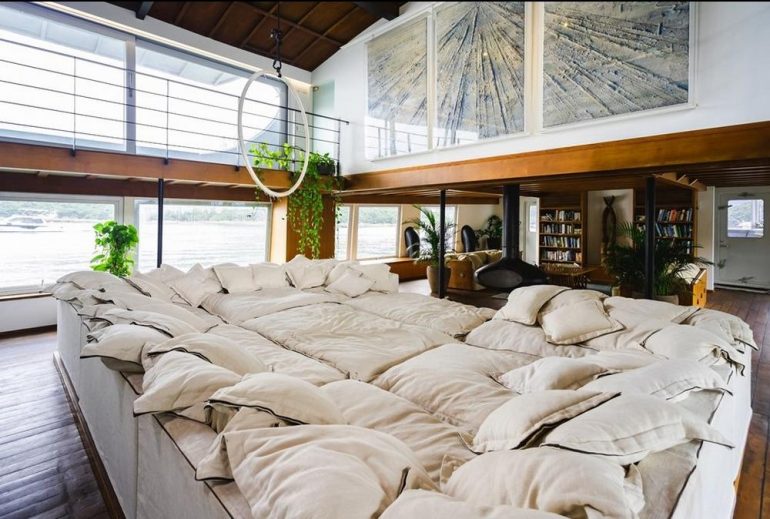 Dot has been redesigned, keeping New York-style lofts in mind. It features industrial-chic warm wooden brown floors and clean white walls.

The owner said, "For the layout, I worked with a house interior designer in France that I knew, who had renovated a huge Dutch seagoing barge for his own use." the yacht houses spacious rooms with floor-to-ceiling windows, creating a tremendous sense of space.

Other than the very impressively done four spacious cabins that also feature floor-to-ceiling windows, the most liked area has to be the dedicated cinema room that looks super cozy with oversized throw pillows, beige bedding, and complementing wooden accents.

The master bedroom study can also double up as a proper office as it is pretty massive. It can comfortably seat 3-4 people if you plan to have your office peeps over for a discussion.

As lavish as the cabins are, en suite bathrooms with full baths and separate showers did up with striking fixtures.

To make the most of this unique way of living, spend your days lounging on the top deck that offers a large space for al-fresco dining and sunbathing.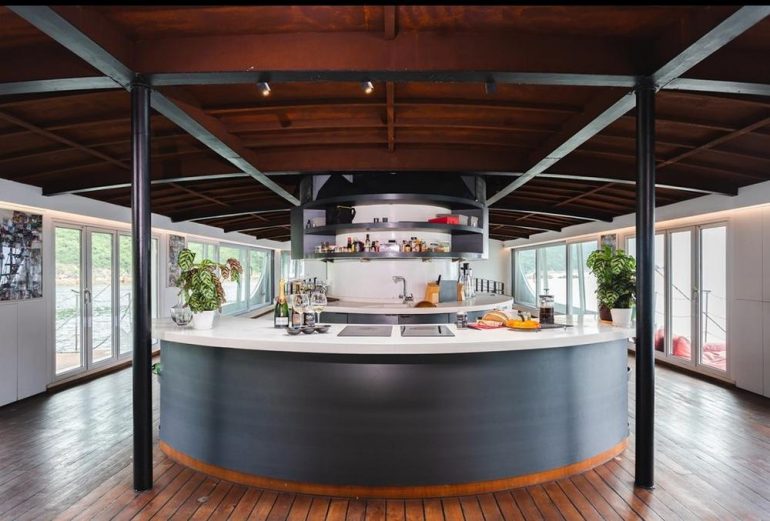 One will be able to spot the artistry of Golden Star on the deckhead and the teak deck. The owner makes it supremely comfortable by installing no less than thirty air-conditioners to battle Hong Kong's summers.

The living area is one of the coziest spots to nestle in onboard the Dot. The owner and his family also wanted to retain some of the old boat's artistry while adding high-end flourishes.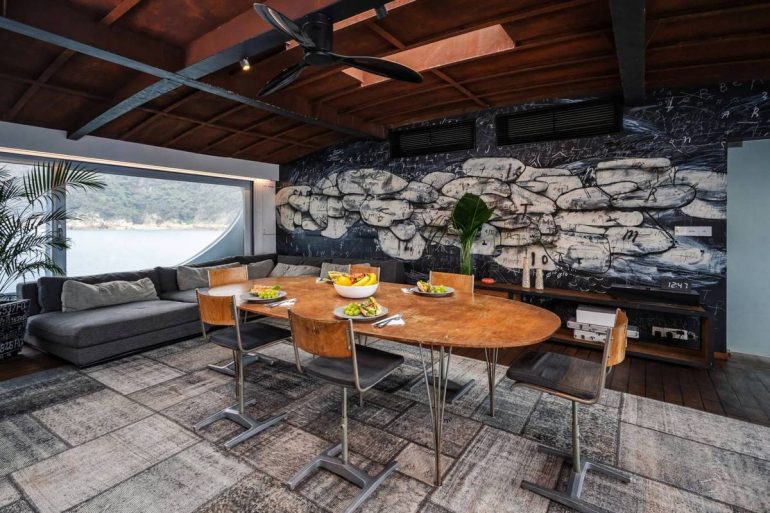 There is a dedicated dining area equipped with sliding doors that open up to allow sea breezes through the vessel to enjoy a meal along with family and friends.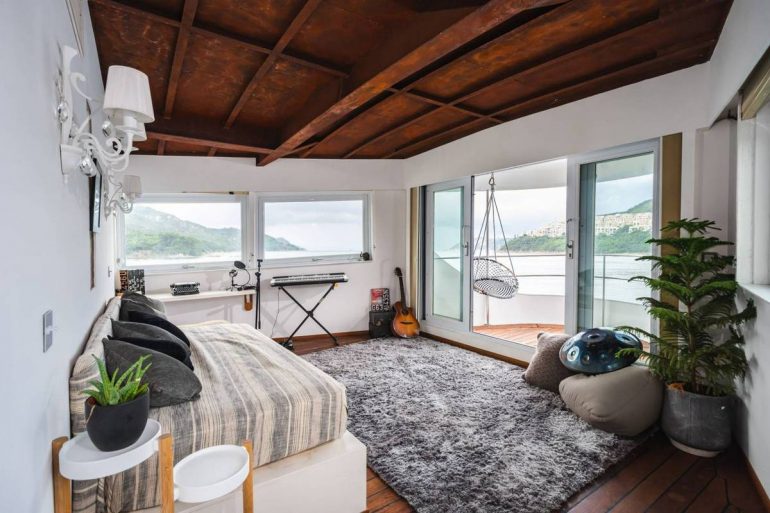 Comfort is the name of the game here, and so is self-sufficiency. The boat has a 57,000-litre water storage capacity, with a roof water collection system. Dot can collect up to 5000 liters of water in a matter of hours. Dot is a water filter system to convert seawater during drier weather and has separate systems for cleaning and filtering seawater and rainwater.
[Via: Tatler Hong Kong]