It will be a mad summer for the new owner of the superyacht, Madsummer. The Lürssen masterpiece was sold in-house by Moran Yacht & Ship for an asking price of $244 million. Delivered in 2019 and winner of the Judges' Commendation at the 2020 World Superyacht Awards, Madsummer was commissioned by billionaire Jeffrey Soffer who wanted a ship with space for his seaplane.



The luxury boat features exterior design by Harrison Eidsgaard and interior design by Studio Laura Sessa and accommodates 18 guests in 9 well-designed staterooms. But the details and amenities make Madsummer an incredibly wonderful entertaining pleasure craft. The wonders are mentioned below-

Madsummer = a floating, modern beach house:
At 311-foot-long, this lovely Lürssen boat boasts a ubiquitous nautical theme with bright reds, whites, and, most extensively, blues. The main salon features bright seating areas, a $ 3 million dining table, and a self-playing Steinway & Sons grand piano.

The main deck houses some well-appointed guest cabins with a monochromatic theme, lacquered sycamore wardrobe doors, silk carpeting, and custom furnishings. The main suite lies on the bridge deck, complete with his and hers dressing and plush interiors.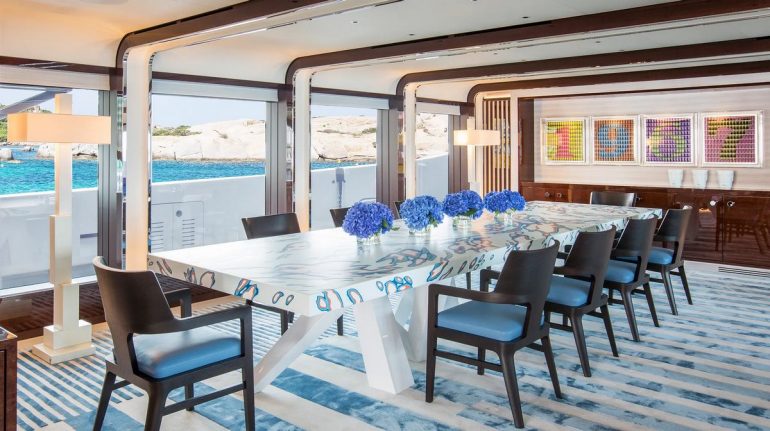 Madsummer flaunts excellent features that make the sea-faring experience memorable, like auto-darkening windows in the cinema, an upper deck bar to make the most of the views, a pool, and a Jacuzzi.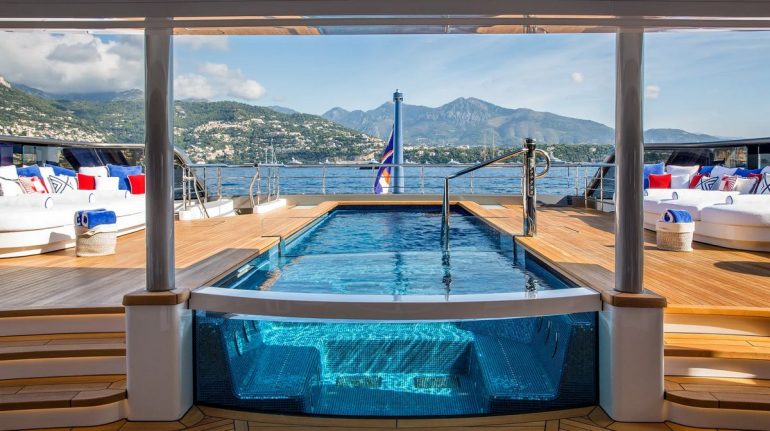 The yacht's highlights are the large pool and hot tub deck aft, protected by glass bulwarks. The spa and wellness retreat is as exciting as it is rejuvenating.

The space has a private terrace on the lower deck and a well-equipped gym. Self-care is vital aboard the 311 footer as the beauty salon includes a massage room, a Hammam, and a sun shower.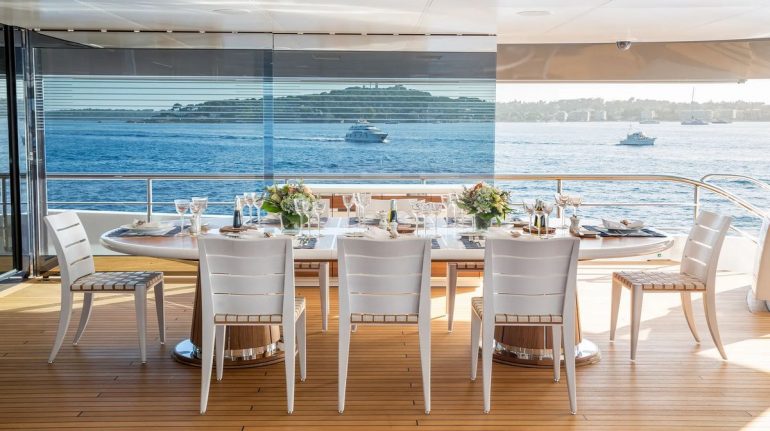 As mentioned above, Madsummer was commissioned to accommodate a seaplane; the sundeck aft is occupied by a Husky seaplane; when in water, this space turns into an ample dance floor. Entertainment is also found inside the enormous tender garage with several PWCs, a range of skis and boards, and a large selection of dive equipment.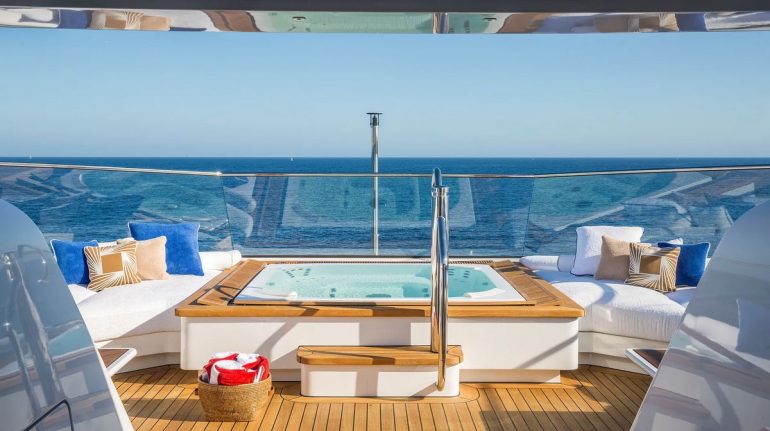 Powered by 2 MTU engines, Madsummer flaunts a top speed of 18 kn and carries 280,000 liters of fuel on board. The $250 million yacht will cost her new owner a minimum of $25-30 million in annual maintenance charges.

Who is Jeffrey Soffer?
Worth an estimated $2.2 billion, Soffer is one of seven children of real estate mogul and billionaire Donald Soffer, the man behind the development of the city of Aventura, Florida. This University of Miami dropout spearheads a real estate firm with $10 billion in luxury resorts, hotels, high-end shopping, and other properties. He is a man with famous friends and fascinating assets. He was married to supermodel Elle MacPherson and is linked to another supermodel, Brazilian bombshell Gisele Bundchen, who was once married to his close friend Tom Brady. The 55-year-old owns the iconic Fontainebleau Hotel in Miami.