Can you image a princess from a fairytale as a superyacht? Take a look at Bravo Eugenia, and the unimaginable will be glimpsed. Bravo Eugenia's long and slender hull cannot be compared to anything other than a beautiful woman. In contrast, her robust insides with a beam of 16.3m and a volume of 3,418 GT are akin to a superhero. Let's explore Oceanco's $225 million Bravo Eugenia superyacht that's equal parts gorgeous and green: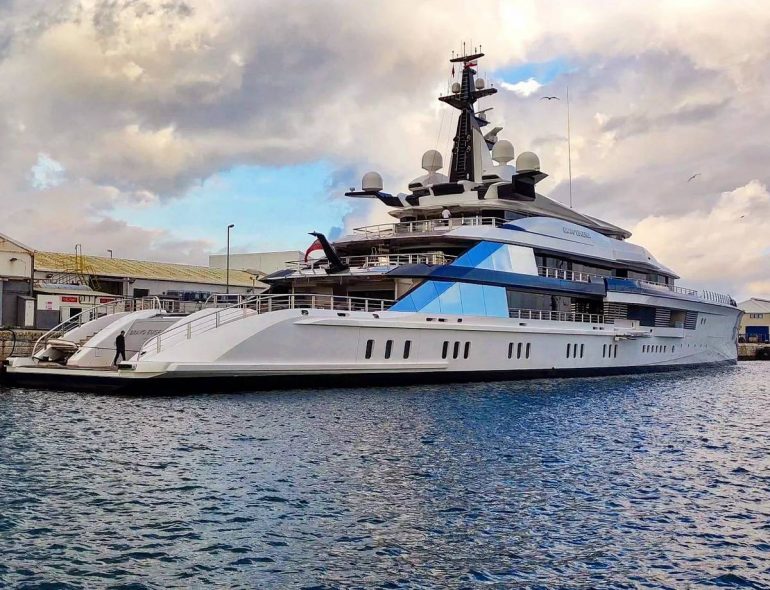 Jerry Jones' $225 million superyacht is a lean, mean green machine:
Oceanco's fourth largest build, Bravo Eugenia, was formerly dubbed Project Bravo, and rightfully so. The 358-footer deserves the hurrah for being one of the most expensive private superyachts in the world that places such high emphasis on reducing its environmental impact. Launched in 2018 in the Netherlands,

Bravo Eugenia boasts a solid naval architecture by Lateral Naval Architects. The exterior design was taken care of by Nuvolari Lenard. Reymond Langton Design teamed with Jerry Jones' wife Gene, after whom the vessel was named to create the soul of the luxury ship (read: interiors). Before we venture inside, the Jones asset flaunts four decks, two helipads, several indoor and outdoor lounge areas, a plunge pool, and a rain shower.

The luxury motoryacht was designed to keep the family and their needs in mind. Jerry Jones and Eugenia have three adult children, and with the company, they would undoubtedly need seven suites to accommodate everyone. Gene's personal touch shines through the enviable collection of curated art and pieces of furniture. She described the interior of her beloved boat as "sophisticated and inviting," with a "light, open, contemporary look" achieved through bespoke furniture and Swarovski details.

The couple has a reputation for being avid art collectors. Forbes shared that Jones' collections include Norman Rockwell's "Coin Toss" and paintings by Picasso, Renoir, and Matisse, among others. Surely the American billionaires would bedeck marvelous possessions like Bravo Eugenia with some unique artwork, though no photos of her interiors are available.

A crew of 30 looks after amenities like a gym, beach club, Teppanyaki bar, steam room, sauna, and a full garage. There are 15 cabins onboard for the crew and the captain's private suite. Bravo Eugenia has ground-breaking sustainability attributes such as waste heat recovery, integrated battery systems, and a 30% increase in fuel efficiency. Add to the above the specially-designed hull with a lengthened waterline delivering a top speed of 19 knots. 2 MTU engines power the motor yacht.

Meet the man behind the Dallas Cowboys, and a never-say-die entrepreneurial spirit
Jerry Jones the 79-year-old University of Arkansas graduate, has been synonymous with Dallas Cowboys since he bought the team for $150 million in 1989. The team is currently valued at $5.5 billion. The American billionaire, worth nearly $12 billion, made his first million in oil investments in the 1970s (the same year he earned his master's degree in business). After a couple of failed ventures like a string of Shakey's Pizza Parlor restaurants in Missouri, working periodically at his father's insurance company, Modern Security Life of Springfield, he began an oil and gas business in Arkansas, Jones Oil and Land Lease, which became successful.
Under the guidance of Jerry, the Cowboys have won three Super Bowls, making them one of the most valuable franchises in sports. The entrepreneur himself starred in a 2007 commercial for Diet Pepsi MAX and again in 2013. As larger than life he is, he was the inspiration for the character Baxter Cain (Robert Vaughn), owner of the Dallas Felons, in the 1998 film BASEketball. The 1998 made-for-television reunion movie Dallas: War of the Ewings saw the entrepreneur in a brief appearance.

The Dallas Cowboys owner lives like a king in his 14,044 square foot Mediterranean-style villa, worth $28.1 million! The house sits on 4.69 acres of land in the luxe Highland Park, Dallas, and was bought in 1992 for $6 million. Jerry also owns an Airbus H145 helicopter that offers plush seating for eight passengers.