YouTube is a goldmine of mind-blowingly absurd but really interesting content; all you need to know is where to look. The newest video that caught our attention was recently uploaded by Alex Choi – a famous YouTuber who is known for making bizarre automotive-themed videos. Over the last few years, we've seen plenty of YT videos where rich influencers can be seen pulling off ridiculous stunts with super expensive cars in the name of likes and follows. Some of them are simply cringeworthy. However, this one's slightly different. Not that we didn't cringe while watching Choi's video but the whole stunt was carried out with an agenda to find out – can a Lamborghini be used as a tow another Lamborghini?




You might be quick to answer that a Lamborghini Urus should be more than capable to tow a trailer loaded with a car. In fact, it has already been tried by many. But the Urus is nothing but an Audi Q8 with a different set of clothes, a few performance enhancements, and a Lambo badge. So, yes, a Urus can easily tow a Huracan or an Aventador; but that will be cheating. Alex Choi wanted to do it the right way and prove that yes, a real Lamborghini can be used tow another Lamborghini. He begins the video by introducing his choice of wheels to pull off the stunt – a tricked-out Huracan that's fitted with aggressive body panels and aero wings along with a reworked 5.2-liter V10 that sends over 1200hp to the rear wheels. Yes, the Huracan has been converted to rear-wheel drive.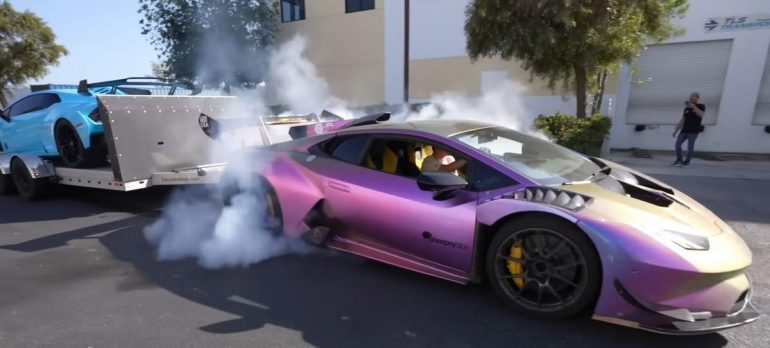 He then proceeds to show the beefy class IV hitch securely attached to the rear subframe in two different places. Although the custom receiver hitch is rated for 14,000 pounds, that kind of load might be a little too much for the bolts holding the subframe to the supercar's monocoque, the YouTuber quips. There's even a seven-pin trailer plug to power the trailer brake lights. Choi heads off to U-Haul to get himself a single-car trailer for the stunt but is initially turned down by the staff for not being able to find Huracan in the list of vehicles compatible and capable of hauling the trailer.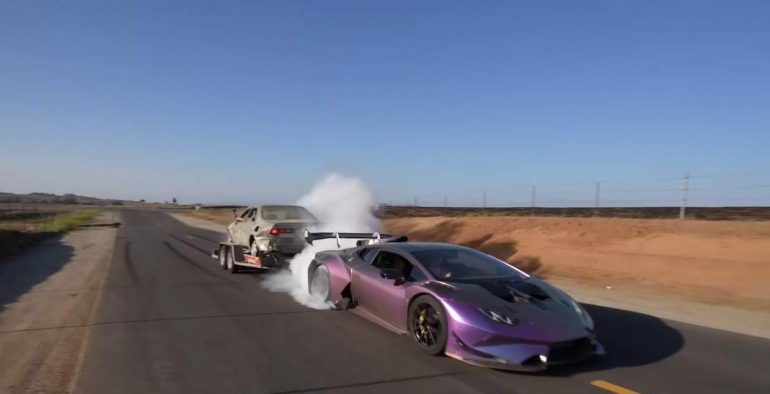 After a bit of lying, Choi gets his hands on a tandem-axle trailer that weighs 2,210 pounds empty and is capable of hauling 5,290 pounds. He tries loading a Urus onto the trailer but ends up realizing the Urus is a little too wide for it. Instead, he loads the trailer with his Audi RS6 Avant for the first run.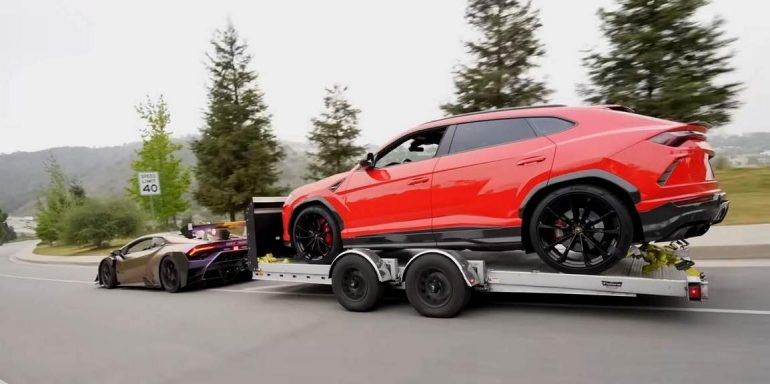 The part of the video where Choi drives around town with his pink Audi station wagon is wicked, especially with the twin-turbo Huracan shooting flames out its exhaust. The YouTuber even gets a friend to shoot a video from the back of the Audi with its hatch open and realizes that the footage looks straight out of a video game. Choi also says the ride feels a bit too sketchy over 70 mph, most probably because of the rear suspension which is not built to handle so much load. After his first run, Choi gets hold of a bigger trailer and goes on to tow another Huracán and a Urus. So, yes, a real Lamborghini can actually tow another Lamborghini.
Although, we're pretty sure the damage caused to the Huracan while pulling off the stunt could be significant, especially to the clutches in that seven-speed transmission. Towards the end of the video, Choi does some more silly stuff, including burnouts while towing. Do have a look at the video.