What do you think, now that Mercedes-Benz is slowly beginning to expand its lineup of Maybach vehicles, will the humble Sprinter Van ever get the ultra-luxurious and exclusive Maybach treatment? It might sound ridiculous but think about it. After all, many Mercedes-Benz Sprinter Vans end up being transformed into VIP transporters after being thoroughly modified with top-shelf amenities. Have a look at this Mercedes-Benz Sprinter that's outfitted by German tuning company Klassen. The exterior of the VIP van wears a very stealthy look with its simple all-black finish that doesn't look very different from the regular Sprinter – something that many VIPs desire to travel without getting noticed. However, if you look closely will you notice some special treatment. The most noticeable is the front grille with vertical slats and a Klassen's prominent "K" Logo; you might actually mistake it for an AMG or a spruced-up version by Brabus. Even the wheels are different, while the rear gets AMG-like metal exhaust tips.



It's inside the cabin where Klassen's Sprinter will win you over with its ultra-luxurious interior. While the dashboard hasn't been altered with much, the entire cabin has been wrapped in premium brown leather. There's even a refrigerator underneath the armrest between the two front seats. The rear gets two rows of captain seats facing each other along with the fourth row of bench seats right at the back. There's an ample amount of legroom for those sitting in the captain seats which can also rotate to change their orientation. The seats are plush and are also equipped with heating and cooling options.
There's a control screen on the side to operate the ambient lighting and the climate control system, while another display helps the passengers in the rear seats control the infotainment system. There is a roof-mounted TV between the front and the rear cab, which also gets Apple TV and a PS 5. You might also notice the IWC mechanical clock under the TV – something that you'll usually find on the dashboard of top-end Mercs. There's no word on the pricing, but it could easily cost above $200,000 according to the options selected by the buyer.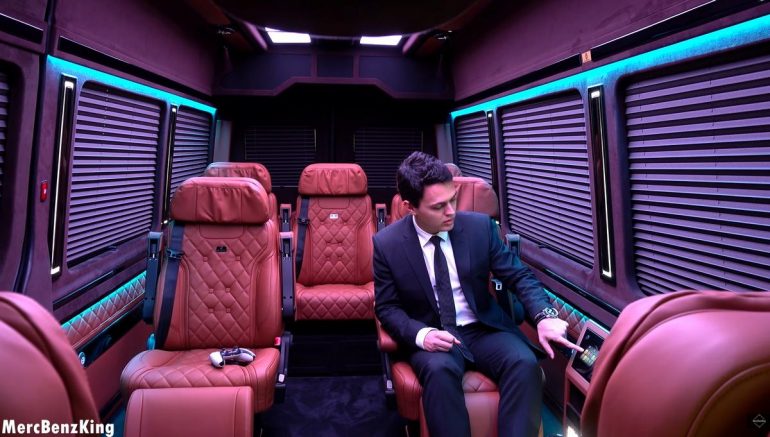 [Via: Motor1]