I've just been back from the Great Barrier Reef and realized how gutless I am as I stayed away from going underwater. It's just that phobia I can't overcome. A submarine is an ideal option but it isn't a good idea for people having claustrophobia (again count me in). Only diving can give amazing impressions, but this activity again requires special equipment, long training, and ideal health. So the only and the best option is the glass-bottom boat that is a fast shuttle to the underwater world! Take a look at LOOKER 25 from the PARITETBOAT glass-bottom boat line. It is aptly designed to allow everybody, regardless of age or ability, the opportunity to experience the beauty, mystery, and excitement of the underwater world that was once accessible only to snorkelers and certified scuba divers.


More images follow….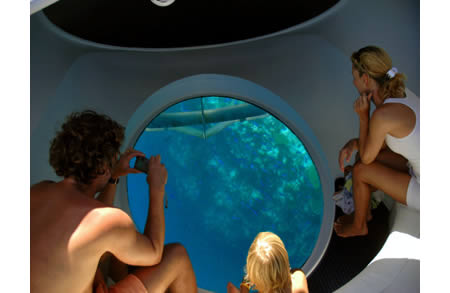 Its passenger capacity is 6 people with 200 hp outboard engine. This boat has all the advantages of other LOOKER glass bottom boats: extra low fuel consumption, high speed, excellent seaworthiness in rough sea and safety! You can ask for a boat test and it's absolutely free.


Source – Via