If the concept is swell, we'd call it that! M51 Concepts have released designs for a radical 252-foot superyacht concept named Swell. Anthony Glasson's creation features a unique layout that provides guests with the best connection to the sea. It accomplishes this gratifying bond between man and sea by proposing two multi-story jellyfish aquariums inside to give seafarers unparalleled scenes of immersed sights. Named after gravity waves, the concept mimics the natural phenomenon with long, sweeping lines from bow to stern, combined with large windows and a penthouse-style split deck interior. "Her split deck levels above the watertight deck are also able to accommodate her distinctive ocean swell exterior profile," comments Anthony Glasson.



The stunning motoryacht concept will house 12 guests comfortably across eight suites. Swell opts out of dedicating an ample space for the main suite, instead featuring eight equally sized staterooms with floor-to-ceiling windows.

The suites are divided into two levels; four on Swell's main deck and four on her lower deck. The designer lends the stylish vessel every luxe amenity found on a pleasure craft, such as a gym, wellness center, swimming pool, water sports equipment, and two tenders and jet Skis in her full-beam garage, per Superyacht Times.

In addition to the striking multi-story jellyfish aquariums, the interiors are flanked by dining, bar, and lounge areas. The upper deck houses a Jacuzzi on the aft dotted by sun pads and loungers.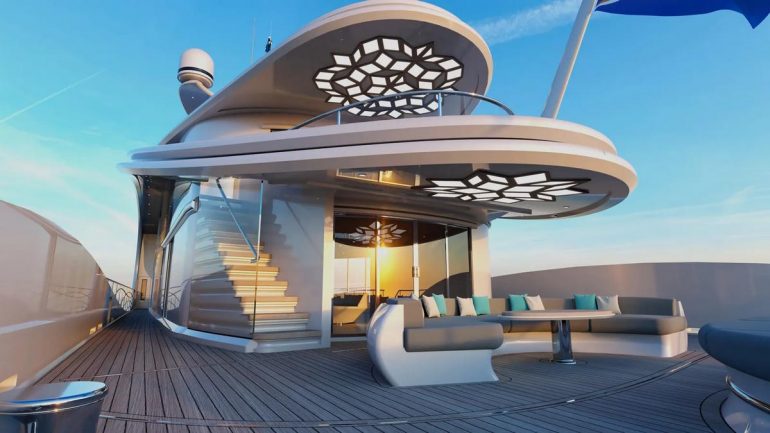 Glasson envisioned Swell as a hybrid with a diesel-electric system featuring a single main engine and three electrical generators. Talk about performance and vision coming together to deliver perfection!