It has been a busy year for Mercedes-Benz which has already introduced numerous new models, special editions, and concepts in the first five months of 2022, especially with AMG celebrating its 55th anniversary. In the considerably long list of new launches for this year, the German manufacturer added a new name by introducing a production-ready concept that is inspired by tailored high-end fashion. Called the Mercedes-Maybach Haute Voiture Concept, it is the most luxurious S-Class ever built and is described by Mercedes as the new pinnacle of sophisticated luxury. The concept made debuted on Wednesday at the luxury brand's design center in Nice, Côte d'Azur.



The concept is based on the Maybach S-Class sedan but it features plenty of bespoke elements to give it a distinct personality. Starting with the exterior, the Mercedes-Maybach Haute Voiture gets a special two-tone paint scheme that combines rose gold on the lower part of the body with a deep blue color that can be found on the top half and on the forged monoblock wheels. "The color and equipment concept of the [Haute Voiture concept] has never existed before," Gorden Wagener, Mercedes' design chief, said in a statement. "We're fusing the art of high fashion and automotive design at the highest level to create something completely new."

The unique two-tone color combination is carried over to the cabin where the door cards are covered with bouclé fabric in blue, beige, and rose gold. The interior looks as if it has been commissioned by a world-renowned fashion celebrity thanks to the choice of colors, exotic materials, and design patterns. Almost the entire cabin is upholstered in Crystal White Nappa leather, while there's plenty of white faux fur everywhere including on the door pockets, inlay mats, and scatter cushion. Additionally, the cabin is adorned with rose gold accents, including the tweaked MBUX infotainment system and a ring around the home button. While the Haute Voiture is a concept right now, there will be a limited production model based on it which is expected to be launched next year. There's no word on the pricing, though.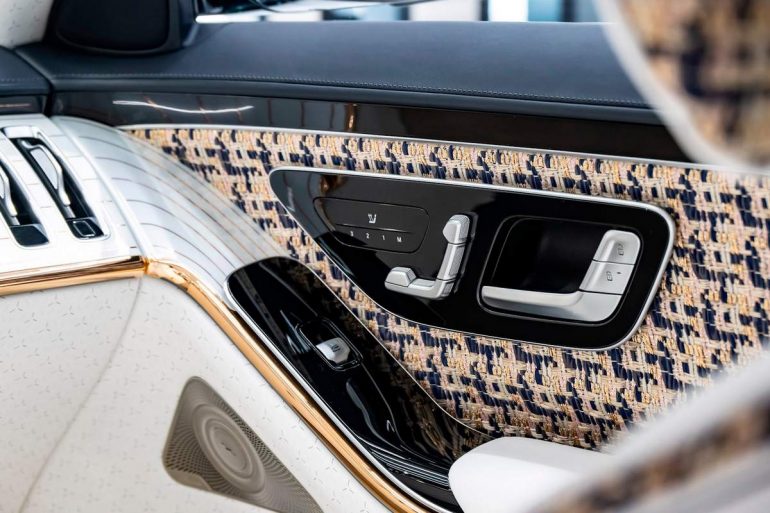 [Via: Motor1]