OceAnco's latest 344-footer superyacht H could well be called a cobra of the high seas. The luxury vessel has shed skin multiple times and donned new avatars and names every few years. What remained unchanged was her exuberance and elegance, like it was god-gifted. For those who think billionaires own superyachts, H is one superyacht that has owned billionaires and several. She was launched in 2000 and has recently hit the waves, rechristened for the fourth time as H motoryacht at Oceanco's construction facilities in the Netherlands. "We are proud to say that we are relaunching a completely new Oceanco," the yard's CEO Marcel Onkenhout said in a statement.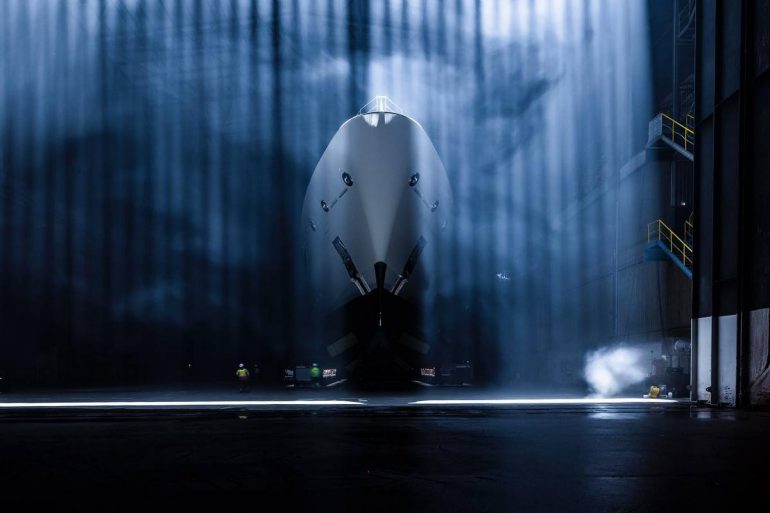 Still known as project 1050H, the pleasure craft will begin sea trials once outfitting is complete. Initially called Neom, the ship was worth $150 million and owned by a Saudi Arabian businessman, and founder and chairman of the Middle East Broadcasting Center, Waleed bin Ibrahim Al Ibrahim. Interestingly, the tycoon rebuilt his ship Neom entirely into a more modern-looking and futuristic H. Oceanco called the rebuild of 1050H a first of its kind. "The yachting world has seen commercial vessels converted into superyachts, and heritage yachts being returned to their original glory, but this is the first time a superyacht has been recreated to face the future as a wholly new, contemporary vessel," said a spokesperson for the yard.

Tycoon Al Ibrahim's decision will hopefully open new gates that will change how yachts are commissioned. A rebuild that uses the predecessor's capability to make it functional and fabulous, along with being splendid and sustainable, is commendable. Add to these the benefits of bypassing prolonged wait periods for delivery slots and reducing the overall construction time of the vessel as the engineering and hull are already in ship shape, pun intended. Motoryacht H is as good as new, with a brand new superstructure and new interior by Reymond Langton.

About this eco-conscious strategy for ship-building, Doctor Mohammed Al Barwani, chairman of Oceanco, said, "It is a proud moment for me to see the nearing completion of this transformation, having personally been involved in returning 1050H to her birthplace for this ambitious project."

Does the H in project 1050H stand for history?
While I am almost certain the H doesn't stand for history, it should. The yacht was first built in 2000 by Oceanco for a member of the Qatari royal family. The 344-footer then landed in the hands of Indian millionaire Vijay Mallya who renamed her Indian Empress. While mechanically, she remained unchanged, Indian Empress had the owner's essence embedded into the fabric of the craft.

Superyacht Indian Empress was sold for $38,000,000 in 2018 following her re-auction and was since known as Neom, per Superyacht Times. Luxury vessel Neom boasted exterior and interior design by A Group and accommodated up to 34 guests in 17 staterooms. She was serviced by a crew of 33 crew members and powered by three MTU 20V 1163 TB93 diesel engines.

Waleed bin Ibrahim Al Ibrahim launched the first private satellite broadcasting company in the Arab world.
With the Middle East Broadcasting Center, Waleed bin Ibrahim Al Ibrahim launched the first pan-Arab free-to-air satellite TV network in 1991. The 61-year-old billionaire owns 40 percent of the company, while the government of Saudi Arabia acquired 60 percent of MBC. The man was raised with eight brothers in a wealthy Saudi Arabian family. He grew into his own after receiving education in Oregon, USA, during the 1980s and completing his higher education there. Al Ibrahim founded ARA Productions and Television Studios (ARAvision) in Saudi Arabia. It became a media conglomerate comprising several radio and television companies airing the Arab world. Meanwhile, MBC reaches more than 150 million Arab speakers around the world. Waleed bin Ibrahim Al Ibrahim is worth nearly $3 billion today.